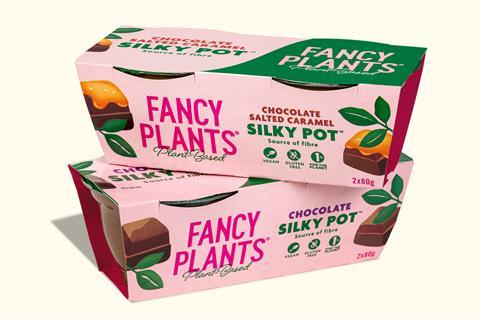 The team behind The Chia Co has launched a new plant-based snacking brand called Fancy Plants.
Billed as an "evolution" of The Chia Co, Fancy Plants is making its debut with a range of chilled plant-based snack pots – Chia Parfait and Silky Pot.
Chia Parfait has launched in Red Berry and Mango & Passion Fruit flavours (rsp: £1.80/120g), while Silky Pot has launched in Chocolate and Chocolate Salted Caramel flavours (rsp: £2/2x80g).
They have rolled into the chilled aisle at select Tesco stores.
Fancy Plants said its goal was to make it easy for people to eat more plants. Its CEO John Foss added "we believe the more people we can get to join us on the plant side, the better it is for our health and the health of the planet".
He added the launch of Fancy Plants would enable The Chia Co team to "use a wider portfolio of plant-based ingredients", but stressed they remained "huge supporters of chia". The Chia Co will remain as a part of Fancy Plants.