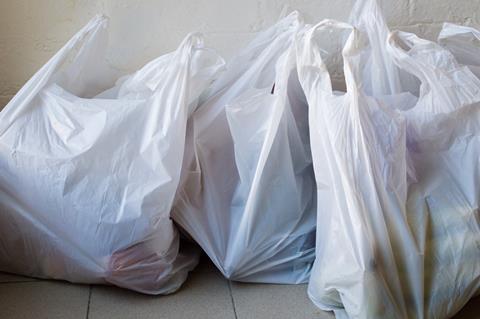 The government has set out plans to charge customers extra for buying single-use plastic items, in a major extension of the carrier bag charge.

Food and drink companies will also face legally binding new targets on plastic reduction as part of Boris Johnson's plan to toughen environment policy.

The Queen's speech today set out plans including for the first time enshrining environmental policies in law, with a new regulator to be set up to police environmental performance.

The new environment bill will set binding targets on reducing plastic and other forms of pollution.

The government said today the bill would include introducing charges for specified single-use plastic items in a new plastic tax.

'This will build on the success of the carrier bag charge and incentivise consumers to choose other more sustainable ways of taking shopping home,' said a more detailed document published following the Queen's speech this morning.

In 2015 the government introduced a 5p charge on single-use carrier bags, reducing sales of single-use bags in the big supermarkets by 90%.
Johnson's new plan also pledges a shift to a circular economy, including moves such as extended producer responsibility, a consistent approach to recycling, tackling waste crime and the long-awaited introduction of a deposit return scheme for bottles and glass.

Draft plans for an environment bill were published last year by then-Defra secretary Michael Gove, although concerns have been expressed by both campaigners and the industry over delays to the proposals caused by Brexit and a raft of changes at Defra.

But today the government promised environmental policies would have more teeth than ever before, with the establishment of the new Office for Environmental Protection, which will investigate complaints and fine companies who fail to hit environmental targets.

'For the first time, environmental principles will be enshrined in law,' said the document setting out the bill.

'Measures will be introduced to improve air and water quality, tackle plastic pollution and restore habitats so plants and wildlife can thrive.'

It said ministers wanted to 'transform our domestic environmental governance based on environmental principles' and 'codify a comprehensive framework for legally binding targets'.

The move was welcomed by environmental campaigners.

"The government should be commended for putting tackling the plastic crisis at the centre of the Queen's speech," said A Plastic Planet co-founder Sian Sutherland.

"For the first time Whitehall is rightly placing the responsibility on producers and manufacturers rather than the shopper who has wrongly carried the plastic guilt for decades.

"Plastics pollution is not a shopper problem. It's not even a litter problem. It's a production problem and this new bill will finally make change happen. As shoppers we buy what we are sold and we desperately need to be sold something other than plastic.

"It's vital the government moves quickly to deliver these reforms without delay. There is no need for a lengthy consultation phase. Let's show some global leadership with action, not words, and just get on and do it."