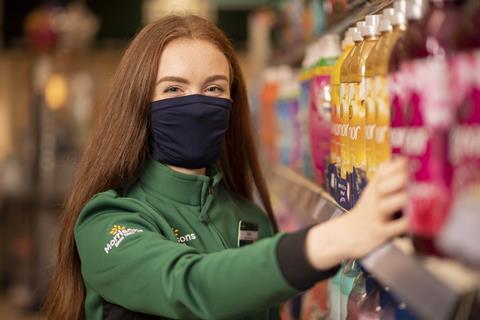 Morrisons has urged branded suppliers to step up the war on plastic, after warning they are falling behind its moves to slash the material from own-brand products.
The retailer, which was the first supermarket to set a quantified target to increase reusable and refillable packaging, has committed to a 50% reduction across its own-brand primary plastic packaging by 2025.
However, whilst initiatives introduced over the past 12 months had already removed 9,000 tonnes of unnecessary or problematic plastic, it called on brands to do more to support efforts.
Speaking at a supplier virtual conference attended by hundreds of suppliers, Andy Atkinson, group commercial director, said Morrisons would offer brands specialist advice in a drive to get plastic levels in their products' packaging down and said its vertically integrated supply chain put it in a "unique position" to drive change.
Morrisons said it was asking branded suppliers to reduce plastic in both product packaging and on-shelf display packaging, as well as in the materials in which these products are transported to stores.
It said it hoped it would allow the company to remove thousands of tonnes of plastic from the supermarket's shelves a year – and make it easier for customers to reduce the amount of plastic they are purchasing.
Greenpeace has ranked Morrisons second to Waitrose in its efforts to remove plastic, with more than 80% of its own-brand plastic packaging now able to be recycled.
Initiatives introduced over the past 12 months will remove 9,000 tonnes of unnecessary or problematic plastic each year.
"As the UK's biggest fresh food maker we are committed to helping our customers live their life with less plastic," said Atkinson.
"So we are asking our branded suppliers to join with us in reducing our plastic footprint as this is a priority for our customers."