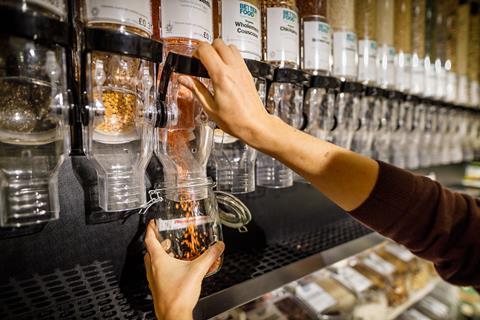 Organic retailer Better Food has launched a loyalty scheme that rewards customers with free coffee for reducing single-use packaging.
Its Bee Better programme will see customers collect stamps through the Magic Stamp app each time they use their own container for their shopping.
Customers can buy any items from Better Food's refillable range to earn the stamps. This includes oats, eggs, takeaway deli meals, teas, spices and household cleaning products. Once shoppers have earned 12 virtual stamps, they will earn a complimentary organic hot drink from one of the retailer's cafés to have in-house or in a takeaway reusable cup.
The app is being trialled at all three of Better Food's stores starting this month.
Bee Better is designed to capture the growing trend of zero-waste refill shopping and incentivise customers to find new ways to avoid single-use packaging. It will also counteract traditional loyalty initiatives that encourage consumers to buy more, Better Food said.
It is also hoping to inspire other retailers to follow its lead with similar schemes.
The Bristol-based retailer currently cleans high-touch points including the refill stations once every hour, and encourages shoppers to use the hand sanitiser available throughout its shop to help prevent the spread of coronavirus.
"As a business, we have always strived to make responsible decisions on the packaging we use in-store based on what is right for society, rather than the bottom line," said Gene Joyner, MD of Better Food.
"The success of our packaging-free range is testament to our brilliant customers who choose to shop in this way. With the Bee Better scheme, we really hope to show we can all make a positive impact when we shop, and encourage more customers to come on that sustainable journey with us. The scheme aims to treat both customers and the planet kindly, and we hope to influence other retailers to trial more responsible loyalty schemes such as this."
Better Food was also the first café in the UK to utilise the Contactless Coffee initiative from environmental charity City to Sea. This encourages cafés to continue accepting refillable cups, with safety precautions, during the coronavirus pandemic.