There's a huge amount of work going on to tackle the plastic problem. But are we moving far enough and fast enough?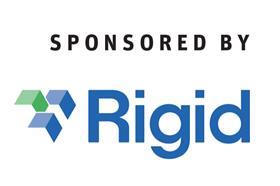 It's been dubbed 'pouchmageddon'. Tesco's plastic packaging challenge, launched in May, has threatened to delist suppliers using excessive or unnecessary plastic packaging from next year. And pouch-style packaging – which is widely used but largely unrecyclable – is one of the materials in the firing line.
CEO Dave Lewis also pointed to a "staggering" amount of excess packaging in the supply chain. 'As an industry we have made an art out of packaging air,' he wrote in The Grocer. It was pretty outspoken stuff given how much packaging waste Tesco – like all the supermarkets – is responsible for.
But not a week goes by without at least one of the mults announcing some sort of pledge or trial or target. Waitrose is trialling the removal of in-store fruit & veg packaging. Iceland has pledged to get rid of black plastic in its own-label lines. And Aldi is looking to phase out 'hard-to-recycle plastic' by next year.
So, amid all these initiatives, just how much progress is the industry making? Is it all window dressing? Or can we really move mountains?
One thing is clear. Consumer concern over plastic's impact on the environment is mounting by the day. From David Attenborough's Blue Planet II agnd Hugh Fearnley-Whittingstall's War on Plastic to the Swedish environmental campaigner Greta Thunberg's powerful appearances at the UN, and the Extinction Rebellion protests this week, plastic is public enemy number one.
And consumers say that is influencing what they buy. In a YouGov survey for AHDB in May 59% of the 4,000 respondents said plastic would affect their food purchasing decisions.
Of course, there is a gap between what consumers say and what they do. Despite all the outcry around plastic, the fact is that plastic bags, black plastic, laminated plastic, plastic foam and, of course, pouches – and other unrecyclable multi-substrate packaging – is sold by the truckload. Every second of every day. (UK supermarkets produce around 800,000 tonnes of plastic a year, according to Which?)
On the one hand, you're on a hiding to nothing. On the other, doing nothing is not an option. For proof, look no further than the criticism under the #pointlessplastic hashtag on Twitter.
Plastics Pact
As a result all of the major UK supermarkets have signed up to Wrap's UK Plastics Pact initiative, which aims to create "a circular economy for plastics". Among its goals, it wants 100% of plastic packaging to be reusable, recyclable or compostable by 2025.
So far, about 85% of plastic packaging is covered by the Plastics Pact, says Helen Bird, resource management specialist at Wrap. Another (smaller) supermarket is set to join imminently, which will push that number still higher. And the supermarkets are "all acutely aware of the pressure and problems of plastic pollution and actually working absolutely flat out in trying to tackle the problems."
Still, not everyone is convinced – including Sian Sutherland, co-founder of campaign group A Plastic Planet. "These declarations of intent are, unfortunately, just words, while real action is taking way too long," she says. "Every retailer talks about the 'Blue Planet effect', which was our wake-up two years ago. Show me what has really happened in those two years. Only today I hear Sainsbury's is working towards 2025.
"Another seven years of pumping out plastic into our environment? Why is it taking so long when alternatives are available and the public are so willing? I hear all the time that shoppers say one thing and do another – which is totally human. But what is irrefutable is that shoppers buy what they are sold. Retailers need to sell them something different."
"Why is it taking so long when alternatives are available and the public so willing?"
That's particularly true when it comes to 'problem' plastics. Wrap has made a list of no fewer than 19 offending plastics, including fruit & vegetable film packaging, PVC cling film and the multi-layer packaging used in those pouches. The ultimate aim is to reduce their presence on shelves as much as possible.
And with good reason. Back to pouches. Made from multilaminate materials, they are nigh-on impossible to recycle. Yet they remain huge business. According to marketing company Stratistics MRC, the global pouch packaging market was worth $16bn (£13bn) in 2018 and is expected to hit $27bn (£22bn) by 2027, with leading brands in babyfood, petfood, soft drinks, chilled yoghurt and cereal using the format extensively.
So they either need to dump the format, or make it more environmentally friendly.
The former would be "a disaster" for manufacturers, says a leading supplier source, as they have invested "huge sums of money in pouch packaging because it's seen as a way to premiumise products".
Instead, efforts have centred on direct recycling schemes. Ella's Kitchen, for example, teamed up with Asda in April to launch an in-store pouch recycling initiative. The pilot, which began in 37 Asda stores, provided freepost envelopes for shoppers to fill with up to 15 plastic babyfood pouches of any kind and post to TerraCycle. The brand says the scheme has proved so successful it will roll out to 110 Asda stores across the UK this month.
Whiskas has a similar initiative with Terracycle, which allows customers to drop off their waste pouches and flexible plastic bags at public drop-off points. Plus, petfood challenger brand Pooch & Mutt has launched a pouch recycling scheme that allows customers to purchase a pack of 10 pre-paid envelopes for £10, which they can fill with up to 30 pouches (of any brand, and not just petfood) to send back for recycling.
Direct from consumer
But as we've seen with certain direct-from-consumer recycling schemes – only 28% of Nespresso's capsules are recycled in the UK, for example – anything that requires a big effort on the part of consumers is of limited effectiveness. So the ultimate solution is to find a pouch that works with kerbside collection. Ella's Kitchen is on the case, it says, with a commitment to make all of its pouches fully recyclable by 2024. The major suppliers are working towards similarly ambitious goals. Mars Food has pledged to make all its packaging recyclable by 2025. And this week, Unilever pledged to slash its use of new plastics in half.
Another offender on Wrap's list is plastic fruit & veg packaging. In this case, the onus is on retailers to take action, rather than brands. And there's certainly no shortage of effort. Tesco and M&S are among those 'trialling' loose fruit & vegetables only in selected stores. In June, Waitrose went one step further with its 'Unpacked' trial, which took more than 200 products out of their packaging – of which 160 were fruit & veg.
The strategy could pay dividends. According to Kantar, sales of loose fruit & veg are growing twice as quickly as those wrapped in plastic. And Waitrose plans to extend its trial to a further three shops by the end of the year – while at Thornton's Budgens the introduction of plastic-free fruit & veg has resulted in a 4% sales uplift at its Belsize Park store.
"Certain products require packaging for consumer education or for longevity"
But it's not working for everyone. Iceland reports its plastic-free produce trial was a "resolute failure" – with a resulting 20% sales drop. "The story here is one of trial and error, and for every 10 trials we get one or two wins," says Iceland Foods MD Richard Walker. Asda also stopped selling loose fruit & veg in 2017 in an attempt to reduce household food waste. It may sound like an excuse, but food waste is a genuine issue. "Certain products require packaging for longevity or consumer education," says Howard Wright, senior creative & strategy director at packaging design agency Equator Design.
"We need fresh fruit & veg to have longevity, since wasted food has the potential to create three times the environmental damage through carbon emissions than the packaging around it."
Wright believes it could be both cheaper and more eco-friendly for certain items to be loose. "If savings are made in the supply chain and it can be passed on to the consumer, that's excellent."
However, Wright warns it might not be so simple in the fruit & veg aisle. "Giving the consumer a financial reward for buying packaging-free – even where no packaging results in a reduction in the product's availability or longevity – is problematic."
Plus, let's not forget most loose fruit & veg ends up in plastic bags anyway. It's an issue Sainsbury's is trying to address by removing plastic bags for loose fruit, vegetables and bakery items (replacing them with reusable drawstring bags), which it says will remove 489 tonnes of plastic from its stores. Until that happens across the board, though, loose fruit & veg is only solving part of the problem.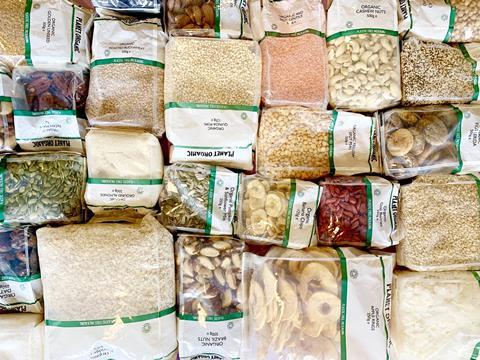 Black plastic
Another 'problem' material is black plastic. According to Greenpeace UK, 1.3 billion black plastic trays are used every year, especially in meat and microwaveable meals. That poses a clear environmental issue because black plastic is typically coloured with carbon pigments, which aren't recognised by optical sorting systems in recycling plants. That means the majority of local authorities won't accept it in recycling bins.
"There's more work to do to get to the point where black plastic is recycled," says Jeremy Blake, head of recycling assets at waste management firm Viridor. However, he admits that won't happen for "another few years". So in the meantime, retailers are looking to remove it altogether. "A lot of the retailers that speak to us are moving out of it for now, until there's a reliable solution, at which point they'll want to go back into it again," he explains.
Retailer commitments have come thick and fast. In January 2018, Waitrose pledged to cut black plastic from all its own-label products by the end of 2019. It's well on the way to doing so. One year into the initiative it had removed the offending material from its fresh meat, fish, poultry, fruit & veg lines. According to Waitrose, that amounted to a reduction of over 1,300 tonnes of black plastic per annum.
In July, Sainsbury's claimed to be the "first retailer" to remove black plastic from all of its chilled ready meals. And Asda is set to remove it from 97 of its own brand fresh ready meal lines, taking 775 tonnes of black plastic out of circulation. Morrisons, too, stopped making any new own-brand products using black plastic packaging in March 2019. That equates to 100 million fewer black plastic trays, or 3,700 tonnes of the material, a year.
Paper and cardboard
This black plastic cull means retailers are having to look to alternatives. While Sainsbury's chilled ready meals are using a recyclable plastic, cardboard is also on the menu. Asda last month announced it would put its range of Extra Special Aberdeen Angus Steaks into recyclable cardboard trays, saving an estimated 50 tonnes of plastic per year.
Similarly Iceland has put its Mumbai Street Co and Mexicana street food meal ranges in paper-based trays, saving 850 tonnes of non-recyclable black plastic so far. Walker admits it "took longer than we expected" to sort out the issue of black plastic in ready meals. But he's keen to plough on. "We fully appreciate the scale of the challenge," he stresses. "But I prefer to set a big ambitious target to be the driver of change, rather than waiting for someone else to do it."
Iceland isn't just using cardboard to replace black plastic. It is also trialling paper-based packaging for its bananas, using an 'eco' band. As ever, there's a lot of trial and error: the original band was too narrow and the adhesive not effective enough, recalls Walker, but it's now wider and with better adhesive, and it's also trialling a hammock-style fixture "which is complementary to the shape of a banded hand of bananas and reduces the depth of product to help reduce waste and improve product presentation." To date, Iceland has removed 2,100 tonnes of packing from its own-label lines.
Paper-based packaging can actually work better in some cases. Aldi, for example, is replacing plastic with cardboard on its tinned tuna multipacks, as part of plans to phase out 'hard-to-recycle plastic' from its food by the end of 2020.
Meanwhile there are numerous initiatives to develop compostable packaging (see p26), with Planet Organic committing to use its own home-compostable packaging for all 120 lines in its own-brand pre-packed ambient range. Buying director Al Overton says it took more than a year to develop the packaging, with specialist supplier Parkside. "It's even more pleasing because the material actually works. It doesn't split, and has a decent shelf life," he says.
Recycled plastic
Recycled plastic is becoming more popular too. In 2017, P&G announced it had teamed up with Terracycle to use waste plastic found on beaches in Head & Shoulders bottles. Later that year, the brand launched the Fairy Ocean Plastic bottle, made entirely from post-consumer recycled plastic and ocean plastic.
When it comes to food packaging, things are a little more difficult. There are stringent food hygiene rules that must be observed. Rubies in the Rubble founder Jenny Costa says finding a plastic "that is food grade and 100% post-consumer recycled, which is also 100% recyclable, is a challenge. So far everything we've looked at has got quite a grey hue or tinge to it."
Plus, not enough plastic is being recycled. That means a large amount of recycled plastic is having to be shipped in from abroad – a costly and not entirely green option.
The shortage is limiting scale in this area. Take Evian, which trialled a 100% recycled plastic bottle at Wimbledon this year. Parent brand Danone Waters said it would take until 2025 to roll out that design across all its bottles, partly due to a shortage of recycled plastic.
Ian Schofield, at brand design agency Elmwood, says the UK recycling system is partly to blame. "Lack of investment in recycling services is a key problem," he argues. "The UK is also being held back by its recycling infrastructure, which was designed for a pre e-commerce era. Consumers are also confused about what can and cannot be recycled. Then there are inconsistencies between different kerbside recycling systems operated in various parts of the UK."
Morrisons recycling labelling scheme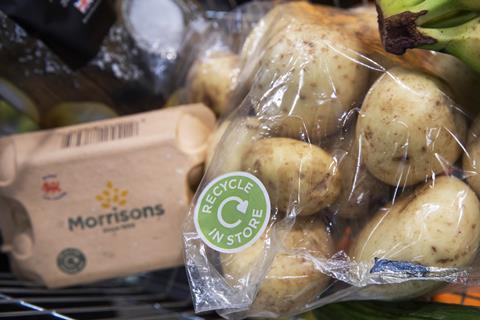 What is it? In a nutshell, a front-of-pack labelling system that gives consumers instructions on how to recycle.
How many packs? 400 lines initially.
Why? Morrisons research found two thirds of customers are not confident on which plastics they can recycle.
What's on the labels? Packaging that can be recycled at home will have a A 'Please Recycle Me' icon.
What about other items? Large recycling bins at the front of Morrisons stores will take items not currently accepted by kerbside recycling such as plastic bags and film. These will have a 'Recycle Me In Store' logo.
The mults are trying to help. Morrisons, for example, is rolling out front-of-pack instructions to indicate how packaging can be recycled. If it can't be recycled using kerbside collection, it's asking customers to bring the offending items to its stores, from where it's committed to recycling them (see left). But the prospect of in-store recycling – which will be further boosted by the DRS in due course – highlights the need for a wider approach.
Wright says it is unfair to put responsibility entirely on the shoulders of retailers. "Solving plastic waste can only be done if all the players involved – retailers, producers and manufacturers, the government and the consumer – are made equally accountable," he says. "It seems everyone is putting the onus on the retailers to take action, which won't help us to solve a problem of this complexity and scale.
"Retailers are taking initiatives – whether that's trialling plastic-free aisles or new substrates. However they are hampered in their efforts by a number of issues, such as a limited number of packaging options offered by the producer/manufacturer, inconsistent kerbside recycling capabilities offered by towns and cities, and public confusion over the dizzying array of components, combinations and recycling options," he says.
It will take more than Tesco's 'pouchmageddon' to move those mountains of packaging waste. It will take innovation and investment from retailers, manufacturers, packaging manufacturers, local and national governments. But you know what they say at Tesco: Every Little Helps.
Plastic bags: who's doing what?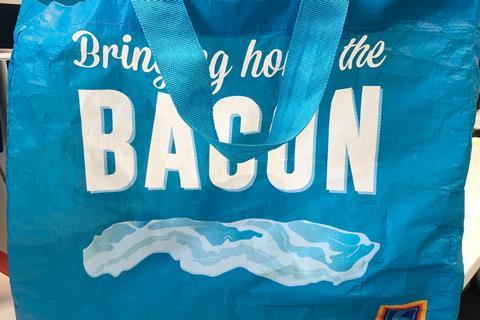 Aldi
Key move: Paper and compostable bags
Ditched single-use plastic bags: End of 2018
Aldi was charging for single-use plastic bags as far back as 1990. It's now making more pioneering moves with two new carrier bag options. In July, it introduced a 100% recyclable paper carrier bag into half of its stores and a 100% compostable bag into the other half. It has also removed plastic produce bags from 10 stores.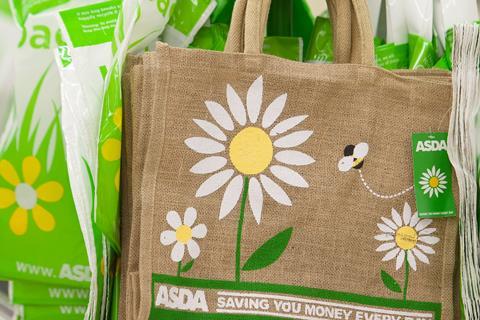 Asda
Key move: Increasing bag for life price to 15p
Ditched single-use plastic bags: From stores in 2018, from online orders in July 2019
Asda hit the headlines in July for increasing the price of its bags for life. Despite the tabloids shouting about consumer "outrage", Asda stressed the charge was designed to encourage further reuse. Plus, the retailer removed single-use plastic bags from online orders in summer.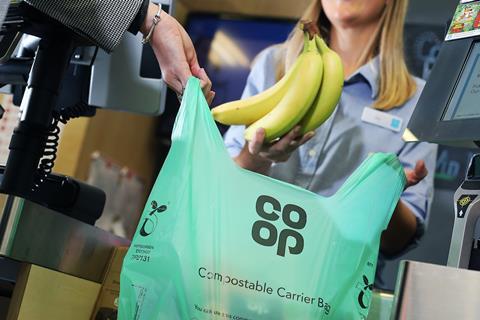 Co-op
Key move: 5p compostable bags
Ditched single-use plastic bags: Autumn 2018
Co-op announced a "phased rollout" of 5p compostable bags as an alternative to single-use plastic bags in September 2018. The bags are now in 1,000 of its food stores and are expected to replace 311 tonnes of single-use bags in their first year alone. However, the Co-op says reusable bags for life remain the preferred option.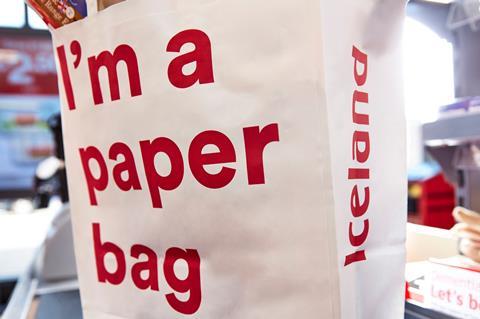 Iceland
Key move: 15p 'extra-strong' paper bags
Ditched single-use plastic bags: 2018
In July, Iceland claimed a UK first by making its Hackney branch entirely free of plastic bags. Instead, customers who forget their bag for life can buy an extra-strong paper bag for 15p. The paper bags will also be on sale as an alternative to 15p plastic bags for life across 40 stores in North Wales, Wirral, Cheshire and Manchester.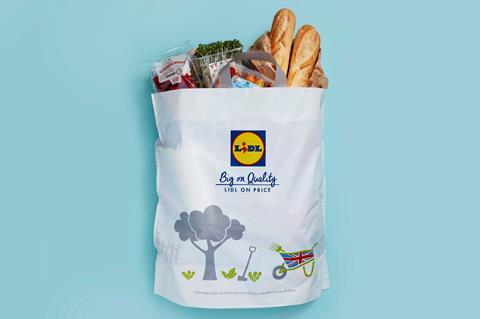 Lidl
Key move: Removing 9p reusable bags
Ditched single-use plastic bags: 2018
Lidl removed 9p reusable plastic bags from its Welsh stores in March. The reason? The discounter identified they were increasingly being used as single-use bags. It hopes the move should prevent the sale of five million bags. Plus, in August, it became the first in the UK to roll out reusable fruit & veg bags across all its stores.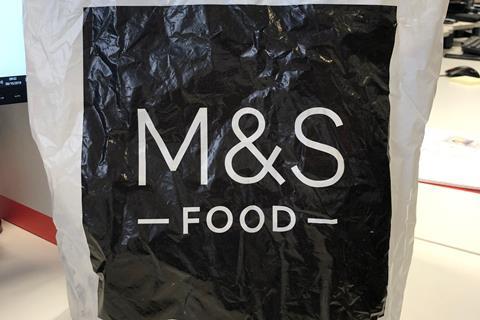 M&S
Key move: 100% recycled plastic bags
Ditched single-use carrier bags: September 2018
When M&S phased out single-use plastic carrier bags last year, it came up with a new alternative for customers caught short. These are stronger, multi-use food bags made from 100% recycled plastic. Plus, in November it unveiled a bag for life made with 75% plastic that has been collected and recycled by social enterprise Plastic Bank.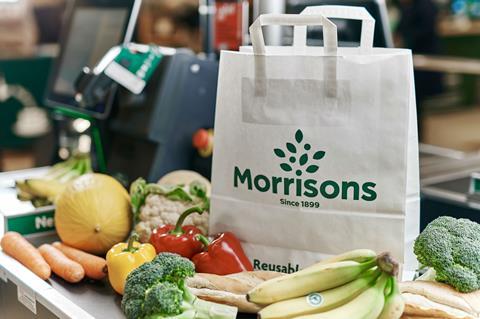 Morrisons
Key move: 20p reusable paper bags
Ditched single-use carrier bags: March 2018
Another supermarket going down the paper route is Morrisons, which introduced large reusable paper carrier bags across all its stores in May for a charge of 20p – a move Morrisons claims is an industry first. One month later, it removed small plastic fruit & vegetable bags from its aisles and replaced them with paper alternatives, too.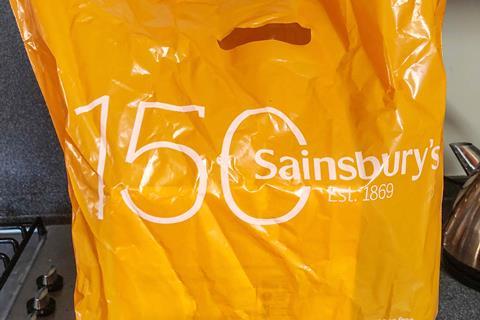 Sainsbury's
Key move: 30p drawstring bags for fruit & veg
Ditched single-use plastic bags: October 2015
Sainsbury's was among the first to ditch single-use plastic bags from stores, and it's now turning its attention to fresh produce bags. It has removed plastic bags for fruit & veg from convenience stores and about 500 supermarkets, instead offering 30p drawstring bags. Plus, it has introduced paper bags for bakery items.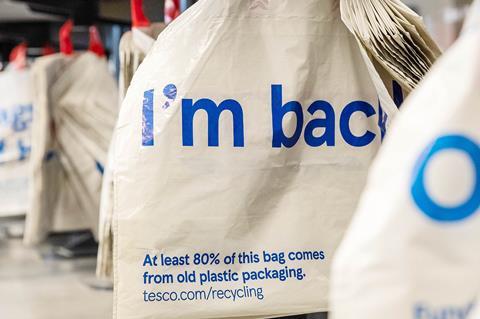 Tesco
Key move: 10p bags from 94% recycled content
Ditched single-use plastic bags: 2017
Tesco stopped selling single-use plastic bags in 2017, and removed these from its online orders in July. Tesco says 250 million fewer carrier bags will be delivered to customers' homes each year. In store, customers can buy reusable 10p bags made from 94% recycled content, which Tesco will replace free of charge.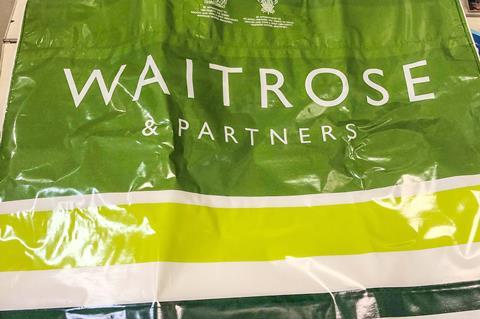 Waitrose
Key move: 10p recyclable bags for life
Ditched single-use plastic bags: March 2019
In spring, Waitrose joined the fight against single-use bags by removing them from tills. Instead, it has 100% recyclable bags for life that cost 10p. In May, it removed single-use bags for loose fruit & veg in favour of a home compostable alternative. And its Unpacked trial offers a wide range of reusable bags, including cotton and mesh.