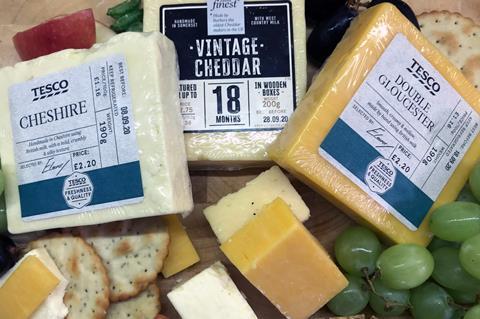 Tesco today claimed to have made a major breakthrough in the war on plastic, with the introduction of packaging using recycled soft plastic for the first time.
The supermarket said the move, beginning with a trial on seven of its own-label cheese lines, was a step towards its goal of allowing soft plastic, which typically goes to waste, to be continuously recycled into safe food-grade packaging.
Soft plastics are used to pack foods such as bread, pre-prepared salads, meat and cheese as a way of maintaining freshness and preventing food waste.
However, according to the 2019 UK Household Plastic Collection Survey, the UK uses almost 400,000 tonnes of soft plastics every year, of which just under 21,000 tonnes is collected and recycled into non-food grade material, with only 16% of local authorities actively collecting soft plastic.
Tesco began trialling recycling collection points for soft plastics in the south west of England in April 2019 in a bid to create a closed-loop system.
It has allowed customers to return items such as petfood pouches, shopping bags and crisp packets, all of which cannot commonly be recycled by local councils.
The supermarket has partnered with Plastic Energy, SABIC, Sealed Air and Bradburys Cheese on the latest trial, which if successful is set to be rolled out across a raft of Tesco products.
It works by allowing oil converted from soft plastic to be turned into plastic pellets, which can be used as a new form of packaging.
The trial will see seven different cheeses packed at Bradburys using the flexible plastic being stocked in Tesco stores, containing a minimum of 30% recycled material, which under the government's plans would avoid the proposed new tax on single-use plastic.
"We are removing all excessive and non-recyclable packaging from our business and will ensure everything that remains can be recycled as a part of a closed loop," said Tesco head of packaging James Bull.
"This exciting new partnership has the potential to show that every piece of plastic we use can be recycled. If we can roll out this approach at scale throughout our industry it could be of enormous benefit to our planet."
Wrap UK director Peter Maddox added: "Tesco, a founding member of the UK Plastics Pact, has demonstrated that by taking an innovative and collaborative approach, new solutions can be found to take plastics from in-store collection points to a food-grade packaging format. The next challenge will be to test how scalable it is, and I look forward to seeing how the project progresses."