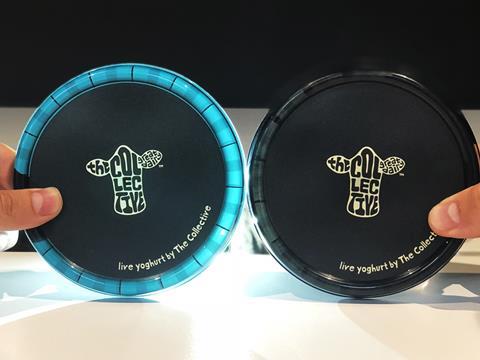 Yoghurt brand The Collective is claiming a breakthrough in plastic packaging after developing "first to market" pigment technology that will make its black plastic lids more easily recyclable.

The new lids, part of a raft of packaging innovations introduced by the brand to reduce waste, would be phased in on all the brand's 450g tubs from October, said co-founder Amelia Harvey.
They were developed by The Collective's in-house sustainability team in response to the growing alarm over single-use plastic waste, and the problems encountered by the food sector with non-recyclable black plastic. "Infrared sensors in recycling plants don't normally pick up black plastic on conveyor belts," said Harvey. "This means our lids are not usually detected, classed as residual waste and incinerated."

But after working with its packaging supplier, the brand has replaced the previously cheaper but undetectable carbon black pigment used in its lids with a new green pigment that can be picked up by plant sensors.

The new lids were almost identical to the previous versions (apart from a green hue when held up to light) and would now be able to be recycled alongside The Collective's polypropylene pots, Harvey said.
The brand has also removed black plastic lids and spoons from its 150g gourmet yoghurt variants from this month, replacing them with clear recyclable plastic and saving 35 tonnes of plastic a year.

"We're also planning to launch a website with recycling tips and have signed up to the On-Pack Recycling Label scheme, giving total clarity to consumers on how to recycle our products," she added.

It comes as The Collective gears up to expand its successful kefir range with a new lineup of kefir yoghurts in October, which will also use the brand's new black lids, and carry recyclable card sleeves.