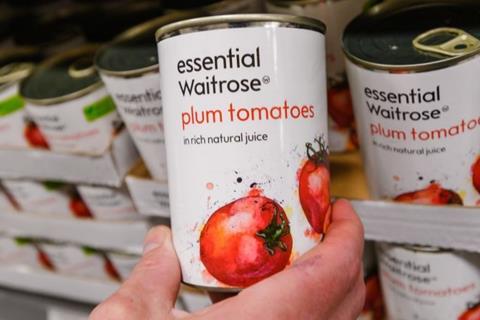 Waitrose is removing the plastic packaging on multibuy cans of tomatoes, baked beans and sweetcorn as it continues efforts to reduce the amount of single-use plastic in stores.

The plastic wrapping, used to bundle together three or four cans, will be removed on some the retailer's canned vegetables as part of a trial run, with more canned products lined up to follow if the initiative is successful.

Waitrose claimed the move would save 18 tonnes of plastic annually that can't be currently recycled.

The top four bestselling staples - which sell in the largest quantities - were prioritised for the scheme, including: Essential Waitrose baked beans, chopped tomatoes, plum tomatoes and sweetcorn.

Customers will still pay the same lower price for bulk buying as before, with the multibuy price charged at the checkout on the loose cans, Waitrose said.

Packaging manager Karen Graley added: "We know shoppers like the convenience of buying a few cans at a time as store cupboard essentials, but we want to remove single-use plastic wherever we can.

"By selling the cans loose, but at multibuy prices, we'll be able to pass the cost saving on to customers - without passing on the plastic."

The move by Waitrose follows a government announcement of a major crackdown on plastics in the Queen's Speech on Monday (14 October).

The government set out plans to charge customers extra for buying single-use plastic items, with food and drink companies facing legally binding new targets on plastic reduction.