Morrisons and M&S are out, while Aldi is in. So why are retailers playing musical chairs instead of collaborating on refill solutions?
It was billed as the industry's best chance of scaling refill initiatives, giving shoppers across the UK access to banks of dispensers to fill their own containers. But the Refill Coalition does not appear to be scaling very quickly.
Announced last year, the concept is to work with multiple retailers and suppliers to standardise the vessels that act as dispensers in refill stations. In doing so, refillable solutions company Unpackaged, the driving force behind the coalition, believes it can create an end-to-end solution to packaging waste, whereby retailers return the vessels empty to suppliers, who can then refill them for sending to other retailers.
But last week it emerged that, with live trials of the solution yet to begin, Morrisons and M&S have already left the coalition.
It leaves Waitrose and Ocado, along with new sign-up Aldi, as the only retailer members.
So why would the two former members want to get out of the project in its infancy? After all, they are among a raft of major grocers, from Waitrose to the discounters, investing in refill initiatives of their own, all of whom have yet to find significant scale by going it alone.
"As someone put it, there have been more pilots than Heathrow," says Jayne Paramor, strategic technical manager for plastics at Wrap.
"What we've seen, though, is a common set of findings from all of those trials showing that it is very expensive for individual retailers to take it on."
To build economies of scale, "more collaboration" is what they need, she says, adding that Wrap "absolutely supports" the Refill Coalition and "believes in the work they're doing".
Refill initiatives across the supermarkets
Asda launched refill zones offering household brands in 2020. They are now in four stores, and since December last year Asda has guaranteed refill products will be cheaper than packaged equivalents.
Since 2018, Morrisons has piloted initiatives including milk in glass refillable bottles and letting customers bring their own containers to meat and fish counters.
Aldi has been trialling refill stations since 2021 (pictured above), and currently has one in its Leamington Spa store, which opened last September, dispensing nuts and coffee.
Lidl has been piloting refill machines for Formil laundry detergent pouches since October 2022. Currently in three stores, the machines can tell new from used pouches, and grant a 20p discount when refilling.
Waitrose has four 'Waitrose Unpacked' refill concept stores, launched in 2019.
M&S has refill stations offering dried staples in 15 stores, having introduced the first in late 2019.
Unpackaged founder and director Catherine Conway maintains the coalition's experience shows the industry is "willing and ready to collaborate on innovative packaging solutions". But she says inflation means retailers "are facing significant cost pressures which is affecting their ability to invest" in such projects.
"It may be that some UK retailers have held back in order to see if this will work," she adds. "Unpackaged can't change their appetite for risk but, with such an important and potentially environmentally beneficial solution at hand, we continue to be grateful for their support and will always welcome other retailers in."
Morrisons has provided little explanation for its exit, beyond saying it is reviewing learnings from its own refill pilots before deciding on its next steps.
M&S CEO Stuart Machin was far more candid as the business announced its financial results this week.
M&S has 'fill your own' aisles in 15 of its 'renewal stores', having introduced the first in December 2019. Shoppers can dispense dried foods such as pasta into their own container or one purchased in store.
Explaining M&S's exit from the coalition, Machin told The Grocer: "Customers just weren't responding. This has been a painful couple of years in trialling this. We did it in our third renewal store and it just didn't warrant the space.
"Operationally, they were very hard to manage. Trying to get the right products, trying to get customers to buy refill – not something they are used to doing.
"Therefore, we thought we would focus more on the things that really matter to customers, which is reducing our plastic in the main.
"Really, that has been our focus, especially in these last few months. And I think that's why we decided it wasn't worth pursuing at this stage."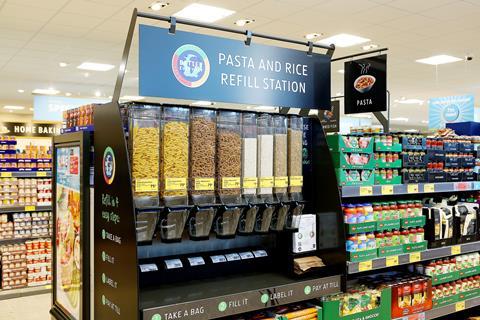 Shopper appetite
Nevertheless, Paramor maintains there is shopper appetite for refill, providing retailers can offer price parity with packaged alternatives, something that will become more affordable to them with scale.
"Where retailers have trialled and stepped away, it's not necessarily that they've abandoned the idea," she says. "They're just recalibrating, to be able to then look at how we work together."
It is the focus of much work currently going on behind the scenes between Wrap and the wider industry making up its membership.
"Wrap now finds itself in the middle of that dialogue, talking about the systems that need to underpin this, and hearing that feedback from our retailers, particularly the kinds of models that they're comfortable using.
"We've got some who are looking at pre-filled systems for things like laundry liquids and personal care items and liquids and beverages. And then we've got the other kind of refill 'bring your own' container."
Indeed, M&S has a separate pilot, in six stores, of cleaning and laundry products sold in reusable bottles that shoppers can return to get £2 off a second purchase.
Ongoing work around refills includes identifying "how these systems stack up against alternatives" in eliminating problematic packaging under the aims of Wrap's UK Plastics Pact, including recycling.
Research is stepping up in terms of "identifying carbon benefits", says Paramor. "The issue of measurement has been a common one that people are really starting to work out."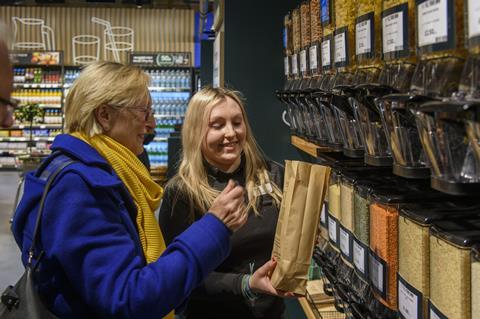 Such measurement requires knowing the rate at which consumers reuse any container purchased with their first refill shop, something Abel & Cole is working on. The online grocer has been offering a refill home delivery service called Club Zero since 2020, offering a growing range from dried food staples to plant-based milk to cleaning products.
The first order comes in a reusable container, the cost of which is added only partially to the price, with Abel & Cole relying on returns to recoup the full amount.
"The price of the product assumes a rate of return," says Abel & Cole sustainability project manager Hugo Lynch. "Right now we know we get about 70% of the pots back. We are in the process of implementing a more accurate tracking system."
Lynch argues an online service overcomes some of the in-store barriers alluded to by Machin, since shoppers do not have to adopt new behaviours, beyond leaving the containers on their doorstep for drivers to collect when next delivering.
"There's no requirement to measure out portions yourself, no risk of over or under-buying," says Lynch.
Indeed, for some products, such as raisins, Abel & Cole is seeing greater shopper loyalty for the refill variant than the packaged one, allowing it to delist the latter option, he says.
The Refill Coalition's in-store solution will come alongside a parallel home delivery one, with both due to go live later this year.
In either channel, "the consumer demand for refills is there, however there is little availability to meet that demand," says Conway. She cites Opinium's 2023 Grocery Sustainability Report, which found 67% of people were likely to try a refillable station.
New coalition signatory Aldi clearly believes there is appetite too. "We look forward to working together with industry partners to offer customers even more convenient and efficient ways to shop plastic-free, and drive further uptake of unpackaged products," says plastics & packaging director Luke Emery.
Though some of those industry partners have played musical chairs, with the UK's fourth biggest supermarket now on board, and trials not even yet begun, it would be too easy right now to underestimate the Refill Coalition's potential.