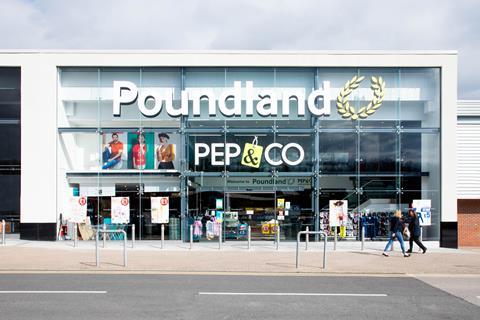 Poundland has added a free-from range to its food offering in the latest development in its transformation programme.
A 16-store pilot launched today sees gluten-free snacks, breakfast cereals, bakery products and pasta join Poundland's rapidly growing food range.
The free-from range also includes a selection of dairy-free milks.
Price examples given by Poundland include Eat Natural protein bars at £1.50 and a six-pack of Bfree kids' wraps also at £1.50.
Poundland has also begun extending its latest multiprice programme, launched last year in food and fmcg, into general merchandise. The moves sees wireless headphones and a portable soundbar go on sales in stores across the UK at £8 each from today.
Other new products launched under Poundland's 'Power Geeks' electronics brand include a smaller wireless speaker and wireless earphones at £5 each.
The stationery range is also being expanded, with new additions including an eight-pack of BIC Crystal Multicoloured pens for £2 and recycled notebooks for £3.
Until last autumn, Poundland's price points were £1, £2 and £5. It then expanded its food and fmcg ranges while adding 50p, 75p, £3 and £4 to mix. It said at the time that general merchandise would get similar treatment this year.
The transformation gathered pace last week with the announcement the estate is to be split into three types of stores – 'destination', 'core' and 'convenience' – and an online shopping service launched at Poundland.co.uk.
The rollout of 'shops in shops' offering frozen and chilled food ranges, already heading to a total of around 60 stores this year, would be accelerated, Poundland said.
The 16 stores getting free-from ranges from today are:
Birmingham Corporation Street
Hereford
Blackpool 13 Bank Hey Street
Tamworth Jolly Sailor Retail Park
Grimsby Victoria St
Barking East Street
Swansea 242 Oxford Street
Woolwich 55 Powis Street
Chelmsley Wood 3 Chestnut Walk
Wembley 435 High Road
Luton Retail Park
Witham
Liskeard
New Addington, Croydon
Southampton Above Bar
Crawley Queens