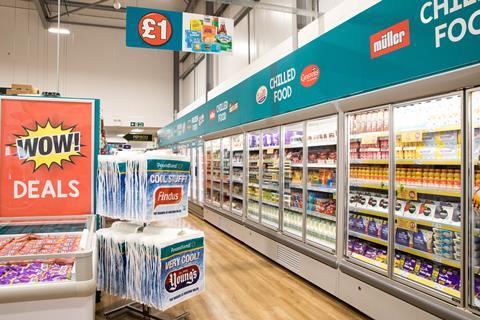 Poundland has restarted the rollout of frozen and chilled ranges to more stores after halting the plans during lockdown.
Poundland introduced the first frozen and fresh 'shops in shops' last autumn, adding an aisle of freezers and fridges, stocking 'everyday' food such as chicken wings, cod fillets and ready meals.
In March this year, Poundland announced the seven-store pilot would be rolled out to 60 more, in plans dubbed 'Project Ice'. The new lines were then introduced to 14 more stores, plus 10 with chilled only, before the programme was put on hold to focus on keeping branches open during lockdown.
The project has now resumed, with two more stores receiving the treatment, in Bradford and Mexborough.
The rollout would accelerate over the summer, Poundland said.
The ranges have been developed in partnership with Yorkshire-based frozen food retailer Fultons Foods. Bestselling frozen lines so far include Bernard Matthews chicken breasts and Birds Eye cod fillets, according to Poundland.
"The past few months have shown that shoppers really love the convenience and extra choice of chilled and frozen food," said Poundland retail director Austin Cooke.
"We're delighted to restart the programme and we're sure our customers in Bradford and Mexborough will give the new ranges, and the amazing deals, a warm welcome."
The plans are part of Poundland's "story of reinvention as it enters new categories and widens ranges at simple prices," according to a spokesman.
It follows the rollout last year of new price points, including 50p, 75p, £3, and £4, along with bigger grocery, household and health & beauty ranges.
Poundland also this week reopened the latest seven of the 100 stores that were temporarily closed during lockdown. The stores closed from the end of March and began reopening again in May.
"Just a handful" would be yet to reopen but the end of June, the spokesman said.
The latest seven are in The Mall in Bromley, Truro, Farnham, Watford High Street, Sutton High Street, Bristol Galleries and Ashford County Mall.