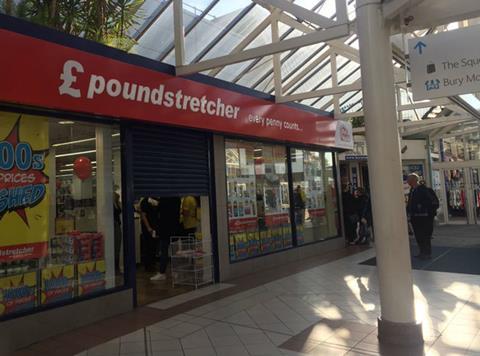 Poundstretcher is on a drive to recruit staff made redundant in the demise of Poundworld as it moves into former stores of its defunct rival.

The variety discounter chain has been approaching ex-Poundworld employees directly as it opens stores in a push to takeover dozens of former Poundworld branches.

Fifteen have already been opened, including in Bury, where Poundstretcher has recruited eight of the 14 staff who were made redundant when the Poundworld branch closed on 25 July.

Gerry Loughran, Poundstretcher's property director, said it came after Poundworld's former head of retail operations, Damon Clarke, was appointed as a director.
"We employed the director of retail from Poundworld and his national operations team and they knew the ex-Poundworld employees personally," said Loughran. "They knew they were good, hardworking people and they rang most personally, or they replied to job adverts."
He said Poundstretcher had so far opened in 15 former Poundworld stores, having aquired the leases from landlords, employing close to 300 people.
"The plan is for another 35 by Christmas, employing almost 1,000, most of which will be ex Poundworld team," he added.
The Grocer revealed last month how Poundstretcher was aiming to push its estate from 400 to 600 stores within three years, while refitting 150 existing ones in a new format that doubles fmcg space.

Poundworld had 335 stores and employed about 5,100 people when it went into administration on 11 June.