British booze is under pressure. Suppliers face soaring costs and higher taxes. The sector's largest wholesaler, Conviviality, has effectively collapsed and been broken up. England looks set to introduce minimum unit pricing, and the way retailers approach the category has changed beyond recognition. Sacred cows are dropping like flies.
The era of the 'rock star' booze buyer is over, for one. "We used to see experts that knew their trade and knew as much as the supplier did about the economy," says retail consultant John Butler. "In wine you would have Masters of Wine in charge of the category. They were the guardians of the category and the suppliers respected them. Some buyers today have never run a buying team and have come out of store operations and they just don't command the same respect."
Waitrose is the exception, thanks to its head of buying Pierpaolo Petrassi MW and Cellar wine buyer Xenia Irwin MW. But many buyers themselves agree that the position has become less powerful, so who's really setting the agenda?
Alcohol in numbers
£13bn - Total off-trade alcohol sales for the year ending 22 April 2018 [Kantar Worldpanel]
£466m - Brits splashed out this much more on alcohol in 2018 than they did last year [Kantar]
£7.7bn - Revenue expected to be collected by the Treasury from wine and spirit sales alone this year [WSTA]
1.4m+ - The number of UK jobs supported by beer, wine and spirits industries [BBPA & WSTA]
"The days when the buyer was the gatekeeper and it was entirely their decision if your brand made it onto the shelf or not are over," says the Co-op's BWS category trading manager Simon Cairns. The most significant change is "the amount of shopper and customer insight that we are having to harvest and process. Arguably, the most powerful group as a collective has become the shoppers," which Cairns admits sounds corny. But, he stresses: "I'm not saying shoppers were completely absent in decision-making in the past, but it's definitely not the case now. Their expectations are growing all the time, and the way they voice their expectations is changing. Insight is playing a far bigger role now than at any time throughout my buying career."
Power to the people, then? More like rise of the machines, says Dan Jago, CEO of Berry Bros & Rudd. "Data is becoming ever more powerful – for good and bad. If you, as a buyer, were to do a full review of the spirits category, for instance, the data will tell you what products you should stock. So buyers aren't given as much freedom to be intuitive as they used to be."
This isn't necessarily a bad thing, argues Chris Ellis, commercial director at Pernod Ricard UK. "The advent of more insight and more data allows for more educated decisions. Look at the current ranges – they're not completely driven by data and there is definitely buying flair in there. They just have access to more data when perhaps it previously was a gut instinct. It's not like this is the death of the booze buyer."
Take Majestic Wine's approach. The wine warehouse has performed a spectacular u-turn out of the red and into the black by ditching the discount-led model it was founded on. It's moved to a model similar to its sister business Naked Wines, which will see it source more bulk wine from abroad to bottle and brand in the UK.
That buyers are paying such close attention to consumer data makes power in the on-trade even more fundamental. After all, no one falls in love with a brand from seeing it on a supermarket shelf. "When you look at the on-trade and the trends coming across, everything is favourable," says Ellis. "Consumers are brand-calling at the bar, which suppliers have been working on for many years. Right now every successful brand on the market has a signature serve, even in beer where they've got branded glassware."
Indeed, booze brands are in an advantageous position because "it's one of the few categories where you have a whole channel to promote your brand that isn't retail," adds Butler. "There is a definite power shift to the brands that are doing a great job in the on-trade – it makes it much easier for them to get trial purchases in the off-trade."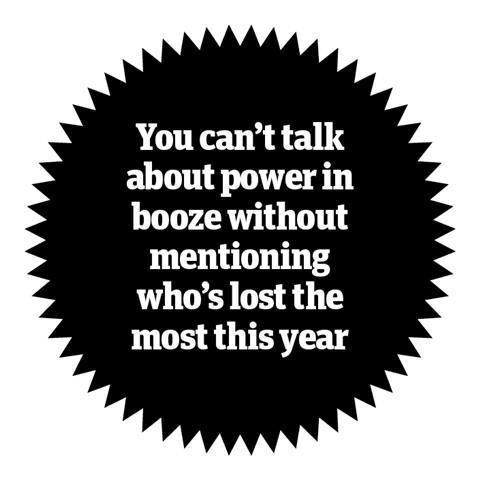 Spirits and beer brands have become particularly apt at this, he adds. "But for wine brands it's a disaster because restaurants don't support them and many of them don't sell to the on-trade directly, and don't have distribution channels of their own. They're not doing themselves any favours because they don't have route to market."
There's certainly a sense that wine businesses face greater economic challenges than beers, ciders (which are more isolated from Brexit effects because they don't rely on imports to the same degree), and spirits. Many are looking elsewhere for growth: Hardys owner Accolade, for instance, has announced a major shift in focus to China, which, with its ravenous appetite for wine (and better prices), has become a far more lucrative prospect than the UK.
"The UK market has become very challenging because unless you've got a really clear USP and you sit at either end of the bell curve – high volume, low price or low volume, high price – the bit in the middle is falling away," says Jago.
And this is all without mentioning the discounters, which, despite their comparatively small market share, have "re-established the pricing model for the drinks industry", Jago adds. Value sales across total alcohol have grown by more than a quarter (25.7%) at Lidl over the past 12 months, and 15.6% at Aldi [Kantar Worldpanel 52 w/e 22 April 2018]. However, whether their share in the category could ever really grow to rival that of Tesco or Sainsbury's is still up for debate. "I think the proof of the pudding would be what Lidl or Aldi would do if they were competing on a level playing field with the multiples," says Jago. "The fact that their model allows them to sell alcohol at, in effect, cost of operation plus goods – I don't think you can call that level."
Booze also faces a burgeoning battle on the public health front, especially now Scotland has implemented minimum unit pricing and PHE is reconsidering it for England. "The public health lobby is very, very excited," says Chris Snowdon, director of lifestyle economics at the Institute of Economic Affairs. "Scotland is not a big country but it has set a precedent. It's an endless slippery slope." Towards plain packaging? Perhaps not just yet, muses Snowdon. "But that is certainly the way it's going. There have already been reports saying we need to have graphic warnings on alcohol."
Still, you can't talk about power in booze without mentioning who has lost the most this year. It's strange to think that just a matter of months ago Diana Hunter, as CEO of the now-fallen Conviviality, could have been a strong contender for the number one slot in this ranking. Now she's unemployed and her empire is divided. Its collapse is testament to the speed at which things can unravel in the pressurised economy of post-referendum Britain, and a warning to those who think sales growth alone is proof of stability.
In light of these seismic shifts, here's our pick of the 10 most influential people in alcohol right now who are setting the agenda, rather than following it.
---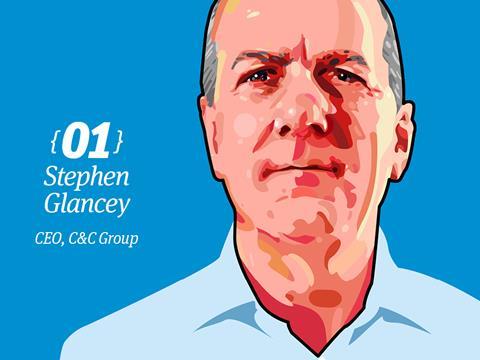 Talk about holding the keys to the kingdom. With the acquisition of Matthew Clark and Bibendum from the collapsing Conviviality, the C&C boss can add near-total domination of on-trade wholesale drinks to his list of achievements. These two distinct players distribute booze to upwards of 23,000 bars, pubs and restaurants across the UK, from value chains to top-end eateries.
But Stephen Glancey isn't at the top of this list simply by virtue of its dominance now in the UK on-trade wholesale drinks market. As Michael Caine famously remarked, it's not the size, but how you use it.
Since the acquisition Glancey has made some big moves to restore the wholesalers to their former glory, drafting in well-liked and trusted old hands such as Bibendum's original founder Michael Saunders as CEO of the wine-focused distributor, and former Matthew Clark CEO Steve Thomson as its new executive chairman. He's also begun to separate the two wings, calling them "not ideal" for integration in a previous interview with The Grocer, due to differences in the customer base, the one a high-margin, low-volume model centred on London, the other a high-volume national player.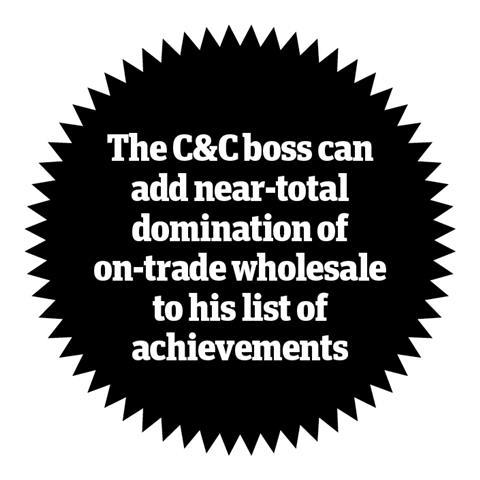 He can afford to experiment. As well as securing Matthew Clark for the nominal sum of £1 - a business he had tried to buy before, and on which Conviviality forked out £200m to stop him - the fire sale has seen Bibendum and Conviviality's brand agency wing thrown in for good measure.
And even though there are numerous creditors to pay back, beer giant AB InBev relies on it so heavily for distribution, it contributed a significant sum to C&C's £102m debt facility (which was needed to pay off the banks) without even taking a stake in the business.
Prior to the deal, Glancey had kept a low profile, but the trade has been impressed by his work as CEO of C&C. A former Scottish & Newcastle ops director, he joined as chief operating officer in 2008 and his influence has slowly built through successive promotions, culminating in his appointment as CEO in 2012, and the deals it has struck.
"It's a fantastic drinks business," says Dan Jago, CEO at Berry Brothers & Rudd. "They've revitalised Magners, which was a very clever process. And if you look at, for instance, the sale of Tullamore Dew [C&C sold the whisky to William Grant & Sons for €300m in 2010, some €100m higher than brokers estimated its value], it's a real testament to him as a businessman. He's quiet, but he gets things done. He's very impressive."
What's more, once the uncoupling of Bibendum and Matthew Clark is over, things could really get interesting. Some sources have speculated Glancey may seek to sell Bibendum in the future - a claim he has fiercely denied, calling Bibendum "an incredible company with incredible penetration in London".
Other industry sources believe Bibendum as a separate entity could have potential to grow outside the UK into Europe and the increasingly vibrant Chinese market. This thought won't have escaped Glancey - Michael Saunders is understood to have bid for the business with Chinese backing before C&C swooped.
In any case, the ex-Conviviality businesses will surely look very different this time next year. But for now their customers can be assured they're in safe hands.
---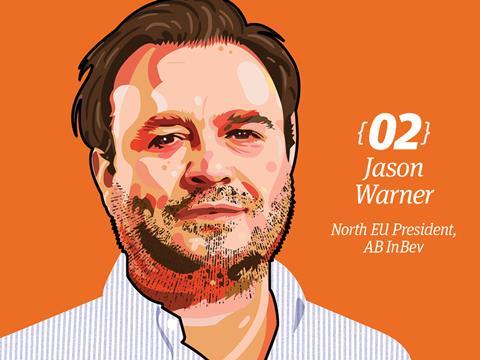 Jason Warner's list of achievements since taking the helm at brewer AB InBev in January 2016 is impressive. Under his watch Budweiser and Corona have gone from being popular but mid-table purchases to the UK's second and sixth-biggest beer brands. Bud Light, which failed in the UK when it was first launched 17 years ago, has returned to these shores and this time really landed, racking up the highest growth of any lager brand in the last 12 months, adding an eye-watering £30.5m to its value [Nielsen 52 w/e 21 April 2018]. Stella's done well too (p40), albeit 4% and Cidre are under the cosh.
As well as his obvious leadership skills, it's Warner's marketing chops and understanding of the AB InBev brands and their key demographics that makes him such an effective boss. Prior to taking on the top spot, he spent years working separately on both Budweiser and Corona, putting in respective spells for both as a global VP. That's without mentioning stints at Nestlé (as marketing director EMEA for Nescafé) and Coke (as vice president of functional beverages and innovation) before he moved to AB InBev in 2009.
Ruthlessly focusing Budweiser on football while linking Stella almost exclusively with posh sports has been a simple but shrewd way of ensuring its two biggest brands don't compete against each other. And while moves like the resurrection of the croaking 'Bud' frogs for the launch of Bud Light have caught the eye, it's Warner's work behind the scenes to deliver and execute for customers, both in-store and online, that really counts - work that helped AB InBev win The Grocer Gold Awards Supplier of the Year.
---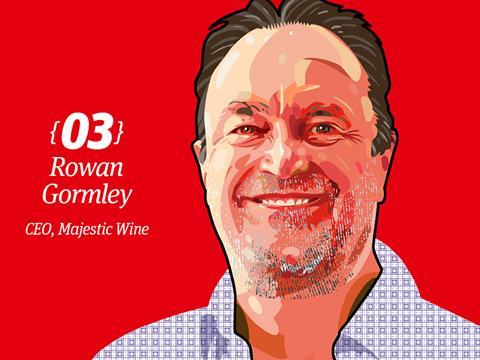 Conventional wisdom says public ownership and wine businesses make for foul bedfellows. The turnaround of Majestic says otherwise.
Since the reverse takeover by Naked Wines founder Rowan Gormley in 2015, not only has the online arm continued to grow, he's steadily transformed the retail side from catering to a steadily falling number of bougie suburban oenophiles into a sleek, flexible, modern and relevant operation.
Its latest push away from brands (it was sick of building brands and seeing them go into the supermarkets all too often at a lower price) towards own label and trendy exclusive drinks may have set some suppliers on edge. But with such ruthless competition from the supers, it's the best way of ensuring Majestic can differentiate itself. Meanwhile, a massive investment and focus on customer retention, as well as making sure shoppers are offered a more personal experience - with in-store initiatives such as 'wine fitting' recommendation stations, a 'Wine Concierge' subscription service and a new 'franchise-lite' store model designed to keep talented managers within the business - is paying off: the company is back in the black this year with pre-tax profits of £8.3m.
---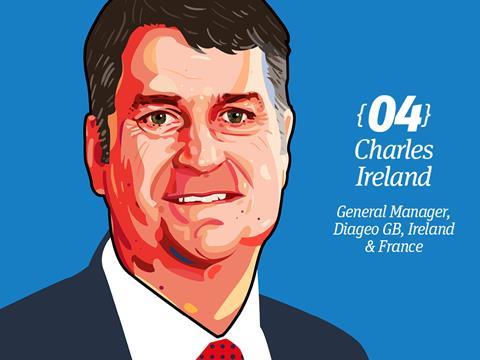 Why bother responding to trends when you can set them? As the world's biggest player in spirits, Diageo has enormous clout when it comes to turning new launches quickly into category-toppers. Its UK track record under Ireland, who stepped into the role in 2016, is particularly impressive. Haig Clubman, the single grain whisky it launched with David Beckham two years ago, has already pulled in £13.6m in sales, but the standout success has been Gordon's Pink. An initiative that originated as a Tesco exclusive last summer, it has racked up huge sales (almost £35m in the off-trade alone) and spawned numerous imitators. It's proof that a spirits giant can do great innovation and will go down as one of the most successful drink launches not just of the last year but perhaps the decade.
Smirnoff Cider has also been a roaring success (at a time when AB InBev's Stella Cidre crossover has been struggling), and there have been several other successful brand extensions.
Ireland's sphere of influence extends further than that of other bosses, too. He sits on the board of the Wine and Spirit Trade Association, from which he has repeatedly rallied against duty increases and pushed for clarity from government on Brexit when it comes to how Britain's desertion of the EU will affect the alcohol industry.
---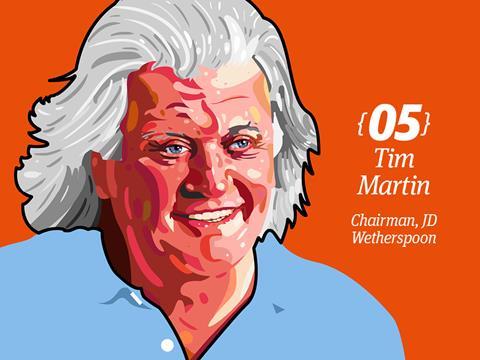 From infuriating swathes of Brits by railing against the EU (not to mention the unfortunate Brexit beer mat incident), to sparking a media frenzy by deleting all of Wetherspoon's social media accounts, no other pub landlord makes headlines like Tim Martin.
But there's more to his success than controversial antics. "Behind the mullet and the headline-grabbing digs at his twin foes, EU bureaucrats and Jamie Oliver, lies an incredibly shrewd businessman," says James Wallin, editor of MCA Insight. "The decision to leave social media gave Wetherspoon the sort of coverage other brands would die for. It further endeared it to a large segment of its target market, alienated virtually none of it, and all by axing something the company never really invested in to start with."
He takes a scrutinous approach to the day-to-day running of the chain, visiting his pubs every week, and is constantly in conversation with customers, adds Wallin.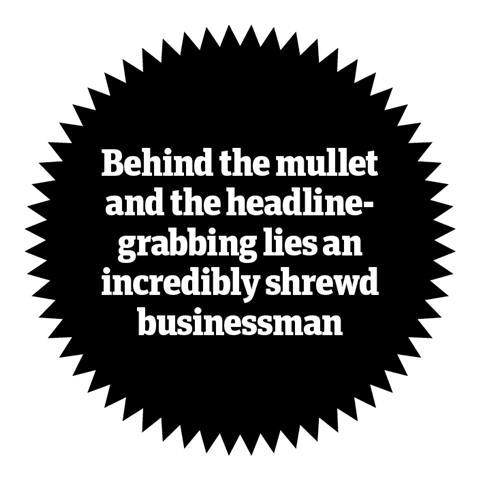 And however you feel about Brexit, that Wetherspoon is putting its money where its mouth is in efforts to build a drinks sourcing policy relying solely on UK and non-EU imports is an admirable statement of intent.
Wetherspoon is one of the few businesses in the sector to use regional price flexing to keep in check with its competition, and cottoned on to the craft beer trend long before some of its rivals. All of this helps it thrive while other casual dining operators struggle.
"This has been achieved without spending a penny on advertising," Wallin notes. "Martin himself has been the brand's own marketing machine. The only real concern is how the brand will fare when he eventually chooses to take a step back."
Which is proof, perhaps, that as Martin himself puts it, the only way to ensure you don't go out of fashion is to not be trendy in the first place.
---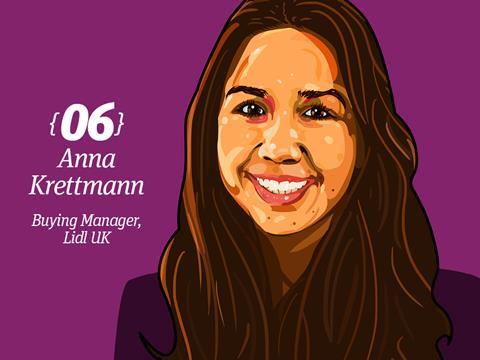 That Lidl's value sales of wine have risen by almost a third (27.4%) over the past year is only part of the reason why its young wine buyer makes this list. Krettmann joined Lidl under the tutelage of Ben Hulme (who has since moved to head up the discounter's BWS on an international level) and was soon given sole responsibility for Lidl's wine in the UK. She has lit a fire under retail rivals with moves such as increasing the core range by 50%, sourcing an increasing variety of unique wines and standout collections from nontraditional regions such as Hungary and introducing a new 'luxury range' at £10 a bottle.
Her profile is growing steadily in the trade, and she was named one of The Grocer's Top New Talent winners last year for her spearheading of Lidl's progressive wine buying. The age of the 'rock star' booze buyer may be reaching its close, but Krettmann's rise to prominence shows there's still a place for BWS buyers to take real ownership of their category and steer it on to greater things.
---
BrewDog inspires as much loathing and envy among drinks professionals as it does respect and admiration - and for good reason. Watt and co-founder Martin Dickie's brand has broken all the rules on its way to the top. Throughout the course of its rise to fame Watt has casually insulted nearly all of the trade's biggest players, denouncing the likes of Diageo as "dishonest hammerheads", the Portman Group as "killjoy jobsworths" and the acquisition of craft brands such as Camden by the likes of AB InBev as "horrifically bad for the beer, for the consumer, and for the industry".
And yet BrewDog is the biggest success story in booze of the last 10 years. Watt's hyper-irreverent, antagonistic marketing has won the brand a cultish fanbase others could only dream of - a fanbase that has repeatedly ploughed millions of pounds of its own money into BrewDog's 'Equity for Punks' fundraising schemes. And with expansion underway in the US and Australia, world domination looks increasingly certain.
---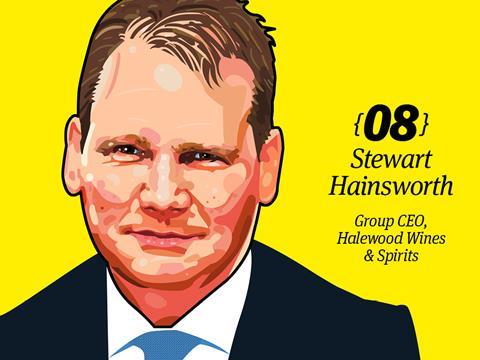 Stewart Hainsworth's revitalisation strategy has turned Lambrini owner Halewood Wines & Spirits into one of the most vital forces in modern British booze. The distributor has pursued a merciless campaign of acquisition over past years, snapping up trendy craft spirits players and signing new distribution deals quite literally on a monthly basis - the latest of these being Dead Man's Fingers craft rum, for which Halewood has already secured a potentially lucrative Asda listing, and upmarket Siberian vodka Beluga.
The jewel in Halewood's crown, though, is Whitley Neill. Sales of Halewood's premium gin frontrunner have absolutely skyrocketed: at the time of writing, the brand had added an eye-watering £14m to its value - a 413.3% increase [Nielsen 52 w/e 21 April 2018].
---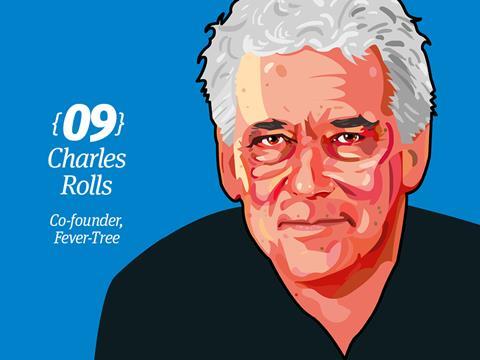 Fever-Tree has stamped its mark on the drinks industry without ever selling a drop. It is not unreasonable to suggest that without it the craft gin boom may never have happened. Like BrewDog, it can be credited with turning an entire category - and the conventional thinking about how to manage and sell that category - on its head.
What Rolls and co-founder Tim Warrillow also realised was that market leader Schweppes, embroiled in a battle against own label tonics, had cost-engineered itself into a commodity, sacrificing its premium status for volume. This left a colossal gap in the market for Fever-Tree to position itself not just as a 'trade up' from Schweppes, but as the perfect accompaniment to posh gin. Several billion gin & tonics later, Fever-Tree has been crowned the biggest tonic brand in the UK off-trade. With the move into dark mixers, Rolls, who has a personal net worth of £209m (according to the Sunday Times) thanks to Fever-Tree, is now trying to do for whisky what's he done for the G&T.
---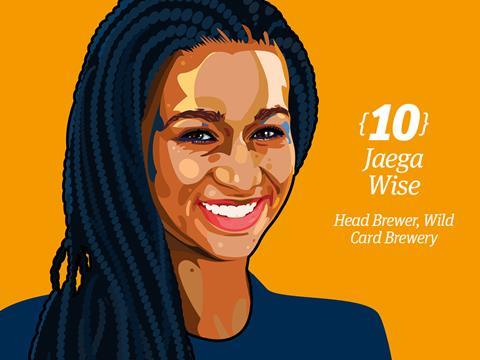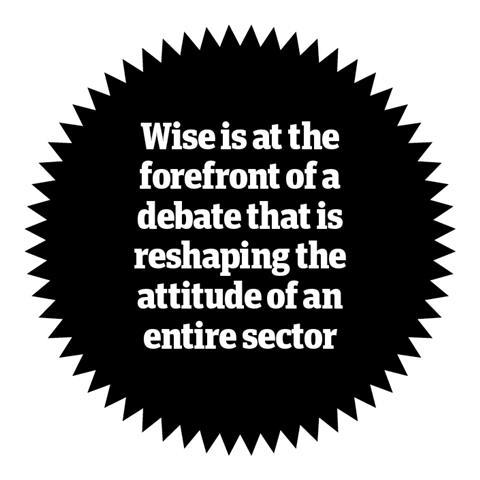 Craft beer is having its 'me too' moment, and Jaega Wise is at the vanguard. Since giving a storming speech at the Brewers Congress in which she suggested CAMRA ban sexist pump clips, Wise has become a figurehead for the innumerable beer fans sick of sleazy marketing and a lack of equal representation in the trade. "She was speaking emphatically and intelligently about marginalisation and sexism in the beer industry, and her delivery was heralded across social media," says one source in the craft sector.
Wise did not start the industry's dialogue around sexism in beer but this was "the battle cry for change". And she has been in huge demand since, picking up a slot as a presenter on The Wine Show and joining the Society of Independent Brewers as a director in January. She may lack the commercial weight of other names on this list, but Wise is at the forefront of a debate that is reshaping the attitude of an entire sector.


Daniel is The Grocer's food and drink editor and is responsible for our product coverage across all fmcg categories.

Daniel has written about food and drink for the majority of his career: prior to joining The Grocer in 2017, he covered food and drink news on pub industry title The Morning Advertiser, and wrote features for VICE magazine.

Follow Daniel on Twitter: @WoolfsonExists