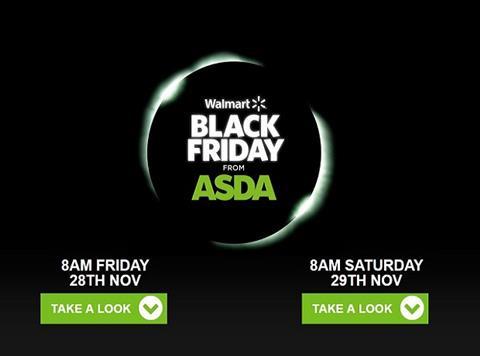 There's no going back now; Black Friday – the day after Thanksgiving Day – has found a profitable new home in the UK, with more than £1m set to be spent every three minutes on 28 November, according to Visa Europe.
And the supermarkets are really taking notice of the US import this year – advertising huge discounts in an attempt to secure shopper's Christmas spend.
Sainsbury's – one of this year's newcomers to the one-day discount – is bending the rules slightly by offering reduced prices for three days, or until stocks run out. Prices will be cut on 13 product lines including TVs, tablets, audio products and kitchen electricals at 485 stores, but customers are only allowed to buy one of each product. Stand-out deals will include the Russell Hobbs Purify, reduced from £149.99 to £49.99 and a Blaupunkt 40-inch LED TV reduced from £299.99 to £149.99.
"It's a competitive market, so it felt right to be part of the mix this year and kick off the busiest trading time of the year with a popular sales event," says Sainsbury's director of retail and operations Roger Burnley.
Asda's Black Friday also shuns the traditional one-day rule, with discounts lasting two days, starting Friday 8am. TVs, mobile phones, tablets and toys will be among 700,000 products reduced across 441 stores. Asda is selling quad bikes discounted by almost 50%, to £3,500 and offering free driving courses and advice for anyone buying them. The supermarket will also be selling 40-inch LED TVs priced at just £139. There will also be extra security to help manage disorder on the day – with Asda's Watford superstore gaining 14 crowd control staff for the event.
"There were over 3.8 million transactions at Asda last Black Friday – queues started forming from as early as 5am and we achieved a 60% sell through rate in first two hours," says Asda general merchandise senior director Ayaz Alam. "I think our lead has prompted many other retailers this year to get involved, helping to establish the event further as a mainstay in the retail calendar.
"Many of our customers have been coming to us directly over the past few months to ask whether we'll be offering Black Friday deals again this year, so the success of last year is helping to drive conversations about our offers," Alam adds.
Waitrose is also increasing its Black Friday activity, in particular at its Food & Home stores – this year adding small domestic appliances to the range. Meanwhile, Tesco is offering discounts of up 70% as the supermarket expects the event to eclipse even Boxing Day sales. Online and in superstores and Extra stores, 200 products will be discounted across electrical, entertainment, mobile, DIY and toys categories. Discounts will last for three days, with offers becoming available at 00:01 on Friday.
"Black Friday now marks the real start of Christmas shopping and Tesco is recognising this," says Rob Hattrell, Tesco general merchandise director. "We expect that over two thirds of those snapping up a Black Friday bargain online will choose a click & collect option for delivery."
The Co-operative Group's electrical website is also getting in on the discounting action, with members set to receive an exclusive code from midnight tonight enabling them to access even further discounts.
M&S is preparing discounts from Black Friday through to Cyber Monday. Last year, the retailer offered 20% off womenswear, menswear and lingerie.
Not taking part
However, some retailers have chosen not to jump on the Black Friday bandwagon. Morrisons' Black Friday activity pales in comparison to that of its big four rivals – the supermarket is issuing a £5 off voucher in The Sun, which can be used until Sunday instore and online.
Iceland, Aldi and Lidl are all not taking part. "Aldi customers enjoy consistent everyday low prices, while shoppers elsewhere face confusing and ever-changing discounts and offers," says an Aldi spokesman.
However, Black Friday can be likened to some Aldi offers, believes Sarah Todd, CEO of shopper marketing agency Geometry Global.
"Aldi's limited products, like its Wagyu beef steaks in the summer, were promoted across different channels. They created the fear of missing out, the message spread and it was a huge footfall driver. New shoppers went into the store and a percentage of those will have returned even after the promotion was over, because they'd seen what Aldi was like for other produce. That's Black Friday -create a fear of missing out, spread the message and then show shoppers reasons to return after the event is over," she says.
Todd predicts that in the future Black Friday and Cyber Monday (1 December – the UK's biggest online shopping day) will "join up" and "there'll be one long weekend of different discounts, on and offline".
"The retailers who aren't taking part this year will be watching those that do very closely," she adds.
Born in the USA
Black Friday's popularity has spread fast – being relatively unheard of in the UK five years ago. This year, 74% of shoppers are aware of the event, which, says shopper marketing agency Savvy, means Black Friday has reached "critical mass". It has also spread to Germany, Australia and Brazil, driven largely by e-commerce firms.
Black Friday "hit the mainstream" in the UK when Asda launched Black Friday instore last year, says Kantar Retail retail insights director Bryan Roberts.
"I think the consumer interest in Black Friday this year is mainly due to the fact that it happened in such a tangible way last year," he says. "But there's a fine line between Black Friday excitement and civil disorder. There were a couple of unsavoury incidents in Asda last year, but lessons have been learned."
For food and drink retailers, Black Friday is an opportunity to showcase food ranges and "lock-in shoppers' Christmas spend" says Savvy Marketing insight director Alistair Lockhart.
"Big loss-leading discounts on expensive non-food products will increase footfall," says Lockhart. "Retailers can use it as an opportunity to advertise their full Christmas range, so that shoppers return in December to buy their food. That's where Black Friday really has the potential to redefine the run-up to Christmas."
Lockhart also has a word of warning for retailers extending their discounts over a number of days.
"Flash sales are great for getting shoppers instore and locking in their Christmas spend, but UK retailers need to keep the event a one-day spectacular.
"It cannot seem like a general sale – you will lose the excitement. There are two models retailers tend to use for Black Friday - promote products that haven't been selling well, or buy products specifically for Black Friday. Most UK retailers do the latter, but they need to be careful that consumers don't think the event is too orchestrated."
Digital innovation firm Rockfish also offers advice to UK retailers based on their experience of Black Friday in the US.
"Impressive Black Friday strategies we've seen in recent years in the US include Walmart refining its 'guaranteed doorbusters' strategy, guaranteeing prices for shoppers who come to the store at a specific time - if the store runs out of stock, the shopper will receive a voucher to obtain the item at the advertised price later on," says Rockfish vice president Obi Ike.
"You also need to be channel-aware – make sure your e-commerce site is optimised for desktop, tablet and mobile viewers. If shoppers can't find you, they will go to another retailer," he adds.