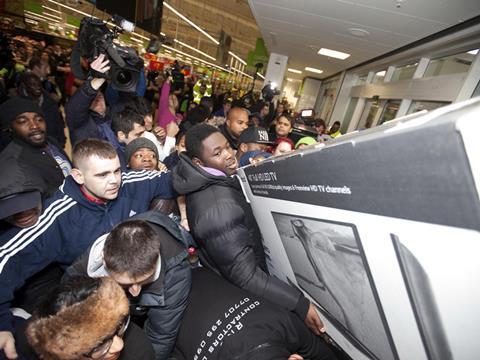 It is already the busiest event in the American retail calendar, with shoppers spending a total of £33bn over the four-day weekend last year. Now this year's Black Friday is set to be the biggest the UK has seen, as bargain-hunting Brits cotton on to the US phenomenon, a new study has suggested.
ICM Unlimited found that 95% of Brits have heard of the term Black Friday, and that almost one quarter of the population plan to buy something on 27 November. Seven in 10 people that bought something on the day last year are planning on doing so again.
With staggering reductions on categories including technology, entertainment and clothing, Black Friday's main customers are likely to be 18 to 35-year-olds, with 42% of the demographic planning a purchase. The main retailers shoppers are planning to visit include John Lewis, Amazon, Argos and Asda. The average spend is estimated at £266 per person, and overall sales are expected to reach £1.6bn (Conlumino).
Although a fairly recent phenomenon, Black Friday attracts thousands of customers each year as they sniff out special offers before Christmas.
As our feature The Good, The Bad and The Ugly explores today, the event has previously resulted in huge queues, fights between customers and even the death of Walmart employee Jdimytai Damour, who was trampled in 2008 by rabid shoppers.
Kate Bewick, associate director at ICM Unlimited, said: "Despite scenes of long queues, frustrated shoppers and frozen websites overwhelmed with visitors, one half (49%) of those who were dissatisfied on Black Friday in 2014 intend to buy this year. That may be because the offers are just too good to resist."