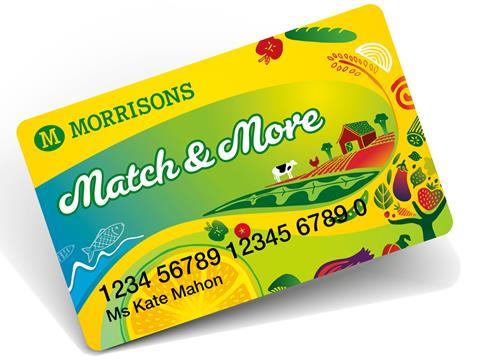 Morrisons is set to overhaul its Match & More loyalty scheme and is abandoning the price-matching element.
Launched a year ago with great fanfare by former CEO Dalton Philips, Match & More was the first major supermarket scheme to price match against both Aldi and Lidl, as well as other traditional supermarket rivals.
The scheme has been under review for some time and The Grocer reported in September that current CEO David Potts had given his strongest hint yet that it would be either ditched or radically overhauled.
Following reports in the press over the weekend, Morrisons confirmed today that the scheme would be changing from 2 November to become more akin to traditional supermarket loyalty schemes such as Tesco's Clubcard or Sainsbury's Nectar.
Shoppers at Morrisons will now receive five points for every pound spent in store or online as well as having the opportunity to earn more points through buying specially promoted items. They will then get a £5 voucher once they have achieved 5,000 points. A Morrisons spokesman said that the opportunity to earn more points through special purchases meant that shoppers would have to spend significantly less than £1,000 in store before receiving the £5 voucher.
He denied that Morrisons was making the change due to the cost of vouchers being handed out but insisted rather that there was a lack of understanding of how the scheme worked.
"We have listened carefully to customers and we believe that they will prefer this simpler loyalty scheme. The changes mean that every pound counts towards earning points, which is much clearer for our customers," he said.
The spokesman also told The Grocer that the Match & More name would be changed in the first half of next year to reflect the change as there is no longer any match element.