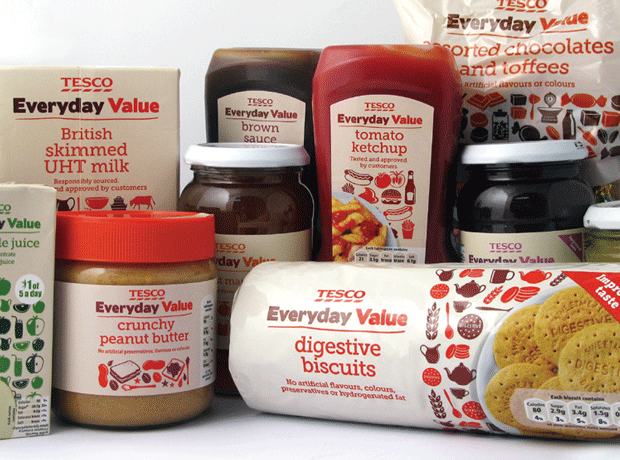 Reports of the death of value own-label brands are obviously greatly exaggerated, given developments at Morrisons this week and the news that could be to come from Tesco boss Dave Lewis tomorrow.
It's two years since Tesco starting phasing out its Everyday Value lineup, with the emergence of the Farms brands strategy. The writing had appeared to be on the wall for this sector of the grocery shop, as the quality of discounter offerings threatened to make supermarket entry-level products obsolete.
But if people are too ashamed to be seen loading up with value (or in this case Savers) products, the message clearly has not got through to Morrisons chief David Potts.
The overhaul of Morrisons' own-label budget range, with new packaging and prices cut to as low as 20p for some everyday food items, involves more than 250 SKUs at launch, as the supermarket replaces the M Savers lineup launched in 2011. And it's promising to cut more prices.
The Grocer understands Morrisons is handing over the entire seasonal aisle of stores across the country to market the move, for at least the next three weeks. It's about as in your face as it gets.
The old M Savers packaging had begun to look tired, but the new range is pleasing to the eye, with a sophisticated minimalist design that looks quite classy – though it's still clear it's aimed at those looking to shave money off their bills. This was also very much the case with Tesco's Everyday Value offering before it was replaced with the Farms brands.
And tomorrow the focus switches again to Potts' old employer as the retail world waits to see what Lewis and his new number two, Charles Wilson, have in mind for their new empire following the merger with Booker.
For months there has been speculation that Tesco has been planning to launch a budget brand, possibly even with its own standalone stores, to take the fight to Aldi and Lidl.
But others believe the bigger opportunity for the new Tesco empire could be to roll out a new core own-label value brand across both Tesco and its new convenience sister stores from the Booker brigade.
Bryan Roberts, insights director at TCC Global, says he expects "big moves coming down the pipeline" from Tesco on its key grocery offering, across both the supermarket and convenience sector. He pinpoints the rollout of its Hearty Food Co range, first unveiled in November last year to replace Everyday Value chilled meals, as the possible vehicle.
"With this brand, Tesco has established a non-Tesco, value brand which it could perceivably roll out across the whole Tesco/Booker empire," says Roberts.
But whatever comes through the pipeline, it's also likely to affect other supermarkets, with speculation that Tesco is planning to reposition its entire value offer, with a renewed focus on quality and price.
With Morrisons set to launch the advertising around its own-label move tomorrow, just as Lewis and Wilson begin to set out their vision, the future of own label and how it can save shoppers money when their backs are still up against the wall looks set to be the key battleground ahead – however it is badged on the packet.