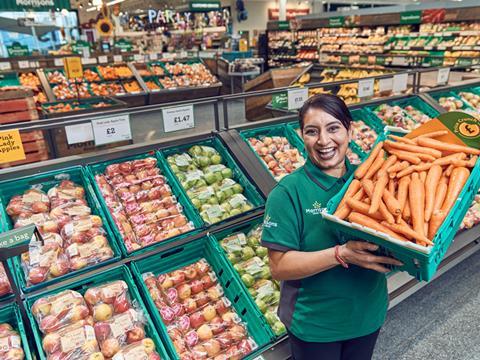 Morrisons has today launched the third phase of its Price Crunch campaign by reducing the price of 1,045 everyday products by an average of 18%.

The retailer said that by making the reductions it was looking to address consumer concerns over rising food prices in the wake of the Brexit vote.

The price cuts have been made on hundreds of core grocery and dairy items. These include a 22.3% reduction in the price of a kilo of own-label beef mince 20% fat from £3.86 to £3.00 and a 30% reduction in own-label chicken thighs (750g) from £2.25 to £1.57.

The retailer first brought back its Price Crunch campaign in February this year when it reduced the price of 1,072 lines by an average of 19% and followed this up in May with a further 847 price cuts.

"We are constantly listening to our customers and know they are concerned about whether food prices will go up following the Brexit vote, especially on imports," said Morrisons customer and marketing director Andy Atkinson.

"Morrisons is unique as a food-maker and shopkeeper, and unlike the rest of the industry manufactures food, both in our own food processing plants and our 500 stores. We are British farming's biggest supermarket customer, which means we can better control our prices, and this latest round of crunches demonstrates our commitment to offering the best possible value to our customers this summer."

The move is likely to spark further speculation of a wider supermarket price war. Analysts have widely tipped Asda to make a major move on price in a bid to address its falling sales.
Example savings:
| Product | Old Price | New Price |
| --- | --- | --- |
| M British Beef Mince 20% Fat 1kg | £3.86 | £3 |
| M Chicken Thighs 750g | £2.25 | £1.57 |
| Morrisons Blackberries 225g | £2.36 | £1.64 |
| Morrisons Organic Broccoli 350g | £1.42 | £1.21 |
| Morrisons Smoked Haddock | £12.95 | £11.54 |
| M Part-Baked White Rolls | 62p | 54p |
| Cadbury Choc Mini Rolls | £2.85 | £1.47 |
| Carlsberg Lager 4 x 44ml | £3.75 | £3.36 |
| M Crunchy Peanut Butter | £1.27 | £1 |
| Tetley Tea Extra Strong 75s | £2.57 | £2 |
| Branston Baked Beans 4x410g | £2 | £1.50 |
| Applewood Smoke Flavoured Cheddar | £2 | £1.50 |
| M Orange Juice Smooth | £1 | 77p |
| Birds Eye Omega 3 Fish Fingers 20pk | £3 | £2 |
| Birds Eye Garden Peas 400g | £1.50 | £1 |
| Huggies Natural Care Single Wipes | £1 | 72p |
| Heinz Infant Spaghetti Bolognese 230g | £1.45 | £1 |
| Morrisons Flapjack Cookies 200g | £1.58 | £1 |
| Haribo Starmix Bag 200g | £1.40 | £1 |
| TOTAL PRICE | £48.83 | £37.75 |
| | Saving £ | £11.08 |
| | Saving % | 23% |