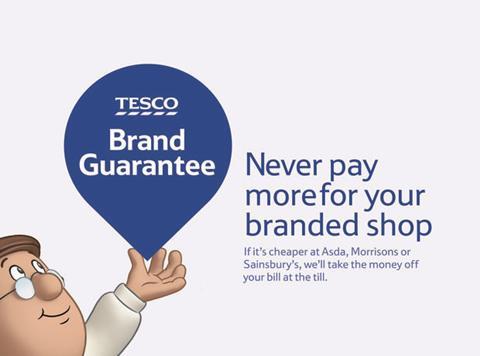 Tesco today confirmed a dramatic overhaul of its Price Promise price-matching scheme with the rollout of Brand Guarantee. The new scheme offers an instant discount at the tills if branded products would have been cheaper at any of its big four rivals.
The scheme, which will only be available in larger stores and online, replicates the original Sainsbury's Brand Match scheme, though Sainsbury's now only matches against brand prices sold at Asda.
If the shop would have been cheaper elsewhere, customers will automatically get the difference deducted from their bills,
However, Brand Guarantee rewards will be based only on the comparative price of branded products, unlike the voucher-based Price Promise, which included own label and brands.
Tesco's move came as it unveiled new research revealing the extent to which price match vouchers were "failing to meet customers' needs", claiming that UK customers were potentially missing out on hundreds of millions of pounds in savings each year.
According to the research, from a YouGov pull of more than 2,000 customers, over a third (35%) have never used a price matching scheme in-store, rising to 80% online.
The research also showed that almost half (48%) of supermarket shoppers cited the main reason for this as the fact they forgot to use the vouchers, while 16% of shoppers said they lost vouchers before they could claim their savings.
"Shoppers tell us price-matching vouchers are a pain and don't really help them," said Tesco UK and Ireland CEO Matt Davies. "We all know it can be stressful and awkward when you have to rummage through your wallet to find a price match voucher. That's why we're ensuring that with Brand Guarantee customers will never lose out on their branded shop by getting money off their bill at the till.
"We're working hard to make the shopping trip that little bit easier for customers, with simple, affordable prices you can trust. Brand Guarantee is one more way we are taking the hassle out of a trip to the supermarket or an online shop."