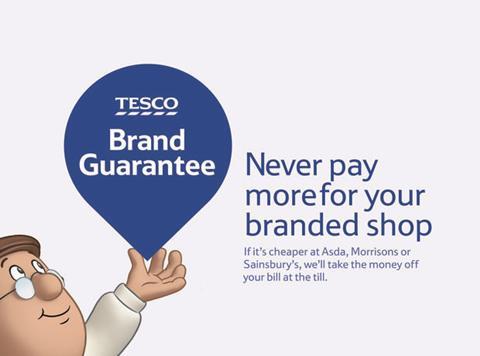 In the wake of Morrisons pulling the plug on the price-matching element of its Match & More loyalty card scheme, I wrote that price-matching schemes were past their sell-by date.
Today Tesco would likely argue that it has just extended that shelf-life considerably, with the launch of Brand Guarantee – which is not to be confused with the Asda Price Guarantee or Sainsbury's Brand Match.
The key difference with the Tesco scheme is that rather than issuing shoppers with a voucher for money off their next shop if the comparable items in their baskets could be bought cheaper elsewhere, under Brand Guarantee Tesco will instantly compensate the shopper by taking the difference off the total cost of the shopping there and then.
This is a step-change in terms of what we have seen from price-matching schemes thus far. When Asda launched its Price Guarantee in 2010, followed by Tesco with Price Promise and Sainsbury's with Brand Match, one of the main criticisms of the schemes was the idea that the reward for shoppers having to pay higher prices was a ticket to come back next week and hope that pricing had become sharper.
There was an implied loyalty element in these schemes whereby in order to take advantage of the deal, shoppers had to return time and time again, all the while being told that they could buy their groceries cheaper elsewhere if only they could break free from the cycle of higher prices and money-back coupons.
In truth, the only kind of loyalty this can engender would be begrudging at best and the rise of Aldi and Lidl over the past five years is all you need to know about the effectiveness of these schemes thus far.
Speaking to me earlier today, Tesco chief customer director Robin Terrell said he expected the fact that the awards would now be instant was far more likely to drive real loyalty and I have to agree. Who doesn't like looking at their till receipt and seeing all the discounts they have accrued? This is much more likely to create positive emotions than getting a voucher (which you then go on to forget to redeem in time, or leave in the back pocket of your jeans when you put them in the wash).
This is the other interesting element of Brand Guarantee. It will mean Tesco having to pay out every time its branded products are more expensive than its rivals, rather than just when a shopper remembers to redeem a voucher. The cynics among us always suspected this was the key point of price-matching schemes – to provide reassurance without it actually costing all that much. Terrell says this is an example of Tesco "doing the right thing for its customers" – will its rivals be forced into doing the same?
All in all, it does seem that rumours of the death of price-matching may have been somewhat exaggerated. But if the big four are to really stem the tide of the discounters and return to profitable growth, then there is a lot more work still to be done around price in general, ranging and product quality. What happens on these elements, particularly at Tesco, could prove far more significant for the industry as a whole.