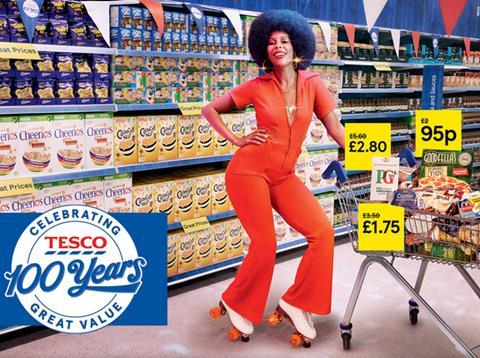 With disco divas on rollerskates, Mods on Vespas and Mr Blobby in a trolley, Tesco's 'prices that take you back' centenary celebration campaign is not your ordinary January 'sale' event. And based on some of the tailbacks outside stores last weekend, it's captured the public's attention.

Set to run until the end of January, there are price cuts on about 20 fridge and freezer SKUs averaging 50% - including a six-pack of Müller Corner Fruit Yoghurts, down from £3.50 to £1.75, and a Pizza Express American Pizza 475g, down from £6 to £3 [Edge by Ascential]. The supermarket has also cut prices on more than 70 store cupboard SKUs by over a third, including Heinz Baked Beans in Tomato Sauce 415g, down from 75p to 50p and Kenco Rich Instant Coffee 200g, down from £6.99 to £4.

Almost 30 soft drinks and booze SKUs have been cut by over 25% on average. Among them 24x330ml cans of Diet Coke, down from £8 to £5.50, and Robinsons Blackcurrant 850ml, down from £2.49 to £1.24. There have also been price cuts averaging over 30% on around 20 household SKUs, while 13 health & beauty SKUs have been slashed in half.

Some of the products included in Tesco's Centenary price cuts are regularly discounted to similar levels, such as the 550ml block of Cathedral City Mature Cheddar, which has been £3 or less four times over the past 12 months, or the Fuel 10k Liquid Breakfast Drink Chocolate 330ml, which has been £1 eight times previously.

However, on the whole, the Centenary price cuts are deeper than Tesco's standard promotional cycle, with the various baskets of discounted goods priced significantly lower than they were in January last year.

This has been reflected in strong shopper demand for the discounted items, the supermarket claimed this week.

"Since launching on Monday 7 January, customers feeling the pinch post-Christmas have been able to take advantage of a wide range of money-saving deals on hundreds of selected products from well-known brands," claimed a spokeswoman. "Savvy-shoppers have already snapped up 147,000 tins of beans in an hour, 19.8 million grams of Cathedral City Cheese, and three weeks' worth of fish fingers in a day."

Tesco's Centenary price cuts haven't had a huge impact on its overall affordability, though, bringing its average price for ambient food and drink down just 1% over the past month, while its chilled and frozen average prices have remained static. It increased prices on a swathe of bread and bakery SKUs at the end of December, as well as a number of fresh meat and fresh produce SKUs and a range of frozen Birds Eye lines, our data suggests.

However, the Centenary cuts have had an impact on Tesco's average prices in some categories, including ambient ready meals (-7%), cereal bars (-13%) and cooking sauces (-4%).