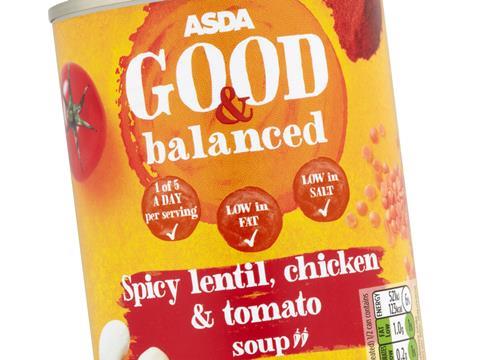 Who: Asda

What: Good & Balanced Spicy Lentil, Chicken & Tomato Soup

Where: Ambient soups

When: Launched March 2015

How much: 58p/400g

Why: This soup was launched a few months after Asda unveiled its initial tranche of Good & Balanced products. Developed to offer "a better balance of nutrients", the line-up comprises a wide selection of products including seeds, nuts, frozen veg, drinks, salads and ready meals. Asda has also rolled out sister range Good & Counted for consumers keeping an eye on calories.

Consumer verdict: A great example of a low-fat ambient soup, this Asda product was a hit with testers - particularly in the Midlands and North. There was a 39% increase in purchase intention after trial as the soup surpassed the expectations of many respondents. Positive comments included "thick" and "loaded with beans", which helped make this very satisfying. The flavour was as spicy as the name suggested. Health was another driver of purchase interest, particularly among over-55s. The soup was also rated "excellent or good" value by 87% of testers, which encouraged regular usage.

Pre-trial purchase: 31%

Post-trial purchase: 70%

Better than what's out there: 61%

New and different: 70%

Overall score: 42/50

What is Fast Foodfax?
It is a subscriber service that has been running for more than 30 years, offering consumer assessments of new products and allowing comparisons with more than 17,000 products from our database. It is objective, impartial and totally independent, and each product is assessed using original consumer feedback from respondents across the UK. See here for further information. Fast Foodfax is prepared by Cambridge Market Research, which works closely with The Grocer magazine on a variety of projects including the consumer judging element of the The Grocer's Own-label Food & Drink Awards and New Product Awards.
Tel. 01223 492 050 Email: Info@CambridgeMR.com