With sustainability climbing the agenda in the food and drink industry, how long will it be before consumers demand more details on carbon footprint on the groceries they buy and can rail freight help suppliers and retailers meet ambitious emissions targets?
Food products already provide consumers with a host of information to help them make informed decisions around nutritional content. When it comes to sustainability, however, information is often limited or non-existent and a recent European survey1 revealed that this can lead to a lack of consumer confidence when making choices.
The latest report from the EIT Food Trust Tracker2 revealed that consumers felt they lacked sufficient knowledge to make informed choices regarding the sustainability of food products. Details on food miles, average emissions and the amount of water used is not easy to come by for individual food items and yet, as consumers grow ever more conscious of their own carbon footprint, how long will it be before they demand these statistics are displayed as part of the food labelling process?
The evolution of rail freight
As food producers and grocers wrestle with their own ambitious targets around net zero carbon emissions and consumers demand even more information about the sustainability credentials of the food on the shelves of their local store or supermarket, one thing is certain; the method of transport used at every stage of the supply chain process will matter more than ever, and rail freight has an important part to play in helping the industry get ahead of the carbon curve.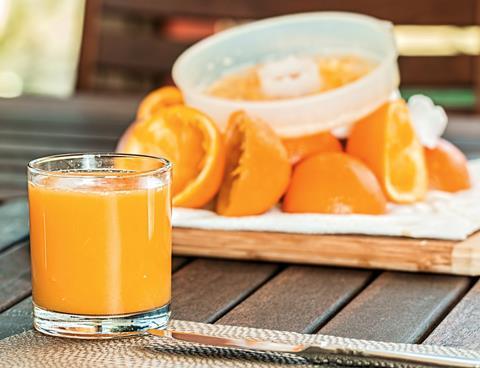 Over the last two decades, rail freight has evolved. Once associated with the supply of coal to power stations and the delivery of aggregates for the construction industry, today's freight trains are just as likely to be carrying oranges from Spain, whisky from Scotland, flatpack furniture from Sweden or automotive parts from Germany. Indeed, each year rail freight transports goods worth about £30bn the length and breadth of the UK and plays a key role in helping companies build sustainable and resilient supply chains.
"Rail freight transports goods worth about £30bn the length and breadth of the UK and plays a key roe in buidling sustainable supply chains"
During the Covid-19 pandemic, alongside its normal levels of activity, rail freight has run longer trains and carried new flows of personal protective equipment (PPE) and other essentials items to ensure demand is met. It is a sustainable and efficient link in the supply chain that's often overlooked due to misconceptions around cost and reliability. However, it could help the sector reduce its environmental impact and demonstrate a real commitment to cleaner, greener, delivery.
Lower emissions
According to Department of Transport figures quoted within a recent report by the Chartered Institute of Logistics and Transport (CILT)3, rail freight contributed just 0.3% to overall transport emissions in 2018 and 2019, with HGVs and vans contributing 17% and 16% respectively. Indeed, as every tonne carried by rail instead of road reduces carbon dioxide emissions by 76%, it's easy to see why rail freight is gaining popularity in the race to build cleaner, greener supply chains and deliver transparency and traceability when it comes to food miles and emissions.
While moving goods by road remains the most popular mode of freight transportation in the UK, rail freight is poised to play a much bigger role in coming years. Currently, 95% of rail freight mileage is diesel. However, if a rolling programme of rail electrification were introduced, this would bring further environmental gains.
While the UK has a well-established national rail network, it is important to ensure a key logistics infrastructure is also in place and located in areas of the country that benefit from good access, close to major transport hubs. Situated in the logistics 'golden triangle', Daventry International Rail Freight Terminal (DIRFT), for example, is close to the M1 motorway and has a direct connection to the Northampton loop of the West Coast Main Line, providing rail access to the south-east ports, and up the spine of the country to Scotland.
Importantly, the site has been designed to take electrified trains and act as a regional hub for rail freight flows to and from the port of Felixstowe and the Channel Tunnel, which is a key part of the Trans-European Combined Freight Network. HGV delivery drivers leaving DIRFT can reach 95% of the country in under four-and-a-half hours, the maximum time they can legally drive without taking a break.
Retailer's £5m investment in rail
Tesco is now the biggest retail user of rail in the UK and is so convinced of its benefits that it recently launched a new £5m investment programme at DIRFT to support its plans to transfer a greater proportion of its distribution network away from road and on to the rail network.
Tesco's increased rail service is set to replace 40 truck-loads of road freight between Daventry and Middlesbrough per day. It will eventually save more than 5,000 tonnes of CO2 each year and remove over 3.9 million truck miles from the road, helping Tesco meet its ambitious carbon reduction targets.
UK rail freight is not just restricted to large supermarkets or manufacturers, however; it is a surprisingly accessible means of transportation for smaller companies, which can choose to move single container-loads or explore sharing loads with another company. Not only can this help to achieve cost savings and drive efficiencies, it can also reduce the overall carbon footprint of the goods transported.
As UK consumers call for clearer information about the environmental sustainability of the food in their baskets, surely food mile labelling will become as commonplace as nutritional information? In the meantime, UK rail freight is poised and ready to help the grocery sector get ahead of the carbon curve.
For more details, go to www.prologis.co.uk or email ukenquiries@prologis.com
About Prologis RFI DIRFT
Prologis RFI DIRFT is the UK's leading rail-served logistics park with three on-site rail freight terminals and another state-of-the-art terminal under construction. With the ability to provide logistics buildings from 100,000 to 1.6m sq ft and a location that enables most parts of the UK to be reached in under 4.5 hours (HGV drive time), DIRFT is perfectly placed to help companies build sustainable, resilient supply chains and meet ambitious carbon reduction targets