There's money in honey. In 2020, British supermarkets' honey sales hit £150.1m, up 20.5% on the previous year¹. But here's the rub: much of it probably wasn't even honey…
This is the very definition of a honey trap. Fourteen per cent of the honey sold in Europe has either been mixed with cheap syrups or contains impurities, meaning it doesn't meet the strict quality criteria set out by the Honey Regulations Act, a 2017 study found. In 2019, 45% of the honey entered into a competition at a Canadian tradeshow failed quality tests.
Food fraud is common in many other high margin food & drink sectors, such as extra virgin olive oil, seafood, wine and spirits. And with the economic pressures of the pandemic bearing down on producers, Interpol warns that food fraud is on the rise, putting consumers at risk and compromising honest producers of quality food & drink.
"Producers need a way of authenticating the claims they make and building trust"
These producers need a way of reassuring consumers and validating the claims they make about quality, provenance and sustainability on pack. Now they have a way of doing just that: the British Standards Institution's (BSI) new Kitemark™ for Food Assurance programme.
"The Kitemark is all about authenticity, trust and quality," explains Erica Colson, EMEA food sector propositions manager for BSI. "There is a lot of cynicism in the market, which is good because it keeps brands and retailers on their toes, but honest producers need a way of authenticating the claims they make and building trust so they can stand out on-shelf."
That's where the Kitemark comes in. BSI works with laboratory testing partner Fera (a public/private joint venture between Defra and Capita) to conduct rigorous scientific analysis of producers' claims over provenance, ingredients, quality, sustainability and social responsibility before giving its stamp of approval, which is recognised by 82% of UK adults.
Such values hold increasing value for consumers, adds Colson. "The pandemic has accelerated awareness of issues such as the need to waste less food and the environmental and social impact of the food we eat," she says. "In lockdown, food has become a real highlight of our lives. Food isn't just a commodity anymore. It's an experience."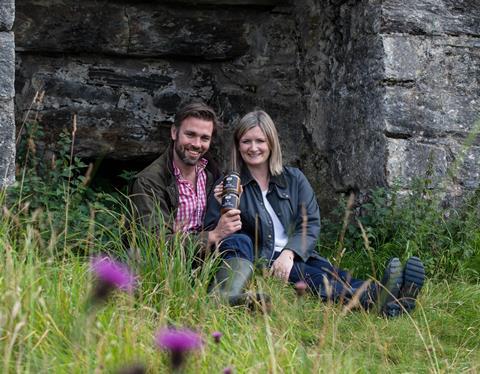 This is the ethos behind the Scottish Bee Company, which became the first producer to be awarded the BSI Kitemark for Food Assurance in June 2020. Iain and Suzie Millar (pictured), the husband and wife who set up the company in 2017, are working with BSI to ensure the experience they give consumers is truly authentic.
And it's put a real buzz in their business. Here's how…
Accreditation builds consumer trust
The Scottish Bee Company isn't only about making honey, beeswax candles and other products made from the bounty of bees. The Millars also want to make positive change and give back to the Scottish bee population, the wider environment and economy.
The company is committed to supporting Scottish beekeepers, increasing the indigenous bee population by 20% over the next three years and using hives that promote bee welfare. It has also set up a charity, Repollinate, to protect all types of pollinators through education and planting wildflower spaces. Ten pence from every jar of honey sold goes to the charity.
Of course, maximising the charity's funds requires maximising sales. And to do that, the Millars need to build consumer trust. "I always felt that if we were making claims about using Scottish bees that have been pollinating heather, we had to be able to prove it," says Suzie. "But there just wasn't a way of doing that and communicating it to consumers."
Until a chance meeting with BSI, which happened to be planning to apply its long-established Kitemark to the food sector, that is. Through scientific analysis of the company's bestselling Scottish Heather Honey, BSI has been able to establish that the honey is indeed the product of bees that have been pollinating Scottish heather.
"So many brands are making claims about their products but often they haven't done anything to validate what they're saying," adds Suzie. "Having a mark that people recognise and trust really helps us stand out from the crowd. Without it, how would anyone know we were any better than our competitors?"
BSI Kitemark: the facts
82% of the UK population recognise the BSI Kitemark
78% of 18 to 24-year-olds recognise the BSI Kitemark
87% of consumers are willing to pay more for a product bearing the BSI Kitemark
95% of consumers say they are more likely to buy a product bearing the BSI Kitemark
BSI operates in 193+ countries worldwide
Provenance claims hold real power
Provenance is one of the most powerful and well-used claims in food & drink. Clearly, the very identity of the Scottish Bee Company is built around its nationality, so proving their products' Caledonian heritage was paramount for the Millars.
"There are manuka honeys on sale in British supermarkets that are made with a blend of European honeys, despite the fact the manuka tree comes from New Zealand," says Suzie. "Consumers are getting wise to this and becoming sceptical about the claims brands are making so we felt we had to be able to prove that we are indeed Scottish."
BSI achieved this through a combination of product testing, audits of the Scottish Bee Company's supply chain and photographic evidence.
Punters will pay more for products they trust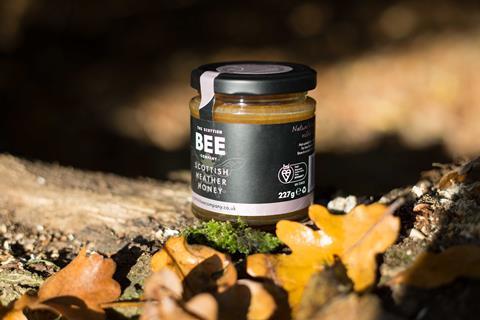 The Scottish Bee Company sells its goods through high-end retailers such as Selfridge's, Bayley & Sage and independent farm shops and delicatessens, as well exporting to Japan and Singapore, where Scottish food & drink holds real kudos.
By proving that the claims they make hold water, the Millars are able to command a significant premium over the competition. "If people trust a product and can see that the claims a producer is making are true, they are typically prepared to pay a little bit more," says Suzie. "That's why we are doing so well in premium retailers."
Indeed, 87% of shoppers say they are willing to pay more for a product carrying the BSI Kitemark and three quarters of adults in the UK say that its presence on pack would help them choose a product (see box out).
Scientific analysis can reveal surprising truths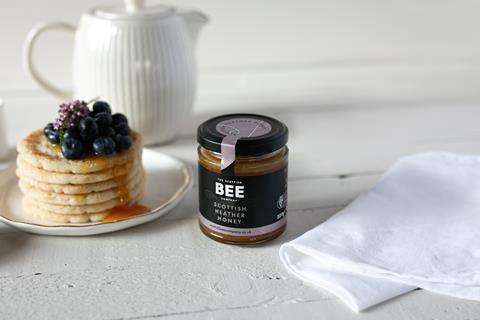 The Scottish Bee Company's Kitemark journey has even widened scientific understanding. Establishing if the company's bestselling line did indeed contain honey from bees that had been pollinating Scottish heather required analysis with a device called a nuclear magnetic resonance machine. And, as Suzie explains, it revealed some surprising results.
"We discovered that every time we put heather honey into the NMR machine it messed up the results," she says. "It was so interesting to uncover why this was. With the help of BSI and Fera, we discovered that this was because the honey had a really high metal content as a result of the heather. It has ten times the manganese than other honeys."
With consumers becoming ever more health conscious, this gives the Scottish Bee Company a golden marketing opportunity. "Manganese is an essential nutrient," says Suzie. "It is really important for our general health and things like bone density and reducing inflammation. It's also a powerful antioxidant."
Consumers are becoming 'hyper aware'
Issues like health, the environment and corporate social responsibility are exerting growing influence on the choices consumers make, adds Suzie. "Many consumers will not be aware of the issues surrounding the adulteration of honey, but they are becoming hyper aware of what they're putting in their bodies and the effect food has on the environment," she says.
"That's why the Kitemark was so important for us. It gives us the peace of mind that we are doing what we set out to do and it gives consumers peace of mind because the Kitemark is something they recognise and trust."
Discover more about how the BSI Kitemark for Food Assurance programme can support your product claims.
Sources
¹ Kantar 52 w/e 29 November 2020