In recent years we've seen people of all ages taking to the streets to demand action on climate change from governments and corporations around the world. Global warming is now as likely to be discussed by your kids in the playground or by your colleagues on a coffee break as it is by politicians at a high-level conference.
It's a topic that is being beamed directly into our living rooms as part of hugely popular, emotive documentaries like Sir David Attenborough's A Life On Our Planet. The programme gives stern warnings on the consequences of not taking immediate action to address the damage we are doing to the planet, which includes wildfires, deforestation, melting glaciers and plastic pollution.
People care, and it's something that touches our everyday lives, particularly when it comes to grocery shopping. Take the carrier-bag charge, first introduced to the UK in 2011. Set to double to 10p in 2021, the initiative has already seen an estimated 15 billion plastic bags taken out of circulation.
And what about the products we put into those bags? Our eyes are increasingly open not only to what's in the products we're consuming, but what these products are packaged in.
Consumers, and nowadays investors too, are looking to corporations to put their money where their mouths are and take tangible action to reduce their carbon footprint and achieve their self-proclaimed targets. And we're ready to help them – according to a survey conducted by Boston Consulting Group for Trivium Packaging, 74% of us are willing to pay more for sustainable options.
How can we pack a more sustainable punch?
When brands are looking at actions they can take to help them reach their sustainability targets, packaging and labelling choices have an important role to play. Labels might only be a small part of the weight of a package, but they are the big hitters in terms of both projecting the brand's image and values and demonstrating a commitment to sustainable choices.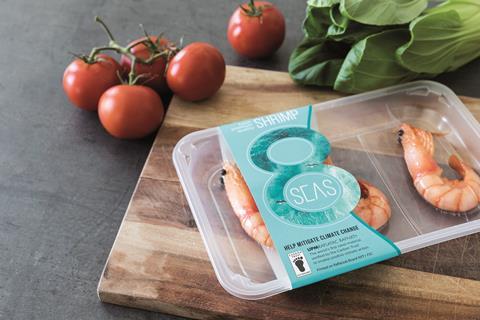 While the amount of prepacked food we consume keeps growing – along with the waste it can generate – making more environmentally friendly choices in labelling is quick and easy way to take impactful steps in the right direction. But taking these steps doesn't have to mean compromising on label design or performance.
As a leading self-adhesive label material supplier, one of the ways in which UPM Raflatac is helping packaging designers and brands address these challenges is with its RAFNXT+ label material offering, which has been verified by the Carbon Trust to help mitigate climate change.
Every little helps
These labels use less raw material, energy, and water and generate less waste during their lifecycle compared to standard labels, reducing the carbon emissions generated by manufacturing and transport. They make a quantifiable positive impact in terms of carbon reduction and forests' increased capacity to remove carbon expressed as CO2 equivalent (CO2e). They are also manufactured using fibres from sustainably managed FSC-certified forests and can be supplied with backing paper that includes recycled materials to further reduce pressure on forests and consumption of natural resources.
The worrying reality of climate change is clear for us all to see, but there are some concrete steps we can take in our everyday lives to help make a difference, not least in the way we package and label our food. To borrow a well-known phrase from Tesco, 'every little helps'.
To find out more about how to make a tangible contribution to mitigating climate change with sustainable pressure-sensitive labelling solutions for food packaging, download UPM Raflatac's free guide.