The Bread and Butter Thing explains why harvesting the surplus and redistributing to others can be transformational economically, socially and environmentally
Not all superheroes wear capes. And individually we can be good at concealing our superpowers, which is true for businesses too. The food industry has yet to realise its full might and transformative power: the power of surplus.
There is no denying that 2020 has been one of the most challenging and uncertain years in living memory. From the decimation of HaFS to the stresses to keep shelves filled in retail, it's been a bumpy and difficult ride. But organisations across the industry have demonstrated agility and innovation, pivoting with speed to cope with the changes and challenges thrown in their direction.
The pandemic has also revealed the huge and widening gap in access to healthy food, the extremes of food insecurity and the importance of looking after our natural world too. Charities have responded with vigour, developing innovative services, collaborations and new ways of working.
Now it's time to unite the two. We need to be brave, take time to innovate and create positive action by harnessing the power of surplus.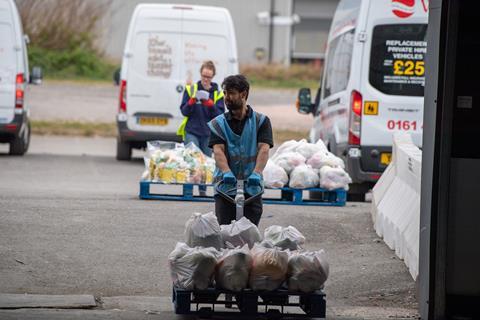 There's plenty of food available
We all love food. Food is one of the greatest pleasures in life. But it is an unavoidable fact that whilst we take pleasure in the joy of making and eating it, we still throw an enormous amount away. Every day, over 8,000 tonnes of food goes to anaerobic digestion, pigs or simply hits the bin.
Of the 2.9 million tonnes of food waste generated annually by the sector, between 250,000 and 500,000 tonnes could be suitable for donation, but currently less than 10% of this is redistributed.
By harvesting the surplus and redistributing to others, the impacts can be transformational economically, socially and environmentally.
Together we are already making positive changes. The UK is leading the way with real commitment to UN Sustainable Development Goal 12.3 with more than 200 businesses signed up to WRAP's Waste Reduction Road Map, and some retailers committed to tracking surplus throughout their supply chains.
Example of partnership in action
Morrisons - Identifying surplus on the factory floor
TBBT CEO Mark Game spent time with the team at Morrisons' Cutler - a site which packs fruit and veg, taking supply of product from around the world. One example is grapes, which are then packed into punnets. Inevitably this generates trimmings as the packers get the correct weight of product into the container. Together the team explored a range of ways to put the trimmings to good use - including developing Morrisons' own grape juice - but also by delivering regular pallets for redistribution. This was the just start of Morrisons' relationship with TBBT which last year alone donated 1.2 million meals worth of food.
The industry has proved strong and ethically committed to ensuring the country is kept fed, from supporting Marcus Rashford's Free School Meals campaign to helping the Trussell Trust and IFAN keep their storerooms stocked. But serious challenges remain and even when we finally manage to wrestle Covid-19 under control, the aftershocks will reverberate on, potentially for years.
So, let's pause for a moment to take stock of where we are and challenge ourselves to reinvest and look for long-term, more sustainable ways to support people, whilst also driving towards SDG 12.3. Wouldn't it be better to help people before they hit a crisis, and find a way to provide lasting solutions to access affordable healthy food? Untapped edible surplus could be part of the solution.
Megan Blake, senior lecturer in Human Geography at the University of Sheffield, describes the need for 'food ladders' providing rungs to help people climb out of poverty. Food banks are at the bottom and the high-end retailers are at the top. But the void between the two extremes is vast and a non-emergency, mid-tier support offer is needed to bridge the gap.
Beyond the food bank
We need to help people move beyond the food bank. There are lots of organisations working in this area including food pantries and food clubs. One of them is The Bread and Butter Thing (TBBT), which runs a weekly affordable food scheme for its members across the north of England through 35 community hubs. Last year it redistributed over 3.2 million meals and it works with local councils, housing associations and community groups to really target areas most in need.
Finding the people in need is not hard. But how to target, identify and mobilise surplus food remains one of the biggest challenges in the food industry.
Example of partnership in action
Co-op - Daily surplus from back of store
With a renewed focus on unlocking edible surplus for consumption, Co-op entered into a partnership with TBBT to pilot end of day collections from back of store. Every evening the Co-op teams scour their stores for items which can't be kept on the shelves much longer but are still within their use-by date. A TBBT driver then heads round all 10 Manchester city outlets, collecting produce including fruit, veg and chilled goods which are then sorted at the charity's warehouse.
Anything that needs using immediately is delivered to Mad Dogs Homeless Project, providing vital support for the project and feeding some of the city's most vulnerable people. Longer life products head out to TBBT's community hubs the next day, ensuring that everyone gets maximum benefit from the donations with minimum wastage. This is just one element of Co-op's strategy which also encourages its manufacturers to donate own-brand surplus to TBBT too.
And as the pandemic drags on and its effects amplify, we need this surplus more than ever.
To be clear, this is about unlocking existing surplus at source. Together we can help relieve pressure on the industry by using the food that is already there, rather than increasing pressure to generate more.
TBBT CEO Mark Game explains how the charity works with suppliers to find innovative and practical solutions to help unlock surplus and its superpower.
"Collaboration is key," says Game. "We work with our partners to create solutions which fit with the organisation's existing business model.
"One of the ways we do this is to meet with technical managers and the team on the production line to really understand what the processes are and where surplus is being generated. Then we put our heads together to explore all the options available for that surplus - whether it's driven back into new product lines, repurposed for the staff canteen or redistributed."
From farm, to factory to shop floor, the opportunities for innovation in edible surplus are endless.
Example of partnership in action
Greencore - Mass surplus transformed
Greencore were aware of the need for increased food donations to cater for increased demand during the pandemic and were able to source and donate surplus dried pasta, unpackaged in commercial proportions. They offered the product to TBBT who then approached Open Kitchen MCR (OK MCR) - Manchester's leading conscious catering company, who transform edible surplus into delicious meals for all kinds of events from weddings to conferences and use profits to support people in crisis. Together they found a solution.
During the pandemic, OK MCR has pivoted to create over 150,000 fresh ready meals for people in need. As a result, it has worked with new technology to take this further, creating nutritious, vacuum packed, family sized meals for TBBT's members, using intercepted surplus. Corin Bell from OK MCR said: "The beauty of catering with surplus food is that we can use all kinds of surplus - from mis-labelled produce straight from the factory floor, to excess tomato sauce from manufacturers. Working together, we can use even the most challenging of surplus to create healthy, affordable meals."
In many organisations, much of the low hanging fruit has been identified and repurposed like Co-op's daily back-of-store collections, but it is the untapped surpluses where true riches lie such as ingredients like flour or tomato sauce, bulk catering supplies or a glut of specialist veg. This is the food which with innovative thought, time and energy could be transformed into life-changing meals for those most in need.
Unlocking these untapped surpluses requires an opening of the factory gates and an open-hearted, honest approach to the existence of edible surplus currently concealed in the supply chain. With millions of meals at stake and millions of families in need, this is the time to mobilise and make positive change for the future. To take immediate action, email mark@breadandbutterthing.org and make your business a surplus superpower.