Preventing youth access to nicotine products has always been important and continues to remain so. British American Tobacco (BAT) looks at the legal and practical challenges for retailers and reveals how its YAP programme can help.
While the prevalence of smoking among 11-15 year old youngsters is in steady decline, according to a report published in 2019, retailers are at the front line of defence on the issue, as they are legally obliged not to sell products to under-18s and need to ensure they carry out robust ID checks on anyone appearing to be underage.
Meanwhile, evidence around youth uptake of vapour products remains low, with 0.2% of young people who have never smoked vaping more than once a week, according to Public Health England, and data continues to point towards vaping as an effective and less harmful tool for adult smokers looking to switch. However, just because evidence points to youth uptake being minimal, it doesn't mean manufacturers and retailers should stop being responsible, says BAT.
What the law says
Under current UK laws, a person who sells a vaping product to someone under 18 commits an offence. This is a strict liability offence, which means the owner of the business can be held responsible as well as the member of staff who made the sale.
However, some shoppers who are over 18 look younger than their age, so it is important for retailers to ask for a valid ID if they think a customer looking to purchase a nicotine product is under 25.
Actions that can be taken include:
● Seeking proof of age before purchase;
● Ensuring the ID provided is valid – such as a passport, driving licence, proof of age cards that carry the PASS hologram such as a Young Scot card and EU national identity cards.
● Refusing to sell to a customer if they are not over 18 or if they do not produce a valid ID
How BAT can help

For manufacturers, it is equally important to take responsibility and help retailers comply with the legislation, says BAT. The company's Vuse and Velo products are for adult smokers and nicotine users only and the company is keen to emphasise that it does not want anyone under 18 to access them.

"We fully support the laws around legal minimum age and we make this clear to our consumers and trade partners at every opportunity – from our packaging, how we market our products and your scaling up of our youth access prevention programme Verify," it says.
"We take youth access incredibly seriously and that is why we go beyond what is required to highlight that our products are for adult smokers and nicotine users only."
The company's policies include:
● Products specifically designed and labelled for adult smokers and nicotine users only
● Strict international marketing principles to ensure its marketing is aimed at those aged over 18 only
● Labelling and packaging designs intended for adults only
● Brand ambassadors who must be and must look over 25 years of age
● Websites with robust age verification checks at entry and purchase
In addition, BAT has introduced a Youth Access Prevention (YAP) programme, called Verify, providing retailers with display materials, information and, importantly, training on how to best to prevent its tobacco products, vapour products and nicotine pouches from being accessed by those under 18.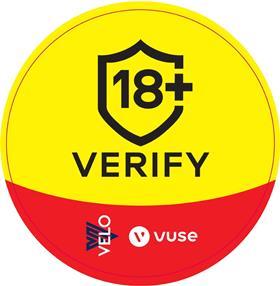 When the company's reps are in-store, aside from doing a stock check, they make sure that BAT's product displays have a Verify 18+ sticker, and they provide retailers with information sheets on YAP and some point-of-sale stickers to help the retailer communicate to consumers that nicotine products are for those over 18 only. The company's reps are trained on YAP so they can also answer any questions the retailer may have.
BAT created Verify to give support and practical information to retailers and staff and ensure it is playing its part in preventing youth access to nicotine products. Its Verify online training (five minutes) can help staff understand minimum age requirements and learn how to properly verify someone's age, says the company.
To encourage your staff to get Verify-ed, go to www.vapermarket.co.uk/verify