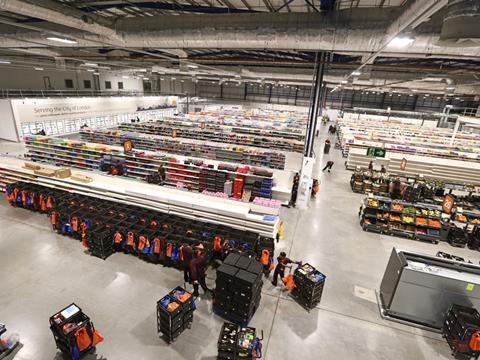 The big four are keeping their biggest branches viable by increasingly using excess space to ramp up their networks of internet-only 'dark stores'.
Attractive lease terms have caused a surge in supermarket property investment while leaving Tesco, Sainsbury's, Asda and Morrisons paying too much rent, according to research.
Branches over 90,000 sq ft are being sustained by the rollout of more dark stores for internet orders alongside the traditional trading area, said property consultants Colliers International.
Supermarket property investment surged 80% to a six-year high of £1.78bn in 2019, thanks to leases which guarantee rent increases in line with the retail price index.
But while promising solid returns for investors, the same lease terms had led to the mults paying rents well above open market value.
"Tesco, Sainsbury's, Asda and Morrisons have in effect been paying too much for their store networks," said Colliers in its latest grocery real estate property review.
"This situation particularly brought into focus the cost of the largest supermarkets which were thought to be not fit-for-purpose especially with the rise of online food shopping. However, there is now a move towards using stores for the fulfilment of online orders as well as 'real life' trading. This has made larger stores of 90,000 sq ft-plus more viable as they can accommodate a conventional trading area together with a 'dark store' which serves internet orders."
Colliers' Head of Retail Capital Markets Tom Edson said investment in supermarket property had also been boosted by a generally improved trading performance against a backdrop of economic uncertainty.
The trend was "underlined when the rating agency, Moody's, moved Tesco back to an investment grade rating in July.
"High levels of employment and progressive wage growth has maintained spending both in-store and online while the operators have continued to 'rightsize' their property portfolios," Edson said.
"Investors looking for property assets which offer solid returns underpinned by solid corporate covenants targeted the sector and took buying to levels that haven't been seen since 2013. We have now seen capital market volumes in the sector of more than £1bn annually for the past decade. During a period when UK retailing – and the property market it supports – has continued to be the subject of negative sentiment, the grocery sector has been the stand-out performer."