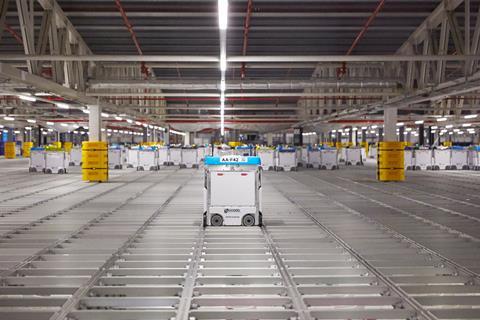 Ocado has agreed to build a second automated customer fulfilment centre with Canadian partner Sobeys.

The CFC, using Ocado's robotic warehouse technology, will be in Montreal, adding to the one already in construction in Vaughan, Ocado announced this morning.

The development builds on a deal Ocado struck with Sobeys at the beginning of 2018 to become the supermarket chain's exclusive online partner.

The Montreal CFC will serve Ottawa and major cities in the Province of Quebec, while the first in Vaughan will serve the Greater Toronto Area.

Sobeys also announced names for the online offering in Canada. 'Voilà by Sobeys' is to launch in Toronto next spring followed by 'Voilà par IGA' in Montreal in 2021.
"Today is an exciting moment for Sobeys' and Ocado's relationship as we deepen an already strong partnership and bring an unrivalled online grocery experience to consumers in another important Canadian market," said Ocado Solutions CEO Luke Jensen.

"Sobeys' decision to order a second CFC in Quebec demonstrates its commitment to providing a world-class online service to its customers across Canada. At the same time, as consumers around the world increasingly recognise the ease and wider benefits of shopping for groceries online, this announcement underlines the ability of the Ocado platform to respond at speed to developing demand in our partners' markets."

Sobeys e-commerce SVP Sarah Joyce said: "We are confident in the CFC we are building in the Greater Toronto Area and have now turned our attention to the next destination in Canada."

Ocado also has international deals with Kroger in the US, Casino in France, ICA in Sweden and Coles in Australia.