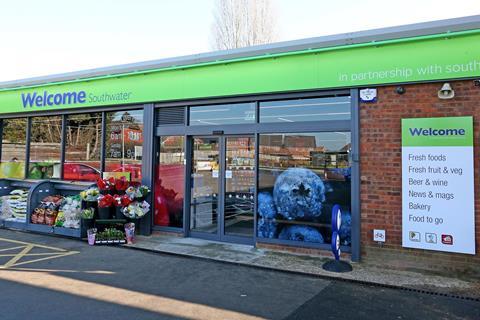 Southern Co-op is pushing to expand its number of franchise stores this year, to follow on from the 12 opened in 2019.
The regional co-operative, which operates more than 200 convenience food stores across the south of England, now has 34 franchise stores operating under the Welcome fascia.
A new format look was launched in January 2019. It followed a new EPoS system in 2018, which enabled a focus on opening the franchise to new partnerships.
As a result, the franchise operations team took on five new partnerships last year and now has a total of 20 franchisees.
"We are proud to have attracted a range of experienced retailers to our co-operative family who have all welcomed our points of difference," said Mike Fitton, Southern Co-op franchise business manager.
"As well as being an ethical retailer with community values, we also offer more personalised support, which starts as soon as they sign up and continues every day via our dedicated franchise operations managers.
"As a collective, our franchisees are experiencing very positive like-for-like increases across all departments and we will continue to work closely with them to see where we can improve further."
Welcome franchise stores are currently spread across the south, from Bristol to Kent and into central London.
Of the franchise stores, a total of eight are petrol forecourts and a further five are operating self-scan checkouts.
The franchisees are also encouraged to supply customers with local produce, an offer that has been gradually expanded, to complement the Co-op range. Cook's frozen ready meals have also been added at a number of stores.
Fitton added: "We're already working with new and existing franchisees to add more Welcome stores across the south. We'll be progressing even further in the new decade, offering our franchisees the best of the Co-op product ranges whilst keeping their independence and ability to make local decisions."
Franchisee Prateek Shukla, who moved to Welcome in 2018 and opened a second Welcome in Swiss Cottage in April 2019, said: "Since changing to Welcome a year ago my year-on-year sales are up by 20% with minimal conversion costs for me, so the decision to transfer my second store to the Welcome fascia was a no-brainer."