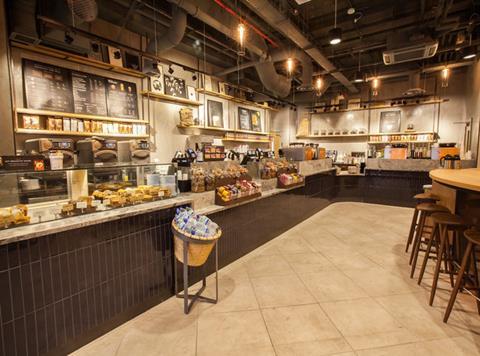 SSP has opened a new Starbucks café at Gatwick Airport.

The US coffee chain's new outlet in the South Terminal will include a menu "designed to meet the needs of travelling customers".

Wireless charging zones, free wi-fi and hand-painted artwork on timber-clad walls also feature in the new store.

Simon Smith, CEO of SSP UK, said: "We're delighted to have been chosen to operate a fantastic new Starbucks coffee shop in the newly developed South Terminal area at Gatwick, and to be building on our successful relationship with one of the UK's most prestigious airports."

The food outlet operator first signed a licensing partnership with Starbucks in 2008 as it looked to open more outlets in Europe.

It currently operates more than 95 Starbucks outlets in the UK, Spain, France, Germany, Switzerland and Scandinavia.

"We are thrilled to open our new store at Gatwick South Terminal with SSP UK," said Michael Haley, director channel licensing, Starbucks Europe, Middle East and Africa.

The store will be running specialist coffee tastings to celebrate the opening.

The new Starbucks store "perfectly complements our existing lineup of shops and restaurants", said Gatwick chief commercial officer Guy Stephenson.

"Our passengers want fast and reliable service from brands they trust as they travel across the globe, so Starbucks coffee, recognised the world over, will be very well received," he added.