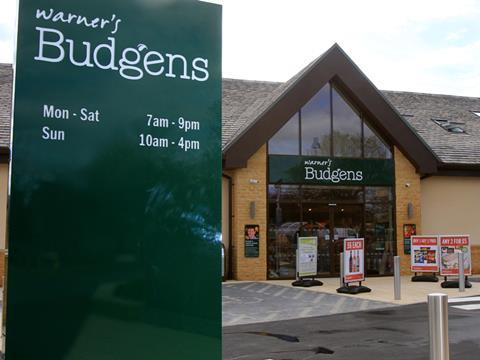 Warner's Retail is at "various stages" of acquiring three standalone food stores for its retained Warner's Budgens business, the company has revealed.

The news comes just days after the Cotswolds retailer sold the long leasehold of four of its six branches, ranging from 4,000 sq ft to 11,000 sq ft, to Midcounties Co-operative for an undisclosed price.

"We've been looking at a number of new sites for the past 12 months in the background as part of our organic growth plans," said MD Guy Warner.

"I am currently looking at three different sites. The plan is they will all be Warner's Budgens. We've got one that will likely be a 3,000 sq ft convenience-type model. Another one I'm looking at would have be floor space of about 6,500 sq ft and another one about 4,000 sq ft.

"We are at various stages of the acquisitions of those sites and properties."

They were not forecourt sites, but "one might have fuel on it," he added.
Warner revealed some of his thinking behind the disposal of the four sites at Bidford-on-Avon, Broadway, Moreton-in-Marsh and Winchcombe.

He said letting "head rule heart" was always a challenge but it was an exciting opportunity because retaining the freehold of the sites gave the business "an incredibly strong financial base to go on and do these other sites".

"I'm sad in one sense letting my baby go as it were, but on the other looking forward to being able to do some new things. We have every intention of growing the Warner's Budgens brand wherever the opportunity. I've no aspirations to leave retail."

None of the new sites he planned to buy traded "close" to any of the stores sold, he said.

"That would be counterproductive because we are the landlord and it's something I wouldn't want to do."

The two retained sites are on forecourts at Quedgeley and Tewkesbury.