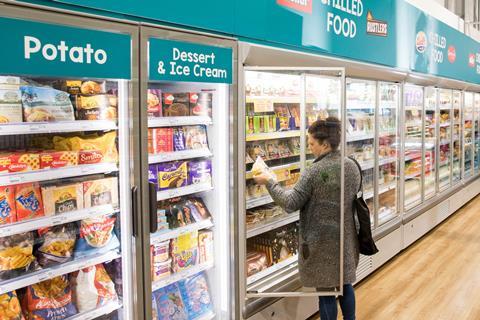 Poundland is to roll out its trial of chilled and frozen 'shops in shops' to 60 stores from 10 March.

The frozen and chilled ranges were launched as a pilot in five stores in October. The rollout comes amid a wider movement of variety retailers into frozen and chilled grocery, with Home Bargains and B&M also increasing their focus on the market, and The Range introducing more Iceland concessions.

Poundland's frozen and chilled offering had already been extended from the initial five to a further two. It's now set to roll out gradually to five more stores a week, taking it to 20 new locations by the end of March. The other 40 are due to be added by early June.

It will see one in 10 Poundlands offering 400 "everyday items, from frozen fish to luxury yoghurts", in partnership with Yorkshire-based retailer Fultons Foods.

Dubbed 'Project Ice', the move focusses on "convenient everyday meals" in the frozen range and food-to-go or "eat soon" in chilled.

Poundland said the approach was similar to that taken with its discount fashion concession Pep&Co, launched as 'shops in shops' in 2017 and now in more than 300 stores across the UK and Ireland.

The move into the frozen and chilled market - worth £20bn according to combined estimates from the British Frozen Food Federation and Chilled Food Association - also comes amid a wider push into grocery. In October last year, the retailer rolled out a range of new price points up to £10 across the estate, while using the exercise to grow its ambient grocery and fmcg ranges.

In November, Poundland transformation director Mat Ankers told The Grocer it was aiming for the "top-up convenience" mission.

The trial saw stores in Derbyshire and Yorkshire gain an aisle of fridges and freezers. The first refit, in Ashbourne, took a week and cost £50,000, Poundland said at the time.

Bestselling brands have included Ginsters, Cathedral City, Lurpak, Sutherland deep fill sandwiches and Rustlers cheeseburgers. Bernard Matthews chicken breasts, Birds Eye cod fillets, and Aunt Bessie's, McCain and Young's lines had also proved popular, according to Poundland.

The rollout is set to reach new cities and towns across the north and Midlands, from Nottingham to Gateshead and Blackburn to Bradford.

"We're here to bring customers more of what they love, and frozen and chilled food is high on their list," said Poundland MD Barry Williams.

"It's clear from our five-store pilot that customers have given a warm welcome to our Project Ice offer that brings our promise of amazing value to more of what they buy, week in, week out."

B&M currently offers Heron Foods frozen and chilled ranges in at least 80 stores, having launched the offering as a trial last year. The retailer also recently opened a one million sq ft warehouse with multi-temperature storage in Bedford, paving the way for a potential wider rollout.

Home Bargains also now has frozen and chilled ranges in a large number of stores and last month The Grocer revealed that The Range was rolling out Iceland concessions to 19 more stores, taking the total to more than 50.