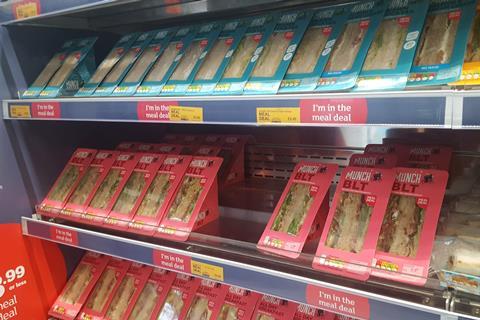 Sainsbury's appears to have quietly shelved a trial of supplying food to go and grocery lines to 10 WH Smith stores.

An investigation by The Grocer found that two of the trial branches at King's Cross and Victoria stations in London had not had any Sainsbury's-branded products for weeks. A third, at Luton Airport, had also stopped selling the supermarket's products, though some Sainsbury's PoS could still be found in all three.

The trial kicked off in July last year with the stores, all of which were located in transport hubs, selling Sainsbury's sandwiches and salads as part of the food to go offer, as well as food for later, such as ready meals and even grocery lines including teabags.

In the stores visited by The Grocer, the Sainsbury's food to go lines have been replaced by the Greencore-produced Munch range.

A WH Smith spokeswoman confirmed the trial had ended.

"We are reviewing results and deciding whether to take forward any of the opportunities, and to determine what best meets our customers' needs," she said.

A Sainsbury's spokeswoman added that there was "no activity in the trial stores currently while we review the results of the first phase, which will inform the next one".
TCC Global insight director Bryan Roberts suggested the trial could have been hampered by a lack of awareness from customers.

"My guess is awareness was pretty low despite the signage, plus virtually all of the trial sites faced direct competition from M&S Simply Food and Little Waitrose on the grocery side, and the whole world and his wife in terms of food for now," he said. "The trial appeared to be two-pronged, with both food for now and food for later. The food for now appeared to be going fairly well in terms of shoppers picking up sandwiches and salads, but the more regular offer of ready meals and grocery seemed pretty slow."

The tie-up was the latest attempt by Sainsbury's to move into wholesaling. In February 2018, Sainsbury's and Euro Garages terminated a nine-store franchise trial that kicked off in 2016. It is understood they were unable to make it sufficiently profitable for both parties.