With omicron playing an awkward third wheel, dining out this Valentine's Day may not be the ideal choice for some loved-up couples. So for those opting for a romantic evening in on 14 February, here are the meal deals on offer at the supermarkets.
We'll be updating this article as more deals are announced, so please check back later if the supermarket you're interested in is missing
Aldi – from £5.17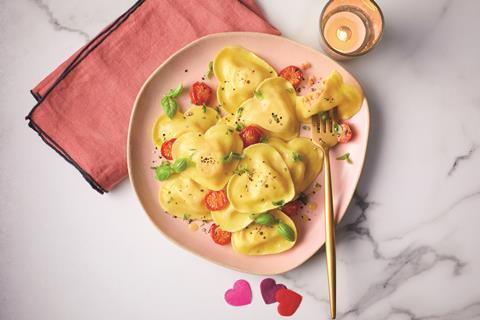 Aldi is aiming to 'pull on the heart strings rather than purse strings' this Valentine's Day, with a meal deal that bargain hunters will love. Instead of selecting their starter, main, side and dessert as usual, shoppers can choose from four set menu options, which are outlined below. Each menu has the option of adding wine for an additional cost. The prices are for two people.
Heart Shaped – £5.17 (£9.16 with wine)
It doesn't get more romantic than Aldi's first set menu, which features heart shaped foods for every course. After kicking things off with Carlos Heart Shaped Mini Garlic Pizza Bread, shoppers can tuck in to Heart Shaped Lobster Pasta for their main course. This is followed by Mini Heart Pancakes, which couples can smother with their preferred toppings at home. The wine option is a Costlier Prosecco Vino Frizzante.
Vegan Valentine – £6.47 (£10.16 with wine)
The heart shaped theme doesn't stop there. Plant-based shoppers can also get in on the action with Aldi's Vegan Heart Shaped Ultimate Burgers, which are served alongside a Vegetable Medley. The vegan menu is finished off with a Molten Middle Heart dessert (pictured below) and there's the option of Grapevine Merlot to wash it all down with.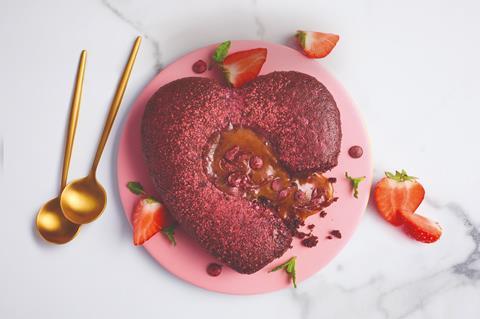 Seafood Lovers – £10.27 (£14.16 with wine)
As the name suggests, Aldi's next menu is the perfect match for fans of all things fishy. There's no risk of being shellfish with the starter, as there is one King Prawn & Scallop Thermidor per person. Likewise with the main course, Prawn & White Wine Salmon Wellingtons, which come in packs of two. This menu doesn't include a dessert but there is a side of Potato Dauphinose to share, and an optional bottle of Cambalala Sauvignon Blanc to drink.
Meaty Mains – £10.47 (£14.46 with wine)
With its Meaty Mains menu, Aldi only has pies for you. It features a pair of pies made with one of the finest beef varieties, wagyu. These are served alongside Triple Cooked Chips, with Valentine's Chocolate Profiteroles to finish. If shoppers desire, the meal can be paired with a bottle of Grapevine Argentinian Malbec.
Asda – £15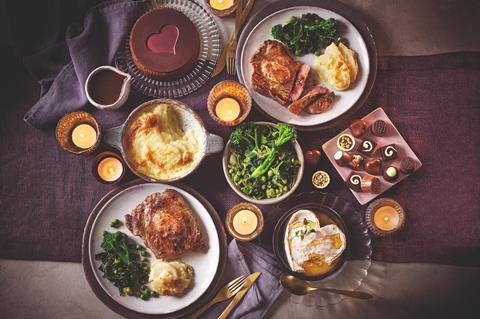 Asda is providing dinner and a show with its Extra Special Valentine's deal this year. As well as a three-course meal, two sides and either a bottle of wine or a box of Lilly O'Brien's chocolates, the package has the after dinner entertainment covered with the inclusion of a Sky Movies voucher. The £15 deal will be available at Asda stores from 3 to 14 February, with both vegetarian and vegan options available.
Starters
No one does romance quite like the French, and Brits can add a touch of je ne sais quoi to their Valentine's meal with Asda's Extra Special Neufchatel Heart. This French, Camembert-style cheese (pictured above) is baked until oozy and topped with a honey and truffle drizzle. Another continental starter is the Gran Antipasto Platter, while other options include a Runny Scotch Egg, Tempura Prawns with Sweet Chilli Dip and Vegan Crabless Croquettes.
Mains
Asda's offering ensures carnivores are well catered for, with six meaty mains to choose from. These include two slow cooked dishes – Lamb Shanks or Ox Cheek with Ruddles Ale – as well as Sirloin Steaks with Pink Peppercorn, Garlic & Herb Heart Shaped Butter Melts (pictured above) and Steak and Red Wine Pie. Or if red meat isn't what they fancy, shoppers can opt for Chicken Parmigiana or Pork Loins Wrapped in Prosciutto. The fish option is a Lightly Smoked Salmon Fillet topped with a heart-shaped serving of red pesto, while vegans can enjoy a chicken-free Coq au Vin Pie.
Sides
Lovebirds have plenty of sides to choose from to complete their main meal. These include four potato dishes: West Country Cheddar Mash Potato, Creamy Potato Dauphinoise, Triple Cooked Chips and Seasoned Sweet Potato Wedges, while veg options include Creamy Cauliflower Cheese, Chantenay Carrots and Baby Parsnips with Orange & Maple Glaze, or a Green Veg Medley. Completing the selection of sides is a Heart Shaped Roasted Garlic Flatbread.
Desserts
Raspberry seems to be the theme of Asda's dessert selection. It features vegan Belgian Dark Chocolate & Raspberry Hearts, Sicilian Lemon & Raspberry Cheesecake, Raspberry & Vanilla Macaroons and a Raspberry Panna Cotta. For shoppers that prefer something less fruity, there's a Heart Shaped Sticky Toffee Pudding or Millionaire Dessert Twin Pack.
Drinks
To wash all this down with, there is a choice of three vegan wines from Asda's Extra Special range: Pinot Grigio Rose, South African Sauvignon Blanc or Malbec. Or to add some sparkle to their evening, shoppers can select a Premium Prosecco or Mas Miralda Cava.
Co-op – from £12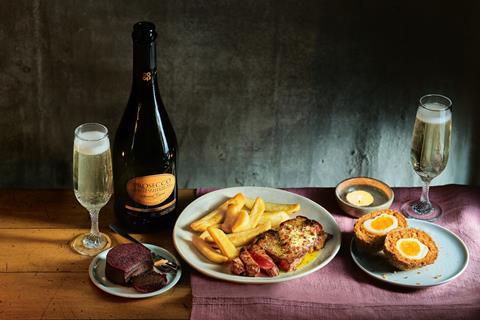 Shoppers can create their perfect mix and match with Co-op's Valentine's menu, which has 20 Irresistible dishes to choose from across starters, sides, mains and desserts. For £12, diners will recieve three courses, a side and a non-alcoholic drink, while £15 gets them an additional bottle of wine or a box of Irresistible Luxury Collection Chocolates. There are fully vegetarian and vegan meals available, with all four wines also suitable for vegans.
Starters
If couples are cheesy enough to go halves on a starter, Co-op's Garlic & Parsley Sharing Bread with Camembert could be for them. Otherwise, individual starters include Smoky Paprika Soft Set Scotch Eggs (pictured), Prawn & Smoked Salmon Mousse Pots and vegan Mediterranean Style Vegetable Tarts.
Mains
Finding true love can be rare, just like these Hereford Steaks with Peppercorn Butter (pictured), one of seven main courses in Co-op's deal. Other meaty options include individual Steak & Red Wine Pies, a Chicken & Pancetta Melt and a classic Luxury Lasagne Al Forno, while fish lovers may plump for the Sea Bass with Slow Roast Tomatoes. There is also a Vintage Cheddar Mac & Cheese for vegetarians, alongside a vegan Roasted Butternut Squash Gnocchi Bake.
Sides
It may not be acceptable in most relationships, but here Co-op is encouraging its customers to have a bit on the side. As well as a Garden Vegetable Medley, there are three potato dishes to choose from: Dauphinoise Potatoes, Buttered Mashed Potato and Thick Cut Chips (pictured above alongside the Hereford Steaks).
Desserts
All suitable for vegetarians, Co-op's dessert selection includes a classic Sticky Toffee Pudding, zesty Lemon Cheesecake Slices, Triple Chocolate Profiteroles and Melt in the Middle Puddings. Or if they like their puddings like they like their partners – smooth and rich – shoppers can enjoy these vegan Dark Chocolate & Raspberry Velvet Tortes (pictured).
Drinks
A romantic three-course meal needs the perfect tipple to pair it with, and Co-op's drink options should have all tastes covered. If fizz is their favourite, shoppers can choose from either classic or rosé Prosecco, while wine drinkers are also catered for with a Rioja Crianza and Leyda Valley Sauvignon Blanc. Those continuing Dry January for another month can opt for Co-op's own label Rhubarb & Ginger Presse or Alcohol-Free G&T, or four-packs of Diet Coke and Coke Zero.
Marks & Spencer – £20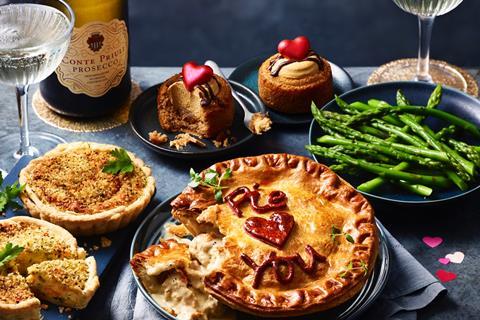 Marks & Spencer is offering its customers the 'biggest ever saving' on its dine in for two deal this year, with shoppers saving up to £16.50 when they purchase a starter, main, side, dessert and a drink or box of Swiss Chocolates. There are more than 30 'restaurant quality' dishes to choose from, including a fully vegan option using Plant Kitchen products. The deal is available in M&S stores from 9 to 14 February.
Starters
M&S is keeping it classic with its starter selection, which features retro dishes such as Prawn Cocktail and Coquille St Jacques alongside Leek & Cheese Souffles, Duck Parfait and Runny Scotch Egg. For something a little more contemporary, shoppers can opt for the mini Ham & Cheese Crumpets or Vegan Duck Croquettes.
Mains
Loved-up shoppers can take this Valentine's Day as an opportunity to say those three little words: Pie Love You. This is what Marks' has named its creamy chicken and white wine pie, which is topped with the phrase in pastry (pictured above). And it's not the only pun to feature in its main course menu: there's also a seafood ravioli dish dubbed Feeling Prawny. Other mains include Rack of Lamb with mustard, honey & herb crust, Chicken Forestiers, Duck Breasts with Plum Sauce and Salmon & Prawn En Croute. As well as rump and sirloin varieites, there is a vegan steak option, made from Smokey Saffron Aubergine.
Sides
Fans of truffle are in luck when it comes to sides, as there are two truffled options available: Fine Green Beans with Italian Truffle Butter and Gastro Truffle Mash. These sit alongside Triple Cooked Chips, Four Cheese Cauliflower Gratin, Dauphinoise Potatoes, Extra Fine Asparagus and Plant Kitchen Sweet Potato Fries.
Desserts
Shoppers that are crazy about their other half can tell them through the medium of dessert, as M&S has two conveniently-named products for the purpose. The Nuts About You Cheesecake and I'm Bananas for You dessert sit alongside Tarte Au Citron, Billionaire's Pots, gluten free brownies, vegan Love Heart Churros, a Raspberry Profiterole Stack and a cheese selection. Finally, those feeling fruity can opt for the Strawberries in a Heart-Shaped Punnet.
Drinks
The wine options available are Echo Leyda Sauvignon Blanc, Sauvignon IGP Loire, Classics Touraine Sauvignon, Les Beauchamps Chardonnay, Valdemadera Grand Reserve, Norton Malbec, Conte Priuli Prosecco, Conte Priuli Veneto Blush and Conte Priuli Rosé.
Morrisons – £15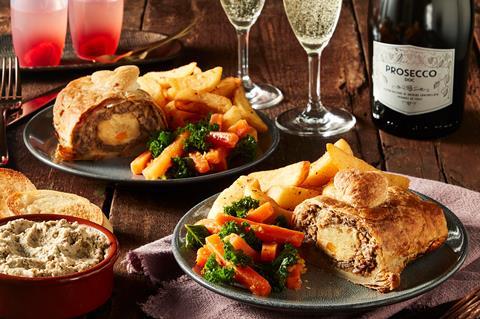 Launching online from today (26 January) and in store from 9 February, Morrisons' deal includes a starter, main, two sides, dessert and a bottle of wine or soft drink. A fully vegan menu is available, with a Beefless Wellington as the main event (pictured above). The offering is made up entirely of products from its The Best range.
Starters
Morrisons is adding some luxury to its menu this year with Scallop & King Prawn Thermidors. The seafood classic is one of two new starters for 2022, the other being a vegan Mushroom Pate. Other appetisers include Garlic & Cream Cheese Stuffed Mushrooms, Scottish Mussels in Chianti & Iberico Chorizo Sauce and Camembert Tear and Share Bread.
Mains
Aside from its classic beef Lasagne, Morrisons' mains selection is all new for this year. It includes meaty options such as Beef Wellington, 21 Day Matured Sirloin Steaks with Peppercorn Butter, Slow Cooked Coq Au Vin and Pork Fillet Wrapped in Prosciutto. Plant-based consumers can tuck into a Beef-less Wellington, which features a vegetable and butternut squash joint wrapped in a cranberry, apricot and chestnut duxelle, with a wholegrain mustard melt at the centre. For fish lovers, there is a Rolled Sole filled with smoked haddock and Scottish salmon and served with a mature cheddar & prosecco sauce.
Sides
Shoppers can select two sides to compliment their meal. Their options are Chunky Chips, Dauphinoise Potatoes, New Potatoes, Cauliflower Cheese, Green Vegetable Medley, Carrots & Kale in Orange Dressing and Garlic Ciabatta Sticks.
Desserts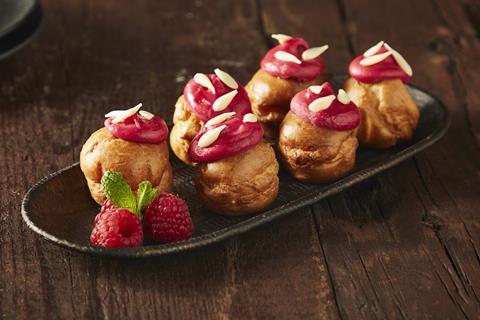 Gin lovers should be tickled pink by Morrisons' new vegan dessert: boozy Jelly Shots laced with pink gin. As well as a second vegan option, Belgian Chocolate Brownie Puddings, there are Raspberry & White Chocolate Profiteroles (pictured above), Vanilla Cheesecake Wedges, Creme Brulee and a pack of six Macarons to choose from.
Drinks
Wine lovers have seven award winning varieties to choose from in Morrisons' deal. As well as four vegan wines - Chilean Merlot, South African Sauvignon Blanc, Pinot Grigio Rosé and Prosecco DOC - there is a Prosecco DOC Rosé, Trentino Pinot Grigio and Marques De Los Rios Rioja Crianza. Shoppers that prefer to sip on something soft can choose from Sicilian or Raspberry Lemonade, Ginger Beer, Pomegranate & Pear or Lemon & Mint drinks.
Tesco – £15 for Clubcard users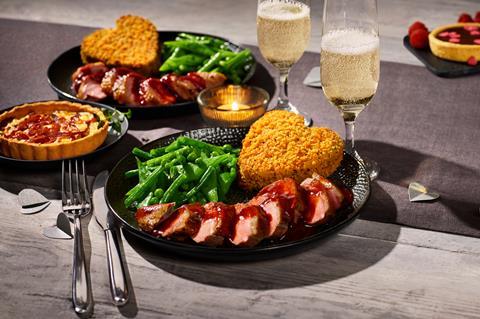 Tesco is giving shoppers another reason to love its Clubcard prices this Valentine's Day. The supermarket's dine in for two deal, which features three courses, two sides and a choice of wine, beer or soft drink, costs £15 for Clubcard users. All items on the menu are also available to non-card holders, although they won't be able to access the deal, meaning their meal will cost up to £30.20. The menu, which is made up mainly of items from the Finest range, will be available in stores from 9 February.
Starters
Things are hotting up at Tesco this year with the first of three new additions to its starter offering: Calamari with Chilli Jam (rsp: £3.50). This is joined by a Heart Shaped Camembert Sharing Bread (rsp: £3.50) and vegetarian Feta & Red Pepper Tartlets (rsp: £3.50). Returning starters are the vegan Wicked Kitchen Crispy M'shrooms with Smoky Ketchup (rsp: £3) and an Italian Antipasti Platter (rsp: £3.50).
Mains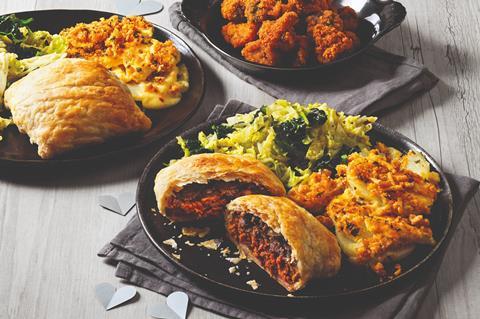 If its mains are anything to go by, Tesco is feeling pretty saucy this Valentine's Day. Options include Duck Breast Portions with a Raspberry Hoisin Sauce (rsp: £7), Chicken in Prosecco Sauce (rsp: £6) and a veggie Butternut Squash & Goats Cheese Lasagne (rsp: £6), which features butternut squash layered with a creamy goats cheese bechamel. Also available are Burgers with a Heart Shaped Triple Cheese Melt (rsp: £6), Rump Steaks with Pink Peppercorn Butter (rsp: £8), Smoked Scottish Salmon Fillets with Lemon, Chive and Pink Peppercorn Butter (rsp: £6.50) and Chicken in Cabernet Sauvignon (rsp: £6). For vegans, there are Wicked Wellingtons (rsp: £5, pictured above), featuring a pea protein filling and porcini & chestnut mushroom duxelles encased in flaky pastry.
Sides - all £2.60
If there's one thing everyone loves, it's potato. And Tesco has taken the staple to another level with its Heart Shaped Potato Croquettes, which are flavoured with roasted garlic and coated in crispy breadcrumbs. Other sides on offer include Triple Cooked Chips, Leeks, Petit Pois & Savoy Cabbage, Potato Dauphinoise, Three Cheese & Chive Cauliflower Cheese and a Green Vegetable Trio. From the Wicked Kitchen range, there are Valentine's Veggies and a Potato & Butternut Gratin.
Desserts
When it comes to Tesco's new puddings, chocolate is the order of the day. Debuting this year are Belgian Chocolate & Orange Pots (rsp: £3) and a Millionaires Twin pack with Red Sprinkled Hearts (rsp: £3). Returning are Raspberry & Passion Fruit Cheesecake Slices (rsp: £3), Belgian White Chocolate and Raspberry Pots (rsp: £3) and a vegan Wicked Kitchen Chocolate Love Brownie (rsp: £3.50).
Drinks
Whether they are wine, beer or booze-free drinkers, Tesco has its customers covered when it comes to beverages. Options include a vegetarian Prosecco Valdobbiadene (rsp: £10) and three vegan wines: Barossa Shiraz (rsp: £10), Pinot Grigio (rsp: £7) and Pinot Grigio Blush (rsp: £7). New to the deal this year is a four-pack of Peroni Nastro Azzurro (rsp: £6.50), as well as a pair of non-alcoholic cocktails from Belvoir. The booze-free Passion Fruit Martini and Juniper & Tonic drinks are both vegan (rsp: £5).
Waitrose – £20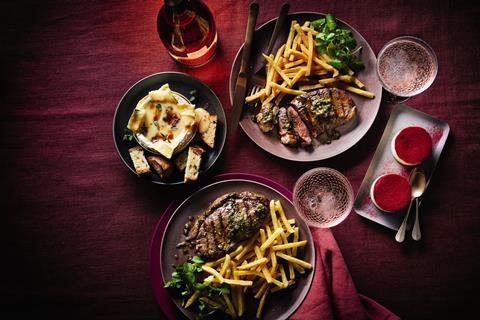 Dine in deals are designed to make consumers' Valentine's meal easy. But they face a difficult decision when it comes to Waitrose's offering, which has almost 40 dishes to choose from. The upmarket retailer's £20 deal includes one starter, main, side and dessert plus a bottle of wine or a No.1 Designer Chocolate Collection, and is available in stores from 9 February. Decadent meat and seafood options sit alongside flavourful vegetable-based dishes to ensure all tastes are catered for.
Starters
As is to be expected from Waitrose, the starters on offer are both classic and classy. Seafood options such as Scottish Mussels in Garlic Butter and Smoked & Poached Salmon Terrines sit alongside two dishes from the Heston range: Bloody Mary Prawn Cocktail and Chicken Liver Parfait. Cheese lovers may opt for the Bacon, Leek & Roquefort Tartlets or Baking Camembert with Red Onion (pictured above) while the Spanish Tapas Platter is perfect for grazing on while gazing across the table. There is one meat-free option from Waitrose's GoVeggie range, Mushroom Arancini, as well as Vegan Spinach Ravioli.
Mains
The classic dishes continue as we come to the main course. Showcasing British meat are the Lamb Rack with Garlic Rosemary Butter and Gressingham Duck Breast in a Red Wine, Plum & Blackberry Sauce. As well as Fish, Steak and Chicken pies from the No.1 range, the menu also features flavours of France (Coq au Vin, Beef Bourguignon, Ribeye Steaks with Bërnaise Butter) the Med (Sea Bass with Tomatoes & Olives) and South America (Rump Steaks with Chimichurri Butter, pictured above). For vegans, the main event is a plant-based take on another iconic dish: Beet Wellington.
Sides
Whatever cuisine they choose for their main course, shoppers are sure to find a side to partner perfectly, from the simple (Seasoned Charlotte Potatoes) to the rich and creamy (Spinach Mornay, Cauliflower Cheese). Other potato options include Parmentier Potatoes, Potato Gratin and Frites, as well as Vegan Dauphinoise. There is also an interesting array of veg: Peas, Cabbage and Tenderstem Broccoli Layers, Rainbow Salad, Mediterranian Roasting Vegetables and Maple Roasted Vegetables.
Desserts
Heston makes another appearance in Waitrose's dessert selection with two boozy options: Espresso Martini Chocolate Tortes and Chocolate Bucks Fizz Swirl Desserts. Bar the Vegan Cookies & Cream Cheesecake Slices from the English Cheesecake Company, the rest of the puds come from the No.1 range. As well as fruity options (Sicilian Lemon Tarts, Raspberry Panna Cottas and Raspberry Cheesecakes) these feature Caramel Chocolate Profiteroles and Melt in Middle Chocolate Puddings.
Drinks
You won't find bog standard plonk in Waitrose's deal. Its wine options include an organic Terre di Faiano Nero d'Avola, Finca Lalande Malbec, Beefsteak Club Malbec Rosé and Storie di Vite Pinot Grigio. Sparkling options include the rosé San Leo Nerello Mascalese Garganega and Cantine Maschio Calle d'Oro Prosecco DOC.
We'll be updating this article as more deals are announced, so please check back later if the supermarket you're interested in is missing