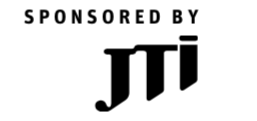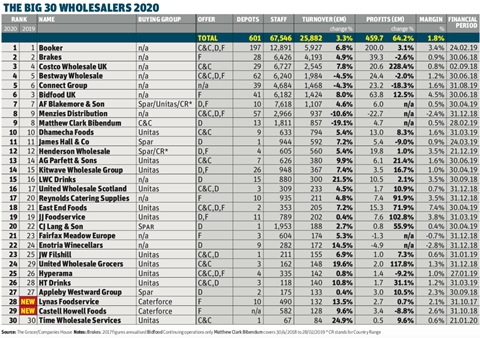 The journey to delivered
While there is still a place for cash & carry, wholesalers are increasingly focused on converting operations to delivered. How are they doing?
The future of wholesale is a subject of endless debate. Will it all be about delivered? Or will there still be room and opportunity for a pureplay cash & carry business? The answer largely depends on who you talk to. But there is no denying the trend towards a delivered model.
There are a number of reasons. "The growth of technology such as online ordering is making it much easier for retailers and caterers to deal directly with wholesalers," says FWD CEO James Bielby. "The cost of transport for retailers can be prohibitive, especially in urban areas where there is congestion charging. It can be more cost-effective to use a delivered wholesaler rather than running a van that only gets used a couple of times a week and costs money every you drive it."
Big and small players are responding in kind. Cash & carry giants Booker and Bestway are adapting their models to meet evolving customer needs. Meanwhile, traditional cash & carry specialists are deciding whether to bite the bullet and start transitioning to a more delivery-based operation - or whether they can realistically stick to their knitting and retain a clear C&C focus.
One thing is for sure: it's a subject no one in the industry can afford to ignore. So just how far has wholesale come in the journey towards delivered?
Among the big wholesale players, Booker has been on that journey the longest. It is moving ever closer to having its delivered sales overtake those of its cash & carry business.
In 2018, cash & carry made up 53.6% of Booker sales, while 46.4% were delivered. Last year this gap closed to 50.8% cash & carry and 49.2% delivered. Booker CEO Charles Wilson is in no doubt traditional cash & carry specialists can become genuine delivered operators.
"Booker has grown from £3bn of sales in 2008 to £6bn this year," he says. "Delivered sales have grown from around £0.3bn to £3bn. The key thing is to deliver the choice, quality, prices and service, including delivery, that the customers want."
For rival national cash & carry giant Bestway, the move towards delivered solutions has been more recent. Last year it completed its 18-month Depot Hub delivery project, through which the wholesaler converted 23 depots into specialist delivery hubs and the remaining depots into collect-focused cash & carry units. It also closed three depots that were servicing predominantly delivered customers and migrated these customers to other nearby depots.
For Bestway Wholesale MD Dawood Pervez, the move was essential due to the changing habits and expectations of customers.
"People's lives are getting busier. Many retailers and caterers choose to run multiple businesses and delivery [means] retailers and caterers do not have to leave their premises. Cost pressures and the increased national living wage also means that smaller retailers can afford less employees so they need to be in the store to manage the business rather than shopping in depot," he explains.
Offering choice is vital, according to Pervez. For that reason, Bestway isn't making a full switch to delivered - he insists cash & carry will remain a key part of its business model.
"Wholesalers can be both cash & carry operators and delivered operators, but this requires a change to the way the business operates," Pervez explains. "Before our Hub project, we had introduced deliveries from all our cash & carry depots to meet consumer demand. Now, we have specialist depots dedicated to delivery with increased loading bays, fast pick areas and teams who are trained differently to manage deliveries. Within catering we have a delivered-only brand, BB Foodservice, which enables customers to shop online and receive a delivery from one of our hub depots. Our chilled distribution centre has also been expanded in size to help meet increased demand for delivered chilled goods."
"Customer demand proves some retailers prefer to visit a depot," he adds. "Our depot managers have built connections with customers which can't be replicated online, and the key has been to offer further factors which are unique, such as collect-only deals."
However, being all things to all customers does create challenges. In November, The Grocer reported that some of Bestway's delivered customers had complained about issues with availability and service. Another Best-one retailer also recently expressed a desire for Bestway to go further with the project and convert his local depot into a pure delivery operation to ensure he wasn't competing for stock with cash & carry customers.
"Some retailers prefer to visit a depot. Our depot managers have built connections with customers"
The complexity of offering both solutions for customers could explain why other major players in the market have taken a more one-track approach. Take AF Blakemore. It is not sticking to its knitting. It is now fully focused on delivery, having exited the cash & carry sector in 2018. Still, group MD commercial Jerry Marwood agrees with Bestway's Pervez on the driving forces shaping the market.
"Two key forces are at play here," he says. "One, standards in retailing continue to improve. It is difficult in the longer term to run a quality retail outlet delivering against evolving customer needs through the cash & carry model. Top-up will continue to be an important mission, but top-up is now a multichannel mission in any event. And two, increases in the minimum wage continue to apply pressure to non-value-added activity."
Another wholesaler pushing further down the delivery road is JW Filshill. It has been ramping up its delivered operation for years, with cash & carry making up just 5% of its sales last year. In July it moved from having a cash & carry offer to a full click & collect service (though this task is somewhat easier when there is only one depot involved).
"This has had a massive positive effect on our business and changed the dynamic of the customers who are coming to our depot to pick up goods," says Filshill MD Simon Hannah.
Long-term future
All of these moves into delivery cast doubt over the long-term future of the cash & carry model. But for Marwood, it isn't a black or white situation. He argues the traditional model can work depending "on a number of factors, such as location, proposition and other market forces in the area. There remain a high number of very successful cash & carry operators who have evolved their model through time and I would expect this to continue."
Equally, he believes cash & carry specialists can make the switch to delivered - if done the right way. "Delivered operations are different to C&C," he stresses. "Delivered customers demand a high level of availability and service through an integrated customer journey. In the main, this level of service isn't deliverable through C&C currently, although I am sure there are operators trying to build this capability."
Filshill's Hannah similarly advocates caution. Although he also believes traditional cash & carry businesses can make the switch, he says "expertise is required to understand the service proposition and delivering on that within a delivered operation. This can be achieved with vision and commitment."
Plus, he maintains there "will always be a need for cash & carry for top-up missions, although there is a generational switch towards main orders being delivered for improved efficiency".
Another Scottish wholesaler, United Wholesale Scotland, has also upped its share of delivered, from 13% of its total sales in 2018 to 16% last year. However, United has also invested heavily in cash & carry to create an ultra-modernised depot branded the 'Warehouse of the Future'.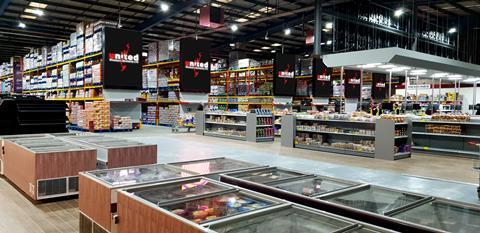 "We do believe retailers will continue to look for a reliable delivery service and more customers will continue to go to delivered wholesale," says MD Chris Gallacher. "However, traditional collect is far from dead, with both collect and delivered customers using both. Most of our competitors in Scotland do delivered wholesale. The biggest challenge we all face as this increases is the cost to serve, up-front investment, building a customer base quickly to keep operating costs to a managed level.
"We are finding retailers coming to our depot to top up and since our change to Warehouse of the Future this will increase as we now offer a better shopping experience," he adds. Gallacher says United expects to start reaping the benefits of the warehouse this year.
Don't just take his word for it. The continued resilience of the cash & carry sector was backed up by the latest Him Wholesale report, released at the end of last year. The report found retailers were spending 40% more per cash & carry visit than they were a year earlier. The average spend per cash & carry visit by retailers jumped to £1,205 compared with just £858.
Him attributed the sharp increase in spend to retailers planning their shopping better to make fewer trips. More than a quarter (26%) of retailers said the reason for being at the cash & carry was for a full shop, compared with 17% during the previous year.
"Cash & carry will remain viable as delivered business has challenges not easily addressed by just investing in technology"
The findings will have made welcome reading for Dhamecha Foods. The nine-strong cash & carry operator continues to stick to its core business model - and its results suggest it is the right move. Dhamecha's sales were up 5.4% to £784m in the year to 31 March 2019, while pre-tax profits jumped 8.3% to £13m.
CEO Pradip Dhamecha refutes the idea that the shift to delivered is inevitable. He argues it's not necessarily the best route for all wholesalers. "Wholesalers are moving to delivered with varying levels of success," he says. "There is already a shift towards delivered business. However, the impact will be less than it has been on the retail sector," he suggests. "Cash & carry will remain viable as delivered business has challenges not easily addressed by just investing in the right technology."
Consolidation
Amid all of this debate, there is also another shift going on in wholesale - and one that could further complicate the cash & carry versus delivered conundrum. FWD's Bielby points to the blurring of the lines between foodservice, traditionally served by delivered operators, and retail. Foodservice is a key growth area for wholesale, he says - as marked by the inclusion of six pureplay foodservice wholesalers on this year's Big 30 list.
The sheer amount of consolidation in this area underlines its importance. In 2019, Bidfood made two acquisitions: The Punjab Kitchen and Elite Fine Foods. It also offloaded its Best Food Logistics operation to Booker. Kitwave also made two deals, snapping up Central Supplies and Alpine Fine Foods. Blakemore Fine Foods threw its weight behind foodservice buying group Country Range, while just this month Brakes revealed a new tie-up with upmarket alcoholic drinks distributor Bibendum.
"We believe customers will gravitate towards the wholesaler that offers them the best mix of food, service and support," says Brakes communications director Victoria Hickson.
"While we believe delivered is best suited to capitalise on this, it is important we exceed customer expectations. With that in mind, we have increased focus on our award-winning centre of plate food, for example extending our Birchstead range to include different meats. We've also invested in service and support by bringing sales and operations closer together to give a more personalised service."
If there's one thing all these wholesale models have in common, it's this commitment to a high level of service. Technology will continue to play its part, whether through same-day deliveries or rapid click & collect. However there is a sticking point here, too: service levels from their suppliers. Cash & carry operators, delivered wholesalers and foodservice specialists all confirmed issues with service and availability levels they received. Some cited the uncertainty around Brexit for the decline; others simply that suppliers appeared to focus more of their efforts on keeping the big supermarkets happy. As the FWD's Bielby puts it: "It continues to be a problem and it's not clear what the solution is."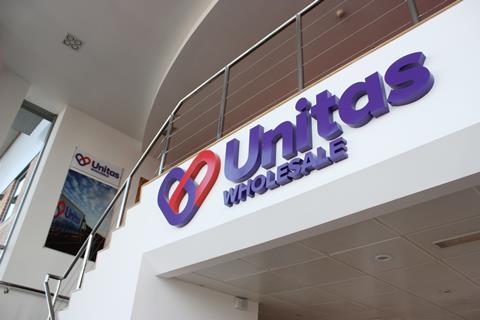 What's next for buying groups?
When Tesco announced its £3.75bn bid for Booker in January 2017, shockwaves reverberated through the entire wholesale sector. Those are still being felt today.
The wholesale buying group arena has experienced particularly dramatic change, sparked primarily by the coming together of major rivals Today's Group and Landmark Wholesale to create Unitas in November 2018.
The creation of Unitas, with £8.5bn buying power, means it now dwarfs other groups in the sector. Cotswolds-based Confex reported total sales of £2.65bn in 2019 while Sugro members delivered sales of £1.1bn in the same year.
The scene, it seems, is ripe for further consolidation. FWD chair Coral Rose agrees. "As consolidation increases in the wholesale sector, with new non-traditional competitors recognising the opportunity it provides as a route to market, we may see either further consolidation of buying groups, or equally fragmentation and specialisms," she suggests.
Indeed, last year David Lunt, a former director at Confex, split from the group to form the rival National Buying Consortium. Lunt says NBC is now operating with 36 former Confex wholesalers, and is keen to add further scale quickly.
There is speculation the next move could involve Sugro. Earlier this month MD Neil Turton announced he was stepping down on 1 May after 18 months in the job. He is leaving Sugro in a position of strength, says Turton, with a strong senior management team. Last year Sugro enjoyed a 7% increase in turnover. Industry experts have suggested a number of options it could pursue. One is to more closely align with Unitas, having historically worked closely with Today's Group. Another would be a merger with either Confex or the fledgling NBC. Both have a central distribution centre while Sugro does not, though it is understood to be looking to develop one.
On the flipside, there could well also be some fragmentation. In recent months there has been the odd whisper of discontent from Unitas members, particularly former Landmark wholesalers, who do not feel their lot has been greatly improved through being part of the much bigger group.
One says he "feels lost" within the group he dubbed as "Today's Mk2" while another says it is financially worse off since the two groups came together and the Landmark benefits were altered.
While further movement seems likely, buying groups continue to play a crucial role in the sector, argues FWD CEO James Bielby. "Suppliers recognise scale and there is much to be said for wholesalers coming together to create an offer which allows them to compete with the bigger players. The role of buying groups has never been more important in what has become a very fast-moving channel."