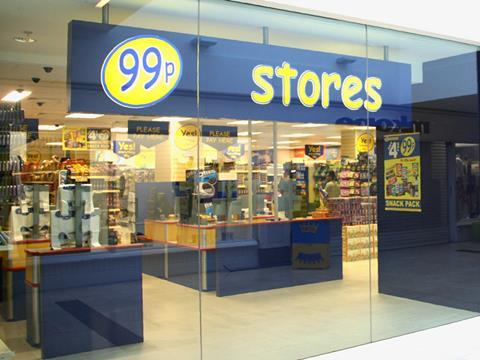 Poundland has placed 99p Stores into administration a little more than two years after the fixed-priced retail chain snapped up 250 stores from its rival.
The process affected 60 stores, which have already been closed as Poundland converted the majority of the 99p estate to its own fascia, with minimal impact on employees, the Steinhoff-owned group said.
Global consulting firm Alix Partners was appointed as administrator over 99p Stores Ltd on 22 March 2017.
Poundland agreed to acquire 99p Stores in February 2015 for £55m, but completion of the deal was delayed for six months as the CMA investigated competition concerns in the sector.
The majority of the 250 stores were rapidly converted to the Poundland fascia once the deal was given the all-clear by the CMA.
However, Poundland discovered when it took full control of the business that trading had deteriorated during the CMA investigation as stock levels plunged after 99p Stores lost its credit insurance.
In November last year, it emerged Poundland's new owner Steinhoff, which paid £610m for the group in September, was weighing up off-loading up to 80 unprofitable 99p shops to avoid cannibalisation of the existing estate.
"It's no secret that the previous management of Poundland had difficulties digesting its 99p stores acquisition," a Poundland spokesman said.
"However, we've largely completed the store closure programme that addressed the remaining overlaps from that 99p acquisition, importantly, with very limited impact on jobs because we have stores located near to those we're closing.
"The administration has no impact on Poundland itself, which is a robust, thriving business serving over seven million shoppers a week."
A statement from joint administrators Peter Saville, Ryan Grant, and Catherine Williamson at Alix Partners Services UK added: "This appointment comes in support of Poundland Group Ltd strategic decision to operate their entire retail estate under the Poundland fascia. No employees are affected by this appointment.
"The role of the administrators is now to work with all stakeholders to determine the optimal route forward of all assets remaining in the 99p Stores Ltd estate."