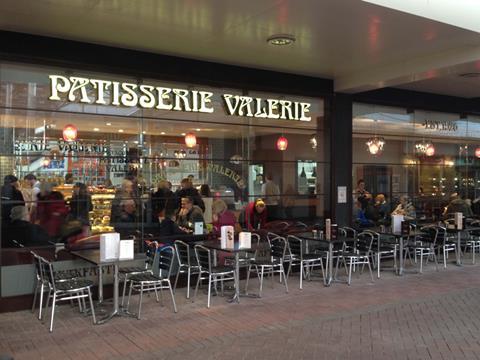 An "avalanche of names" have expressed an interest in collapsed cake chain Patisserie Valerie, as its new boss vowed to push ahead with his turnaround despite it falling into administration this week.
The retailer's owner Patisserie Holdings went into administration on Tuesday night as attempts to renew its banking facilities following the discovery of a £40m black hole in October proved futile.
Administrator KPMG confirmed the shuttering of 71 outlets, comprising 27 Patisserie Valerie stores, 19 stores under its Druckers café brand and 25 Patisserie Valerie concessions in Debenhams, Next and at motorway service areas, as well as the termination of a concession deal with Sainsbury's, at a cost of 920 jobs.
However, Patisserie Valerie's remaining 122 outlets are "profitable" and continuing to trade while the administrators search for a rescue deal for the remainder of the business.
Speaking exclusively to The Grocer this week new CEO Steve Francis, hired in November, said the outcome was "bittersweet", as the actions would effectively save "a much-loved brand".
"It sounds bizarre but it's genuinely a positive development. I would rather have 2,000 fully employed staff than 3,000 with no future," Francis said.
Chairman Luke Johnson has pumped a further £3m into the business, on top of the £10m interest-free loan he ploughed into the business in October, and Barclays has contributed a further £0.5m to ensure the group can continue to trade.
Francis insisted "an avalanche of names" were queuing up to buy the chain, with interest from trade buyers, though private equity is the most likely source due to the speed that's needed to secure a backer, he suggested.
He said the shuttered Patisserie Valerie stores comprised of those in the "wrong part of the country" or in "trophy locations with super trophy rents".
He added that the concessions – including in Sainsbury's – that "didn't make a lot of sense", while the Druckers brand was "undifferentiated, slightly confusing and struggling".
"This is a clean cut. It allows us to review all our contracts and to make sense of the business. It's a smaller, more profitable estate. It's cash positive this morning. It's business as usual to the trade."
Francis added that the new management team's turnaround plan is already making progress, with Christmas trading strong in the core estate.
"The business plan was simply about running a tired estate in a more energetic way, while rightsizing it."
As well as bringing in a new team, it has already extended opening hours, consolidated 34 menus into three, and developed a loyalty app, while new product launches are also in the works.
"We are executing the plan but we can do it much more quickly now," he said.