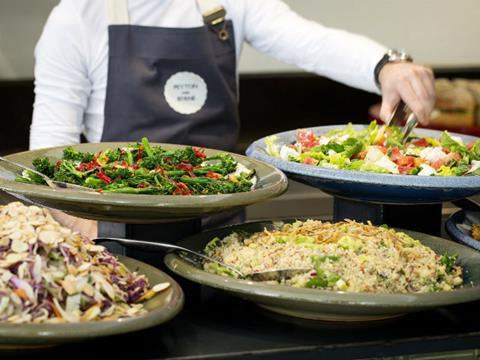 The bakery chain co-founded by Great British Menu judge Oliver Peyton has entered administration.
Peyton & Byrne Bakeries (PBB), which runs three London bakeries and a Bermondsey wholesale factory, informed staff last week it had hired administrators to secure the future of the business.
Staff confirmed all of the high street cafés are still trading, as well as the west London facility that produces artisan bread, cakes and pastries.
Discussions are currently taking place between administrators at Leonard Curtis and directors of PBB, the administrator confirmed, at the time of going to press.
PBB appointed Alex Cadwallader and Neil Bennett from the business rescue and recovery firm as administrators on 16 October 2018.
The administration comes only two years after the wider group Peyton & Byrne entered administration itself, after losing profitable catering contracts at Kew Gardens and the British Library.
The bakery arm and catering businesses split apart as part of a rescue deal, with food service giant Sodexo purchasing the latter business.
The bakery arm was purchased by the newly formed Peyton & Byrne Bakeries company, led by the Peyton family.
Caitriona Peyton remains the sole director of the Great Portland Street-headquartered business. Accounts for the year ended 30 September 2017 are four months overdue, according to Companies House.
Documents show Siobhan Peyton lent the business £250k in April, but stepped down from its board in June.
During the restructuring, renowned restauranteur Oliver Peyton is understood to have remained at the spun-off catering business he co-founded in 2005, along with 260 staff.
PBB paid £120k in December 2016 to rescue the bakery store and wholesale arm, which at the time consisted of five bakeries and its central processing site.
Creditors of the collapsed parent company received £1.3m, leaving a shortfall of £670k, according to Deloitte's administrator report.
The upmarket bakery is the latest in a slew of bakeries facing insolvency battles, including high street chain Patisserie Valerie, which only this week had a winding up order dismissed as internal investigations continue into accounting irregularities.
Private label supplier McErlain's Bakery, which also produces Genesis Crafty branded bread, was rescued from administration in August, saving 260 jobs. The bakery firm was purchased for just £1.8m in the rescue deal by Hatch Brothers, owned by Tayto boss Paul Allen, after failing to make predicted profits following significant capital investment in 2017.
The administrators did not provide a comment and the Peyton family had not responded to requests for comment at the time of going to press.