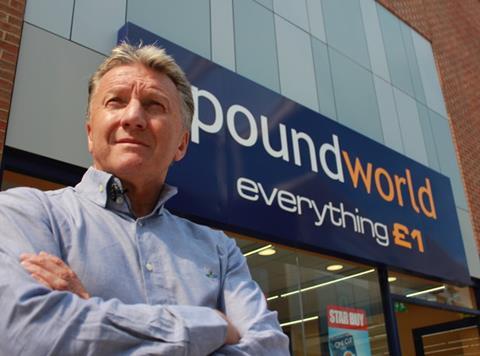 Poundworld's founder has said his talks with the high street chain's administrators to save 186 branches and 3,000 jobs have broken down.

Chris Edwards told The Grocer his best offer had proved lower than the minimum Deloitte was willing to accept.

Around 5,000 Poundworld employees have been waiting to learn their fate since the variety discounter collapsed into administration on 11 June.

Edwards, who founded the chain in 1974 and sold it to current owners TPG Capital in 2015, had been in talks with Deloitte to buy 186 of the 335-store estate, saving about 3,000 jobs.

"I would say they've broken down," he said of the talks today (4 July).

He said: "We told them our last offer was the best offer. They've come back and said our offer isn't good enough."
Edwards said he planned to make a written statement to the press making a "moral" argument against Deloitte's position.

"It's the difference between letting the business run down against doing a deal with us and keeping 3,000 people in a job," he said.

"They're playing by the liquidator's rules. That's fact, as unfair as it looks.

"I admit we're not offering as much money as a liquidator would get by selling everything off, but the difference is we're negotiating to keep 3,000 people in jobs while we stabilise the business. They're just going for broke and ending it and I think there's a moral issue there."

The Grocer contacted Deloitte but the administrator did not provide a comment. In statement issued earlier this week, a spokesman said: "The administrators continue to seek a buyer of all or parts of the business. To date no party has presented a credible and acceptable bid with accompanying confirmation of funding. We have provided guidance to indicate how a successful bid might be structured and have provided detailed information to assist bidders in an effort to help them wherever possible. In the interim, as one would expect in these circumstances, we are preparing for all eventualities as this process continues."

Poundworld went into administration after talks collapsed with prospective buyers of the business as a whole, including RCapital and Alteri Investors. That followed a restructuring plan under which 117 branches were already set to close.

Around 100 head office staff were made redundant on 18 June.