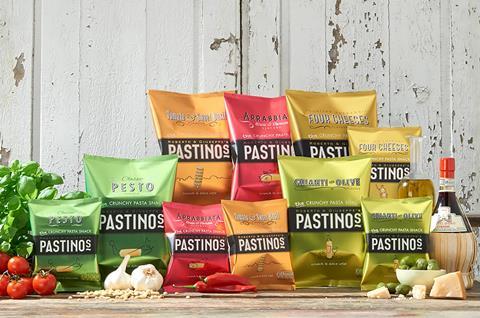 Two upmarket snack brands have collapsed amid financial difficulties.

Pastinos pasta snacks is on the market for a potential rescue deal, while Sussex-based The Raw Chocolate Co was bought from administration, saving a dozen jobs.

Italian pasta snack company Martorana Snacks Ltd entered liquidation earlier this month and discussions are now underway to find a buyer for its assets.

The manufacturer of Pastinos snacks, set up by Guiseppe Martorana and chef Roberto Perini in 2014, hired liquidators Alexander Lawson Jacobs (ALJ) following cashflow issues.

A third party is in discussions to purchase the intellectual property and assets, with hopes that production can be swiftly restarted to meet interest for listings.

"The business was obviously struggling prior to liquidation, but we are hopeful a deal can be agreed soon, which will satisfy customers, as there is still significant demand for listings," commented ALJ manager Andy Gray.

Pastinos lost listings with discounters Aldi and Lidl at the end of 2017, according to Brand View data.
In June 2018, the Hertfordshire-based business announced a new listing with Ocado for its arrabiata and Chianti and olive flavours, but both products have now been removed from the online retailer's website.
Voluntary liquidation proceedings for the business began on 31 July, according to the London Gazette.

Elsewhere, The Raw Chocolate Co ceased trading after recording deepening losses, but has agreed a merger with rival Conscious Chocolate, saving a dozen jobs.

Raw Chocolate's founder, Linus Gorpe, was already friendly with the rival chocolate company, which informed its VC backers of Raw Chocolate's financial difficulties.

After completing due diligence at the artisan manufacturer, the VC group submitted the highest offer for the chocolatier.

Administrators David Rubin & Partners and Buchler Phillips Ltd were appointed joint administrators on 9 August 2018.

"All together there are around 10 jobs there and other suppliers whose jobs would have depended on Raw Chocolate. All-in-all there were probably around a dozen jobs at stake," commented David Rubin.

"It was marketed quite heavily and there were four interested parties including the venture capital group, who made the highest bid, saved the jobs and merged Conscious Chocolate with Raw Chocolate. They are both now using the factory which Raw Chocolate used to occupy.

"Everything worked out beautifully in the end. The question is now whether they will make any money, and I think they might because they have a pretty good business there. With both businesses merged into one it's almost a no brainer."