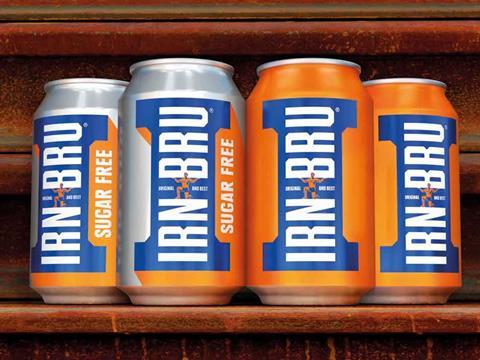 Irn-Bru owner AG Barr (BAG) has brushed off worries related to the Chancellor's proposed sugar tax on the back of the strength of its brand loyalty, innovation and ongoing product reformulation.
Shares in the group are down 5% since George Osborne revealed sugary drinks would be face a levy from 2018, adding between 6p and 8p to the price of a can depending on the sugar content.
However, AG Barr CEO Roger White said today as the group posted annual financial results that at least two-thirds of its portfolio would be made up of lower or no-sugar drinks when the tax comes into force escaping any levy. It comes as the industry races to launch products with lower sugar, with Lucozade the latest to reveal "zero calorie" varieties.
"For the balance of our portfolio, which would attract a levy, we anticipate that brand loyalty and consumer preference will drive continued demand," he added.
"Although the details of the Chancellor's proposed soft drinks levy are still to be consulted upon, we believe our combination of brand strength, ongoing product reformulation and consumer driven innovation will allow us to minimise the financial impact on the business at the proposed point of implementation in April 2018."
AG Barr is focusing marketing efforts in the UK on its lower and no sugar products, as well as "substantially" reducing the sugar content of the portfolio to reflect changing consumer tastes. White said the business expected to accelerate the scale of these changes in the coming year to reduce the overall exposure to high sugar products.
Profits at AG Barr jumped 7% to £41.3m in the year ended 30 January 2016 as it maintained market share in the challenging UK soft drinks market and increased operating margins thanks to a close control of costs.
A strong performance from cocktail mixer brand Funkin, acquired in February 2015, in its first year of ownership also contributed to the bottom line, White said.
However, revenues slipped from £260.9m in 2014/15 to £258.6m as consumers continued to turn their backs on sugary, fizzy drinks for water or sugar-free products. Sales in the international business grew almost 30% on the previous year (40% on a constant currency basis), with volumes up 40%.
"Market conditions in the core UK soft drinks market are not expected to substantially change as we look forward," White added. "Top-line growth remains under pressure and changes in consumer preferences offer challenges and opportunities in equal measure."
AG Barr's share price slipped into the red during morning trading before climbing to 0.8% above the opening price by late afternoon at 523p.