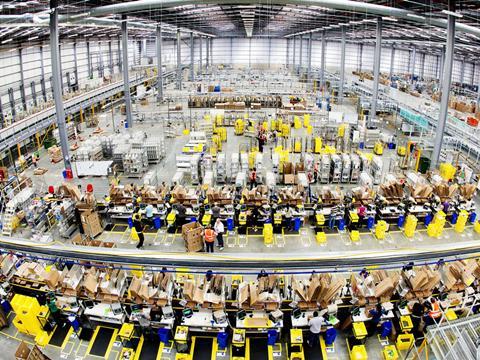 Amazon has reported a 31% increase in net sales to $232.9bn in its 2018 full-year results, up from $177.9bn in 2017.

Operating income was $12.4bn, up from $4.1bn in 2017.

Net income was $10.1bn, or $20.14 per diluted share, up from $3.0bn net income and $6.15 per diluted share in 2017.

The fourth quarter saw net sales grow 20% to $72.4bn, up from $60.5bn in the same period the year before.

Excluding a $1.3bn favourable impact from year-over-year changes in foreign exchange rates, net sales in the fourth quarter increased 30% compared with 2017.

Fourth-quarter operating income was $3.8bn compared with $2.1bn the year before. Net income rose to $3.0bn, or $6.04 per diluted share, up from $1.9bn and $3.75 respectively in 2017.
The fourth quarter of 2017 included a provisional tax benefit for the impact of US Tax Cuts & Jobs Act of 2017 of approximately $789m, Amazon said.

In the UK, the period saw Amazon raise its hourly base pay rate to £10.50 in the London area and £9.50 elsewhere in the UK, up from £8.20 and £8 respectively, while also announcing plans to phase out a restricted stock unit programme for warehouse and customer service staff paid by the hour, meaning they would no longer be able to unlock stocks over time.

The tech giant said it had invested £9.3bn in its UK operations since 2010, with plans to open a new corporate office in Manchester in 2019 and increase the capacity of its Scotland Development Centre and Cambridge Development Centre.

"As sellers feel the need to ramp up their Amazon ad spend to drive holiday sales, the margin expansion we've been seeing play out over the last several quarters for Amazon only became amplified in quarter four," said eMarketer principal analyst Andrew Lipsman.