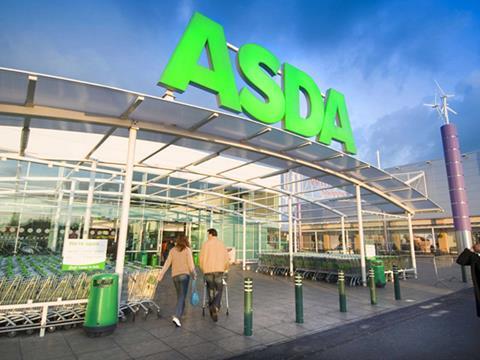 Asda today delivered its first sales growth for three years, but has the turnaround been enough to impress analysts and industry experts? Here's what they have to say.
HSBC
"Sales have been helped by the late timing of Easter," said Dave McCarthy, head of consumer retail at HSBC. "Excluding Easter comp sales rose by just 0.7%, which is below headline inflation and Asda continues to lose market share, even though customer numbers are up. Walmart reports that Asda net sales increased by 3.9%.
"Food inflation ran at c2% over the last three months although we would expect Asda inflation to be below this level. There is still no sign of any meaningful recovery in comp sales at Asda and it continues to lose ground to the market leader. It now appears that Tesco has double the market share of Asda and is increasing this lead. See below for chart showing Asda's underlying sales growth mapped against the market ex-Asda. Asda's underperformance has narrowed, but it remains a substantial under-performer, lagging industry growth by almost 400bps.
"Walmart management are encouraged by the performance at Asda, which shows "sequential improvement" and an increase in customer visits. But this performance is against easy comps and that on a two and 3 year basis, sales are still down substantially.
Read-through. Asda continues to be a market share donor, although the rate of decline has slowed. That it still loses share is good news for the quoted sector."
GlobalData Retail
"Walmart will be most cheered by the turnaround in UK performance, where Asda's same-store sales rose by 1.8%, "says Neil Saunders, managing director of GlobalData Retail. "While this comes off the back of a 7.5% decline in the prior year, it is nevertheless an early sign that Walmart is addressing some of the issues that have long since plagued the UK operation."
Kantar Retail
"This is Asda's best quarterly performance in over three years," says vice president Ray Gaul. "For the past year, Asda has primarily been focused on fixing the basics under the tagline 'new reasons to shop at Asda'. This has meant the re-introduction of the Asda Farm Stores range and further differentiation in unique products such as the Nspa range of beauty care items and special celebration ranges such as an improved line of Mexican foods. The George lines of clothing and Asda Living lines of homewares and furniture received a hefty upgrade in the period."
"This summer's Holiday Shop and the upcoming Back to School season give us a glimpse on how Asda plans to boost Christmas sales: affordable yet trendy clothes; toys and homewares paired together with premium seasonal food options such as Asda's five premium gins.
"The success of this Christmas season for Asda will rely heavily on the retailer's online presence. This will mean introducing new services to Asda's British shoppers and taking Asda's show-on-the-road overseas. Innovations such as establishing an Asda gift-card store front on First Data's website, listing George clothing on the ASOS website platform, and selling Asda and George products on China's JD.com digital platforms are surely signs of more to come. With Britain's growing love for Black Friday and Cyber Week offers, Asda will soon face a true test on whether it can improve on the basics and leap into the future of shopping at the same time."
Retail Remedy
"We are assured that Asda is attracting more shoppers and that sales are increasing compared to a weak period last year, but are we getting assurances of a real swing in fortunes?" asks partner Phil Dorrell.
"Sean Clarke's focus has been on price, food quality and customer service, but this still feels like rearranging product on the shelf when the shop itself is in the wrong place. It is hard to say what Asda stands for when it is keeping up with its competitors rather than carving its own path. Asda has all the components to put together a desirable model, what it lacks is the creativity to assemble them into something the customer wants.
"Recent announcements about cuts to staff working hours in under-performing Asda stores comes as no surprise. We are sceptical however that this comes from a place where the business knows exactly what staff should be doing in order to add customer value. There is a distinct risk that the cut in hours could result in a negative effect on customer service in these Asda stores. Yes, costs are reduced but where is the sales growth coming from?
"Time is slipping through Clarke's fingers as quickly as the tills are ringing in Asda's competitors."