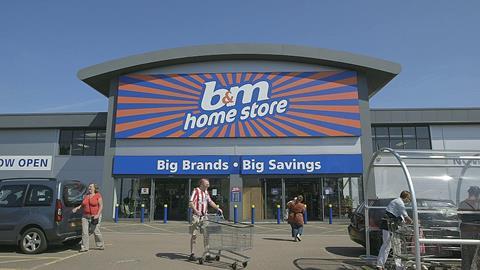 B&M European Value Retail has announced a stepping up of its aggressive expansion with the publication of its maiden full-year results today.
The value-led retailer announced a "strong" pipeline of new stores, and revised guidance of 60 net new openings expected for the 2016 financial year.
It opened 52 net new stores in the UK in the year to 28 May, taking the total to 425 limited assortment general merchandise discount stores trading as B&M Bargains and the larger B&M Homestores.
Simon Arora, chief executive, said: "We believe our total store base in the UK can be doubled in size during the years ahead and we continue to see a good flow of attractive new site opportunities, including a steady stream of suitable stores coming from the larger-spaced retailers as they downsize their portfolios in response to shifts in consumer demand in their markets."
Arora said the company was able to exceed its original expectations for new store openings because conditions in the retail property market remained "particularly helpful".
The company believed that its "disruptive" business model and the value for money it offered would continue to deliver strong, profitable, cash-generative growth into the long-term as it rolled out the B&M offer further, he added.
B&M posted announced UK like-for-like revenue growth of 4.4% and group revenue up 29.5% to more than £1.6bn, or up 20% when Jawoll, the 49-strong German general merchandise discount business it bought just over a year ago.
Adjusted pre-tax profit climbed 55.5% from £86.7m to £135m and adjusted EBITDA up 33.6% from £130.4m to £174.2m. Gross margin improved to 34.6% compared with 34% last time.
Sir Terry Leahy, the former Tesco chief executive who chairs B&M, said the business had delivered "strong increases in sales, profits and cash generation whilst pushing on with rapid store rollout and investing in new infrastructure to support continued growth."