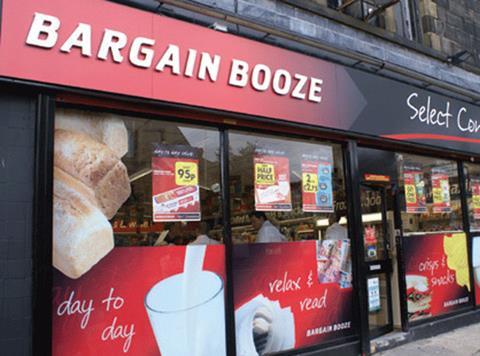 Bargain Booze owner Conviviality Retail (CVR) has reported a 2.3% rise in full year revenues, but a dip in like-for-like sales as it fought against a slower than expected rate of store openings and heavy discounting in the alcohol retail sector.
Updating the market on its sales for the year to 26 April, Conviviality said revenues were up to £364m from £355.7m in the previous financial year.
Retail sales were "in line" with last year, with Bargain Booze down 1.7% (though underlying retail sales per store up 0.5%) and Wine Rack sales up 0.1%.
Conviviality said that earnings (EBITDA) are expected to be "slightly ahead of market expectations" and it expects to end the year with cash in excess of £1m.
The rising revenues reflect its acquisition of GT News in February. It paid £6m for the group, which gave it an additional 37 stores, the majority would be franchised to Jonathan James.
Conviviality's shares were flat in morning trading at 143p on this morning's earnings guidance. The shares have recovered since hitting 120p in January, but remain some way below their 178p peak in September.
CEO Diana Hunter said: "2014/15 has been a year of solid progress for Conviviality and we are pleased with everything that has been achieved. The significant changes we have implemented over the last two years ensure we are well positioned to drive growth into the business and the Board looks to the future with confidence."
During the year 21 existing franchisees opening additional stores and 35 new franchisees joined the group.
The company said it has invested in our stores fascias, modernised its brands and become "more connected with our customers" through its increased use of social media and digital marketing.
"Developing and strengthening our management capability has been a key part of our strategy and during FY 2015/16 we will continue to build our marketing function," Conviviality stated. Reflecting this aim, it recently appointed Carol Savage as chief customer officer in a newly created.
The Company will announce its preliminary results on 13 July.
Meanwhile, Conviviality also announced a new chairman of its remuneration committee this morning. Former Homebase retail director Ian Jones will join its board as a non-exec director. Jones also served as formats director for Sainsbury's between 2001 and 2003 and was responsible for its store reinvigoration programme.