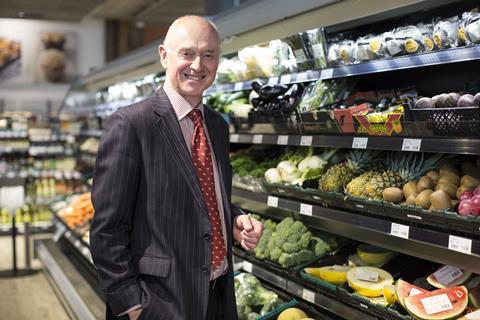 Northern supermarket chain Booths has hailed a "solid" performance over Christmas as sales increased 3.5% in the three weeks to 5 January.
Chairman and CEO Edwin Booth said "excellent service and exceptional food and drink" contributed to the successful festive period.
Retail like-for-like sales also rose by 2.7% over Christmas, partly driven by increased demand for the retailer's pre-order service. Orders from the Booths 'Christmas Book' – a hardback 180-page book showcasing the Christmas offer and featuring recipes written by Booths staff – jumped by 6.8% in the period.
Booths said pre-orders were so successful it had extended the service to give customers a chance to order special products all year round.
The supermarket, which operates 28 stores across Lancashire, Yorkshire, Cumbria, Cheshire and Greater Manchester, highlighted wine, mince pies, turkey and own-brand party food as Christmas bestsellers.
Sales of Booths branded products were "particularly cheering", with pigs in blankets sales up by 25% and stuffing balls up by 85%. Other top-performing lines included prepared roast potatoes and red cabbage with port.
Business-to-business sales were "very strong", up by more than 50%, adding 0.8% growth of overall Christmas sales. This progress was down to a combination of established and new customers, Booths said.
The relationship with Amazon continued to grow as Booths expanded the ranges it had available on the site. It sold three times the amount of mince pies on Amazon in 2019 versus the previous year, while Christmas tree brownies were a Black Friday bestseller.
Christmas product highlights included:
English wine sales up by 36%; champagne sales returned to growth
Booths own-label wines up by more than 4%
Low & no alcohol wine sales increased by 73%
One million Bells of Lazonby mince pies were sold
Turkey sales were up 13%, with turkey crowns rising 30%
Sales of Booths brand party food increased by 21%
Top-selling click & collect product: Booths roast potatoes in goose fat
A quarter of a million bottles of premium ale sold
"Booths performed very well this Christmas," said Edwin Booth. "Customers have confidence in our commitment to deliver excellent service and exceptional food and drink. At a time when customers shop at several retailers for Christmas, including discounters, they trust Booths for the centrepiece and all the trimmings."
New year sales were also up 7% on the previous year, which the supermarket said indicated shoppers were happy with Booths' Christmas offer and returned for party food, snacks and drink.
"I should particularly like to thank our loyal customers for their continued support and pay credit to our colleagues, who work tirelessly throughout the year to deliver the very best for our customers," Booth added.