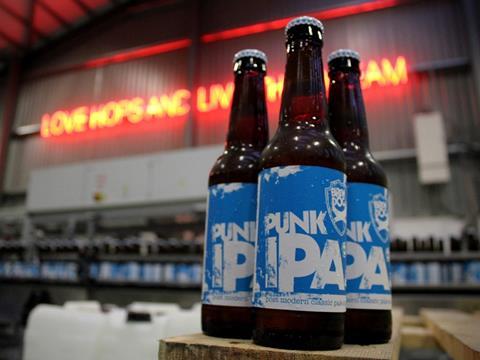 Self-styled 'punk' brewer BrewDog has seen another 50%-plus jump in revenues, but profits fell back after a year of big investments to boost its brewing capacity.

The fastest-growing company in The Grocer's Fast 50 reported another year of stellar growth, with revenues rising 51% to £44.7m in the year to 31 December 2015.

BrewDog said this growth figure would have been higher "if we had the capacity to meet demand for our beers". The 51% growth was down on its average annual growth rate of 69% over the past five years. The brewer said it had concentrated on putting in place the capacity, workforce and infrastructure to underpin the next five years, including a £20m investment in its Ellon brewery in Scotland.

"We are now in a position where we have 1.5 million hectolitre of brewhouse capacity," its annual report this week stated. "Our 2015 output was 134,000hl, so we now have capacity to burn."

Overheads were up 81% to £14.1m as it added weight to its executive team, built a new 4,000 sq m warehouse and opened 16 new bars to take it to 45 globally.

BrewDog also has annual capacity of 400,000hl coming online in Columbus, Ohio in August 2016 after a $25m (£17.7m) investment.

The increase in capex meant earnings before interest, taxes, depreciation and amortisation were 0.3% down to £4.9m and pre-tax profits fell 4.8% to £3.5m. BrewDog's tax bill for the year dropped from £1m to £749k, meaning profit was up 2.9% to £2.7m.