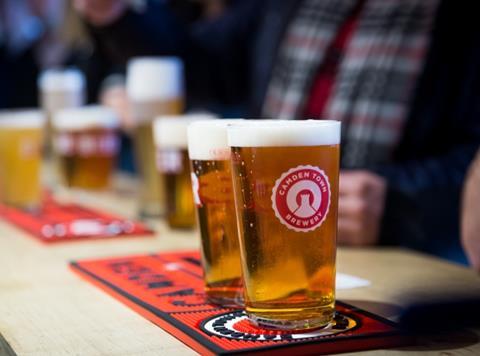 Losses at Camden Town Brewery have ballooned as record sales at supermarkets failed to cure its Covid hangover.
Volumes in the off-trade almost doubled in the year ended 31 December 2020. However, these sales were not enough to offset the lost trade at pubs, restaurants and other foodservice venues, where the Hells lager maker generates about 70% of its business.
Revenues slumped 20% to £41.4m, leading to operating losses widening from £6.1m in 2019 to £20.5m in 2020. Pre-tax losses increased by more than £15m to £24.7m, according to newly filed accounts.
Despite the challenges, Camden boosted its prominence with a major 'Fresh as Hells' campaign – with TV adverts running at half-time during the Champions League semi-finals and final. It said the exposure increased brand awareness by 65.3%.
Camden also launched its own online e-commerce shop selling beer and branded merchandise, which it said was "well received" by consumers.
The brewer, which was acquired by AB InBev in 2015, was fully integrated into its parent group in October 2021, as revealed by The Grocer at the end of last year.
Beer producers have undergone a recovery in 2021 as lockdowns ended around the world and the hospitality industry reopened. Camden owner AB InBev reported an 8% jump in revenues in the third quarter of this year and sales in Europe above pre-pandemic levels.
Camden Town and owner AB InBev declined to comment.