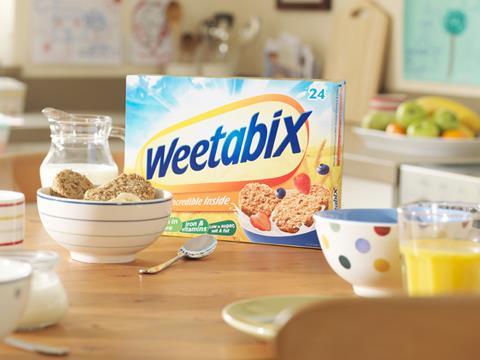 Changing habits at Britain's breakfast tables have shrunk sales and profits at all three of the UK's biggest cereal players.

Newly filed accounts at Companies House show a drop in UK sales at Kellogg's, Weetabix and Cereal Partners as consumers continue to turn away from traditional breakfasts.

The rise of breakfast on the go combined with swingeing supermarket price cuts saw turnover at the UK sales and marketing arm of Kellogg's - Britain's largest cereal supplier - fall by £22m (or 2.7%) to £773.4m in the year to 31 December 2016.

Special K and All-Bran led the core brand decline as Kellogg's continued to reposition the adult health portfolio from weight management to health and wellness.

Weetabix, recently snapped up by US cereal group Post Holdings for £1.4bn, saw sales of its UK arm plunge 6.1% last year to £313.1m. While Weetabix increased its market share from 14.8% to 15.5% in 2016, price deflation and the discounter-driven rise in private label meant its branded volumes fell 0.8% with value sales down 1.3%, while its own-label range "was impacted by both pricing and volume pressures".

These pressures, coupled with supply chain disruption following the implementation of a new resource planning system, meant operating profits before exceptional costs fell 11% year on year, while headline pre-tax profits were down 9.6% to £81.9m.

Last week The Grocer revealed UK Cereal Partners, the joint venture between Nestlé and General Mills, saw 2016 sales drop 1.7% to £255.8m and pre-tax profits fall 13.2% to £14.9m.

Kellogg's did manage to buck the trend of falling profitability, as pre-tax profits at the UK sales and marketing arm jumped to £22.1m in 2016 from £13m, largely thanks to currency gains from weaker sterling.

Sterling did not help Weetabix's exports, which fell 7.1% to £51m driven by a 13.2% plunge in EU sales partly due to hedging contracts limiting the benefit from sterling.
Weetabix's North American operations are only included in the separately filed accounts of parent company Latimer Newco 2, which saw group-wide sales down a more modest 1.6% to £407.6m.

The accounts show Weetabix's North America sales up by 4% at constant currency and by 16% at actual exchange rates to £92.6m, though group-wide operating profits before exceptional items fell 5% to £93.5m partly as a result of investment in growing its operations in China.

Weetabix also incurred a £5.9m restructuring charge in the UK relating to operations at its Burton Latimer and Corby plants and a £2.6m restructuring charge related to North America.

The accounts state that the acquisition by Post "will boost international growth opportunities for both sides".

Weetabix declined to comment further on the accounts.